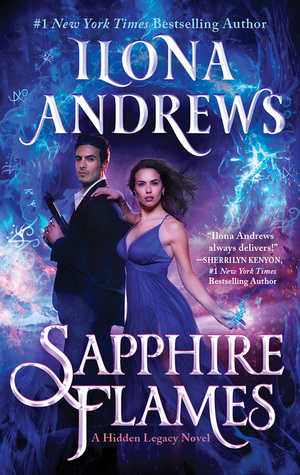 Diamond Fire by Ilona Andrews
Series: Hidden Legacy #4
Publisher: HarperCollins Publishers / Avon Books
Publication Date: August 27, 2019
Date Read: May 23, 2019
Length: 400 pages
Source: NetGalley / Edelweiss
★★★★★
From #1 New York Times bestselling author Ilona Andrew comes an enthralling new trilogy set in the Hidden Legacy world, where magic means power, and family bloodlines are the new currency of society…

In a world where magic is the key to power and wealth, Catalina Baylor is a Prime, the highest rank of magic user, and the Head of her House. Catalina has always been afraid to use her unique powers, but when her friend's mother and sister are murdered, Catalina risks her reputation and safety to unravel the mystery.

But behind the scenes powerful forces are at work, and one of them is Alessandro Sagredo, the Italian Prime who was once Catalina's teenage crush. Dangerous and unpredictable, Alessandro's true motives are unclear, but he's drawn to Catalina like a moth to a flame.

To help her friend, Catalina must test the limits of her extraordinary powers, but doing so may cost her both her House–and her heart.

There is something special about a new Ilona Andrews book. When I get one in my hands, I feel like a kid a Christmas. That kid has no idea what is under the tree but they know that it is going to be good. And it was good. So very good. This series is one that I treasure so my expectations were really high when I sat down to read this newest installment and every single one of those expectations were met. This story is a gift and I am very glad that the writing pair of Ilona Andrews were able to share it with their fans.
This is the fourth full-length book in the Hidden Legacy series which follows the Baylor family. The first three books were told from Nevada's point of view. Catalina took center stage in the novella,
Diamond Fire
, and kept the lead in this book. I loved Nevada but I am finding that I really like Catalina as well. Catalina is definitely her own person and often approaches things differently than Nevada might. I really enjoyed seeing this wonderful family from a different perspective.
I loved the characters in this book. I already loved the members of the Baylor family from the earlier books in the series but I always enjoy getting to know them just a little better. I really liked getting to know Catalina in detail. It was fun to see her use her powers and I have a feeling that we are going to get to see them develop quite a bit in future books. Alessandro was a bit of a mystery. I liked the fact that it was really hard to tell whose side he is on but he always seemed to show up exactly when he was needed. The chemistry between Catalina and Alessandro was pretty much off the charts so I am looking forward to seeing how things progress between the pair in future books.
This story was exciting and the mystery was very well done. There is no shortage of action in this story as I have come to expect from the series. The mystery was fairly complex and Catalina was forced to juggle many things while she worked to get to the bottom of things. I really liked that there were a few larger plot points that were left open and I look forward to seeing where things go in future books.
I would highly recommend this book to others. This book was everything that I had hoped that it would be and even just a little bit more. I can't wait to read this one again and again!
I received a digital review copy of this book from Avon Books via NetGalley / Edelweiss.
Hidden Legacy Series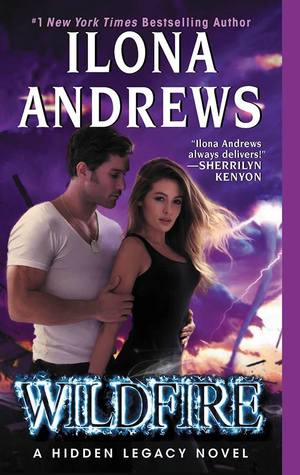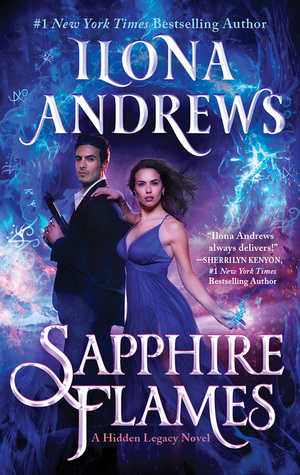 Book #1 -
Burn for Me
-
My Review
Book #2 -
White Hot
-
My Review
Book #3 -
Wildfire
-
My Review
Book #3.5 -
Diamond Fire
-
My Review
Book #4 -
Sapphire Flames
- Now Available!
About the Author


"Ilona Andrews" is the pseudonym for a husband-and-wife writing team. Ilona is a native-born Russian and Gordon is a former communications sergeant in the U.S. Army. Contrary to popular belief, Gordon was never an intelligence officer with a license to kill, and Ilona was never the mysterious Russian spy who seduced him. They met in college, in English Composition 101, where Ilona got a better grade. (Gordon is still sore about that.) They have co-authored two New York Times and USA Today bestselling series—the urban fantasy of Kate Daniels and the romantic urban fantasy of The Edge—and are working on the next volumes for both. They live in Texas with their two children and many dogs and cats.