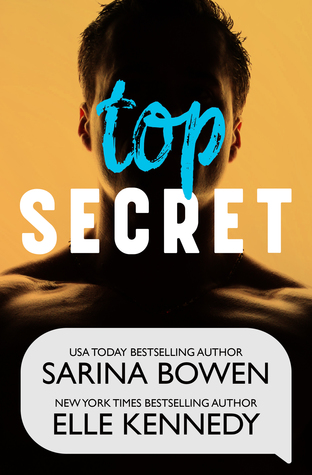 Top Secret by Sarina Bowen & Elle Kennedy
Publisher: Tuxbury Publishing LLC & Elle Kennedy Inc.
Publication Date: May 7, 2019
Date Read: May 4, 2019
Length: 319 pages
Source: Author/Publicist
★★★★☆
Bestselling authors Sarina Bowen & Elle Kennedy return with their first Male / Male romance in 3 years.

LobsterShorts, 21. Jock. Secretly a science geek. Hot AF.

LobsterShorts: So. Here goes. For her birthday, my girlfriend wants…a threesome.


LobsterShorts: Have you done this sort of thing before? With another guy?

SinnerThree: All the time. I'm an equal opportunity player. You?

LobsterShorts: [crickets!]

SinnerThree, 21. Finance major. Secretly a male dancer. Hot AF.

SinnerThree: Well, I'm down if you are. My life is kind of a mess right now. School, work, family stress. Oh, and I live next door to the most annoying dude in the world. I need the distraction. Are you sure you want this?

LobsterShorts: I might want it a little more than I'm willing to admit.

SinnerThree: Hey, nothing wrong with pushing your boundaries...

LobsterShorts: Tell that to my control-freak father. Anyway. What if this threesome is awkward?

SinnerThree: Then it's awkward. It's not like we'll ever have to see each other again. Right? Just promise you won't fall in love with me.

LobsterShorts: Now wouldn't that be life-changing...

This was simply a wonderful romance! I pretty new to Sarina Bowen's writing and very new to Elle Kennedy's but they have both totally won me over. I was really excited to start reading this book and actually had to read just a bit as soon as it became available. I rarely start reading books right away so that really says a lot about my eagerness to read this book. This book was everything that I had hoped it would be and I had a fantastic time reading it.
I don't read a lot of MM romance and I am starting to wonder why that is the case because this book worked so well for me. I thought that the set up for this story was very well done. Keaton was trying to give his girlfriend exactly what she wanted for her birthday and he ended up with so much more. I had a pretty good idea where things would end up going but I had no idea how anything would happen.
I liked Keaton and Luke from the start of this book. I think that the fact that they have no idea who it is that they are talking to worked very well. The fact that they lived across the hall from each other was perfect. It was great being in Keaton's head while he tried to figure out what it is that he really wanted. Luke was pretty confident in some areas of his life but he did not want to depend on anyone for anything.
Luke and Keaton really made a wonderful couple. The chemistry that the shared was off the charts whether they were texting or face to face. I loved the way they both seemed to come alive when they were together. I felt like their true selves really came out during the scenes where they were together and let the rest of the world just go away. These two were seriously hot together.
I would recommend this book to others. This was a book that hooked me at the very beginning and held me until the very end. I loved going on this journey with Keaton and Luke and can't wait to read more from this talented writing pair.
I received a digital review copy of this book from the author/publicist.
About the Authors


Sarina Bowen is the RITA® Award winning author of over two dozen contemporary and LGTB romance novels. She most recently hit the USA Today bestseller's list in February, with Brooklynaire. Formerly a derivatives trader on Wall Street, Sarina holds a BA in economics from Yale University.

Sarina Bowen is a New Englander whose Vermont ancestors cut timber and farmed the north country since the 1760s. Sarina is grateful for the invention of indoor plumbing and wi-fi during the intervening 250 years. On a few wooded acres, she lives with her husband, two boys, and an ungodly amount of ski and hockey gear.

Sarina's books are published in a dozen languages on four continents. In 2016, The Romance Writers of America honored HIM by Sarina Bowen & Elle Kennedy with a RITA award for Best Contemporary Romance, Mid-Length.

A New York Times, USA Today and Wall Street Journal bestselling author, Elle Kennedy grew up in the suburbs of Toronto, Ontario, and holds a B.A. in English from York University. From an early age, she knew she wanted to be a writer, and actively began pursuing that dream when she was a teenager.

Elle writes romantic suspense and erotic contemporary romance for various publishers. She loves strong heroines and sexy alpha heroes, and just enough heat and danger to keep things interesting!