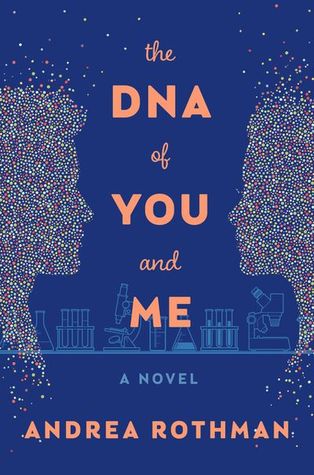 The DNA of You and Me by Andrea Rothman
Publisher: William Morrow
Publication Date: March 12, 2019
Date Read: March 31, 2019
Length: 242 pages
Source: Publisher
★★★☆☆
A smart debut novel—a wonderfully engaging infusion of Lab Girl, The Assistants, and Eleanor Oliphant Is Completely Fine—that pits the ambition of scientific discovery against the siren call of love.

How does smell work? Specifically, how do olfactory sensory neurons project to their targets in the olfactory bulb, where smell is processed? Justin McKinnon has hired fresh-faced graduate student Emily to study that question. What Justin hasn't told Emily is that two other scientists in the lab, Aeden and Allegra, are working on a very similar topic, and their findings may compete with her research.

Emily was born focused and driven. She's always been more comfortable staring down the barrel of a microscope than making small talk with strangers. Competition doesn't scare her. Her special place is the lab, where she analyzes DNA sequences, looking for new genes that might be involved in guiding olfactory neurons to their targets.

To Emily's great surprise, her rational mind is unsettled by Aeden. As they shift from competitors to colleagues, and then to something more, Emily allows herself to see a future in which she doesn't end up alone. But when Aeden decides to leave the lab, it becomes clear to Emily that she must make a choice: follow her research or follow her heart.

A sharp, relevant novel that speaks to the ambitions and desires of modern women, The DNA of You and Me explores the evergreen question of career versus family, the irrational sensibility of love, and whether one can be a loner without a diagnostic label.

I did like this book even if I didn't love it. This was a book that was very different than I thought it would be. I thought that this was a romance. It was labeled romance, the book's description sounds romantic, and even the title sounds like a romance novel. But it didn't feel like a romance. Yes, there is a relationship in the book but not one that I could get excited about. I still found this book to be very readable and did enjoy the experience.
This book was really heavy on the science which I liked. It might have been a little too detailed at times but I like that kind of thing so it worked for me. I found the research that Emily and Aeden were doing really interesting and was eager to see how their experiments would turn out.
I had some trouble with Emily and Aeden's relationship. They had no chemistry. None at all. I felt no passion between them. I also don't think that this relationship was really healthy. Things started between them with some rather odd sexual encounters. I felt like Emily was being taken advantage of more than anything, especially since one of the encounters were less than consensual. When I read a romance, I need a couple that I can cheer towards their happily ever after but with this pair, I felt that they really shouldn't be with each other.
This book is told from Emily's point of view and I did find her to be a really interesting character. She was raised by her father in a lab so it was really no surprise that she felt at home in a lab. She is awkward in social situations and would really rather focus on work. While it is not confirmed, the story hints that Emily might be on the spectrum. I really did want to see good things come for Emily.
I did enjoy this book even if I had some issues with it. I found this to be a very quick read and I am glad that I picked it up. I wouldn't hesitate to read more from this author in the future.
I received a review copy of this book from William Morrow.
About the Author


Andrea Rothman was a postdoctoral fellow and subsequent research associate at the Rockefeller University in New York, where she studied the neurobiology of olfaction. She earned her MFA in writing from Vermont College of Fine Arts. Her fiction has appeared in Ducts, FutureCycle Press, Lablit, Cleaver Magazine, Avalon Literary Review, Litro Magazine, and Flash Fiction Magazine. She lives in Great Neck, New York.