The Squirrel on the Train by Kevin Hearne
Narrated by Luke Daniels
Series: The Iron Druid Chronicles #8.75
Publisher: Kevin Hearne
Publication Date: November 30, 2017
Date Read: April 19, 2019
Length: 2 hours 55 minutes
Source: Purchased - Audible
★★★★☆
Oberon the Irish wolfhound is off to Portland to smell all the things with canine companions wolfhound Orlaith and Boston terrier Starbuck, and, of course, his human, ancient Druid Atticus O'Sullivan. The first complication is an unmistakable sign of sinister agendas afoot: a squirrel atop the train. But an even more ominous situation is in store when the trio plus Atticus stumble across a murder upon arrival at the station. They recognize Detective Gabriela Ibarra, who's there to investigate. But they also recognize the body - or rather that the body is a doppelganger for Atticus himself.

The police, hampered by human senses of smell and a decided lack of canine intuition, obviously can't handle this alone. Not with Atticus likely in danger. Oberon knows it's time to investigate once more - for justice! For gravy! And possibly greasy tacos!

Alongside his faithful Druid, Oberon and the other loyal hounds navigate by nose through Portland to find a bear-shifter friend with intel, delicious clues at the victim's home, and more squirrels. Always more squirrels!

But will our hungry band of heroes be able to identify the culprit before someone else is murdered? Will there be mystery meat in gravy as a reward or tragedy in store for the world's (or at least the Pacific Northwest's) greatest dog detective?

Like its predecessor The Purloined Poodle, the latest of Oberon's Meaty Mysteries novella, The Squirrel on the Train, is not to be missed by fans of Kevin Hearne's New York Times best-selling Iron Druid series.


I am in love with Oberon! It is no secret that I am a dog person. I have three dogs and would probably have more if the county I live in didn't set limits. So I am always drawn to stories involving dogs but Oberon is a special kind of dog and I just love these short pieces that are told completely from his point of view. I think I started smiling as soon as I hit play on this audiobook and didn't quit smiling until it was over because it was just that much fun.
This story starts with Oberon, Orlaith, Starbuck, and Atticus taking a ride on a train. There is a squirrel on the train and the dogs are not happy about it. Once they reach their destination, they run into some bigger problems. There is a dead man that looks just like Atticus. This had me wondering who the real target was and I completely understood why Atticus and Oberon needed to get to the bottom of the mystery.
I thought that the mystery was really well done. It was fairly complex considering this is a pretty short piece. I found myself guessing until the very end and was surprised by a few things that developed along the way. Atticus and the dogs make a wonderful team and I love how much help the dogs were in finding the clues.
Luke Daniels does a fantastic job with this series. I couldn't imagine experiencing this story in any format other than audio. I really love the way he is able to bring Oberon to life and I feel that he is able to capture his canine way of looking at life. He delivers all of the more humorous parts of the story wonderfully as well as the more serious scenes.
I would recommend this series to others. I do think that readers of the Iron Druid Chronicles will appreciate this tale from Oberons point of view. I think it could also probably work as a stand-alone. I kind of jumped ahead a bit by reading this one now but had no issues keeping up with the story. I can't wait to read more of this wonderful series!
The Iron Druid Chronicles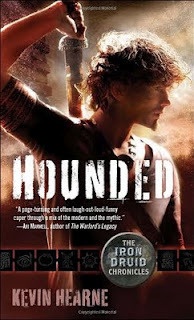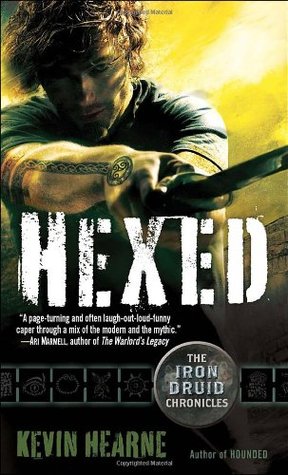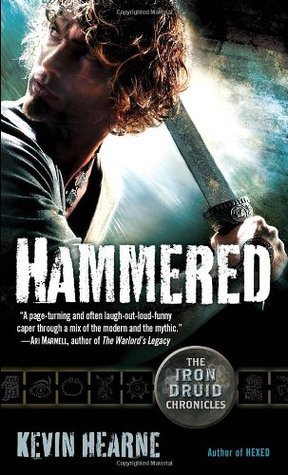 Book #1 -
Hounded
-
My Review
Book #2 -
Hexed
-
My Review
Book #3 -
Hammered
-
My Review
Book #4 -
Tricked
Book #5 -
Trapped
Book #6 -
Hunted
Book #7 -
Shattered
Book #8 -
Staked
Book #8.5
- The Purloined Poodle -
My Review
Book #8.75
- The Squirrel on the Train
Book #9 -
Scourged
About the Author