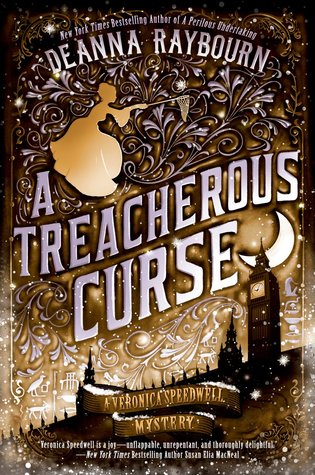 A Treacherous Curse by Deanna Raybourn
Series: Veronica Speedwell Mystery #3
Publisher: Berkley Publishing Group
Publication Date: January 16, 2018
Date Read: March 8, 2019
Source: Edelweiss
★★★★☆
Veronica Speedwell returns in an adventure filled with betrayal and deception from Deanna Raybourn, the New York Times bestselling author of the Lady Julia Grey Mysteries.

London, 1888. As colorful and unfettered as the butterflies she collects, Victorian adventuress Veronica Speedwell can't resist the allure of an exotic mystery—particularly one involving her enigmatic colleague Stoker. His former expedition partner has vanished from an archeological dig with a priceless diadem unearthed from the newly-discovered tomb of an Egyptian princess. The disappearance is just the latest in a string of unfortunate events that have plagued the controversial expedition, and rumors abound that the curse of the vengeful princess has been unleashed.

Soon Veronica also has to contend with sordid details and malevolent enemies that have emerged from Stoker's past. Caught in a tangle of conspiracies and threats, Veronica must unravel a web of duplicity that threatens to cost Stoker everything…

My Review
Why did I wait so long to read this book? I have no excuses but now that I have finished the book, I know that putting it off for a year was a bad plan. I really enjoyed this installment in the series, probably even more than the previous book. Once I got into this book, I didn't want to put it down because I was completely pulled into the mystery.
The mystery in this book was solid. Veronica and Stoker are trying to find a missing man. A man who happens to be a big part of Stoker's past. This mystery reaches all the way to the caves in Egypt and is much more involved than originally thought. I was pulled in a lot of different directions and was completely stumped when it came to trying to figure out what really happened.
One of the things that I love about this series is the characters. Veronica is very smart and able to think on her feet. She isn't like most women of her time and cares less about what is proper than what she wants. I knew that Stoker had a very interesting past and was thrilled to get some big pieces of it filled in during the course of this book. I think that the things that we learn about Stoker in this book really make it easier to understand him better. I love the relationship between Stoker and Veronica. They work so well together and make a great team. There is a part of me, okay a big part, that wants to see a romance develop between the pair but I am also okay with the sexual tension between them continuing to pop up and make things interesting.
I would highly recommend this book to others. This is the third book in the Veronica Speedwell Mystery series which really should be read in order if at all possible since the relationships between the characters have built over the course of series. This book was filled with fantastic characters solving a very well done mystery and revealing a few secrets. I can't wait to get started on the newest book from this series very soon.
I received a digital review copy of this book from Berkley Publishing Group via Edelweiss.
Book #2 -
A Perilous Undertaking -
My Review
Book #3
- A Treacherous Curse
Book #4
- A Dangerous Collaboration -
Now Available!
About the Author


Deanna Raybourn, the author of the award-winning New York Times bestselling Lady Julia Grey series and several standalone novels, is pleased to introduce her new Victorian-set mystery series featuring Veronica Speedwell. Deanna lives in Virginia with her husband and daughter.