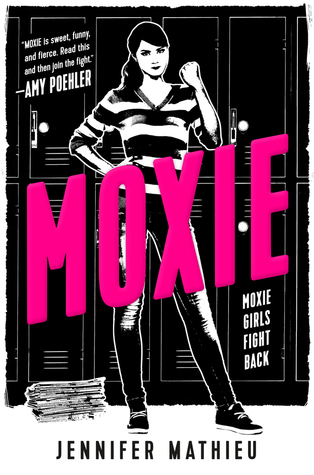 Moxie by Jennifer Mathieu
Narrated by Suzy Jackson
Publisher: Macmillan Children's Publishing Group / Recorded Books
Publication Date: September 19, 2017
Date Read: March 15, 2019
Length: 336 pages / 8 hours 54 minutes
Source: NetGalley / Library
★★★★☆
"Moxie is sweet, funny, and fierce. Read this and then join the fight."—Amy Poehler

An unlikely teenager starts a feminist revolution at a small-town Texan high school in the new novel from Jennifer Mathieu, author of The Truth About Alice.

MOXIE GIRLS FIGHT BACK!

Vivian Carter is fed up. Fed up with an administration at her high school that thinks the football team can do no wrong. Fed up with sexist dress codes, hallway harassment, and gross comments from guys during class. But most of all, Viv Carter is fed up with always following the rules.

Viv's mom was a tough-as-nails, punk rock Riot Grrrl in the '90s, and now Viv takes a page from her mother's past and creates a feminist zine that she distributes anonymously to her classmates. She's just blowing off steam, but other girls respond. As Viv forges friendships with other young women across the divides of cliques and popularity rankings, she realizes that what she has started is nothing short of a girl revolution.

Moxie is a book about high school life that will make you wanna riot!

I really ended up enjoying this book! This was a review book that completely slipped through the cracks and was left to sit somewhat forgotten. By the time I pulled it out of the pile, I didn't completely remember why I had been drawn to it in the first place. I wasn't too far into the book when I realized just how good this story really was and I had a fantastic time with it.
It has been a long time since I was a teenager or went to high school. A very long time. My youngest daughter is currently finishing up her final year of high school and my oldest is a young adult so I have lived with teenagers for quite a few years so I feel like I know what they are like and I thought that this book was filled with realistic teenagers which is one of the things that I really really enjoyed about it.
I wish that the things that happen at Vivian's high school during the course of this book didn't happen. I know that they happened when I was in school and I don't think it is too much of a stretch to think that they still happen quite often in certain areas. I was mad. I was disappointed. And I was disappointed. How could the adults let these things happen and not speak up? How was it that none of the parents of daughters from the school were demanding change? The one thing that I would have loved to see happen in this book would be for Vivian, or one of her friends, to tell the adult in their life exactly what was going on.
These girls didn't let others fight their battles though. Vivian sparks a movement that eventually works its way across her school. I was so happy to see these girls stand up and fight the things that were wrong together. It was a very uplifting message about how change can happen if you get enough people to stand up with you.
I listened to the audiobook version of this book which turned out to be a fantastic choice because Suzy Jackson did a wonderful job with the story. She really was the voice of Vivian and I thought that she did was able to bring this story to life. All of the character voices were really well done and I had no problems listening to this book for hours at a time.
I would recommend this book to others. I had a great time watching this wonderful group of characters fight for a cause that was easy to get behind. I look forward to reading more of Jennifer Mathieu's work in the future.
I received a digital review copy of this book from Macmillan Children's Publishing Group via NetGalley and borrowed a copy of the audiobook from my local library.
About the Author




Jennifer Mathieu is the author of Devoted and The Truth About Alice, the winner of the Children's Choice Book Awards' Teen Choice Debut Author Award. She teaches middle and high school English in Texas, where she lives in the Houston area with her husband and son.