Tricked by Kevin Hearne
Narrated by Luke Daniels
Series: The Iron Druid Chronicles #4
Publisher: Brilliance Audio
Publication Date: April 24, 2012
Date Read: January 25, 2019
Length: 10 hours 42 minutes
Source: Purchased - eStories
★★★☆☆
Druid Atticus O'Sullivan hasn't stayed alive for more than two millennia without a fair bit of Celtic cunning. So when vengeful thunder gods come Norse by Southwest looking for payback, Atticus, with a little help from the Navajo trickster god Coyote, lets them think that they've chopped up his body in the Arizona desert.

But the mischievous Coyote is not above a little sleight of paw, and Atticus soon finds that he's been duped into battling bloodthirsty desert shape-shifters called skinwalkers. Just when the Druid thinks he's got a handle on all the duplicity, betrayal comes from an unlikely source. If Atticus survives this time, he vows he won't be fooled again. Famous last words.

I liked this book. I do have to admit that it was not my favorite book in the series so far but it was still good. This is the fourth book in the Iron Druid Chronicles which is a series that really has to be read in order. I have found the entire series to be rather entertaining and this book was no exception.
The book started out really strong. Atticus needs to disappear so a plan is developed to make sure that everyone thinks he is gone for good. I really enjoyed the parts of the book that dealt with Atticus and Granuaile leaving their old life behind. Atticus finds himself owing Coyote a favor which Coyote cashes in quite wisely. Coyote is such a sneaky character which I find a lot of fun.
I will say that this book felt a bit uneven to me. There were parts of the book where I was hanging on to every word because I was totally into the story. There were other sections that I wanted to drift off so I had to focus so that I didn't miss something important to the story. This was never a book that I didn't like but I did find a few sections to be a little slow.
Luke Daniels continues to do a fabulous job with this series. I really could not imagine experiencing this series in any other way. He is the voice of Atticus but he also is able to encompass all of the other characters. I think that my favorite voice is probably the one he uses for Oberon. It is really quite brilliant. Luke Daniels has quickly moved to the top of my list of favorite narrators and I can't wait to listen to him bring the rest of the series to life.
I would definitely recommend this series to others. I think that it is a really well-done series filled with great characters and exciting situations. My rating of this book is really closer to 3.5 stars and I did enjoy it quite a bit. I can't wait to see what happens next in the series!
The Iron Druid Chronicles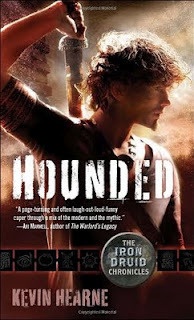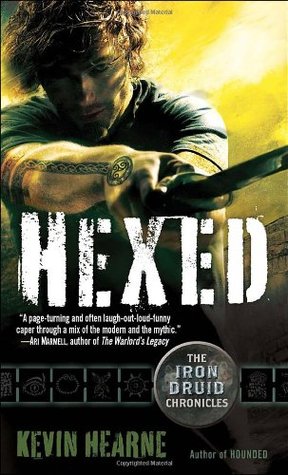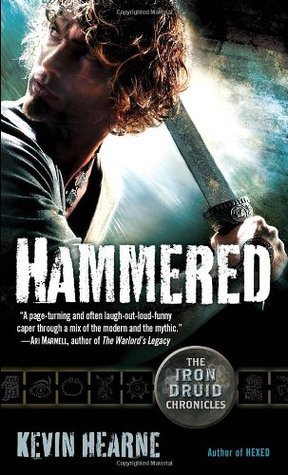 Book #1 -
Hounded
-
My Review
Book #2 -
Hexed
-
My Review
Book #3 -
Hammered
-
My Review
Book #4 -
Tricked
Book #5 -
Trapped
Book #6 -
Hunted
Book #7 -
Shattered
Book #8 -
Staked
Book #9 -
Scourged
About the Author