The Purloined Poodle by Kevin Hearne
Narrated by Luke Daniels
Series: The Iron Druid Chronicles #8.5
Publisher: Kevin Hearne
Publication Date: September 30, 2016
Date Read: January 26, 2019
Length: 2 hours 57 minutes
Source: Purchased - Audible
★★★★☆
Thanks to his relationship with the ancient Druid Atticus O'Sullivan, Oberon the Irish wolfhound knows trouble when he smells it - and furthermore, he knows he can handle it.

When he discovers that a prizewinning poodle has been abducted in Eugene, Oregon, he learns that it's part of a rash of hound abductions all over the Pacific Northwest. Since the police aren't too worried about dogs they assume have run away, Oberon knows it's up to him to track down those hounds and reunite them with their humans. For justice! And gravy!

Engaging the services of his faithful Druid, Oberon must travel throughout Oregon and Washington to question a man with a huge salami, thwart the plans of diabolical squirrels, and avoid, at all costs, a fight with a great big bear.

But if he's going to solve the case of the Purloined Poodle, Oberon will have to recruit the help of a Boston terrier named Starbuck, survive the vegetables in a hipster pot pie, and firmly refuse to be distracted by fire hydrants and rabbits hiding in the rose bushes.

At the end of the day, will it be a sad bowl of dry kibble for the world's finest hound detective, or will everything be coming up sirloins?

The Purloined Poodle is another exciting novella entry in Kevin Hearne's New York Times best-selling Iron Druid series.

This was fun! I kind of jumped ahead by reading this one when I did but I have no regrets. I needed a shorter audiobook that both my daughter and I could enjoy on a short road trip. We started another book and both hated that narrator so I downloaded this book and decided to give it a try. I think it worked well out of order although a few things in Atticus's personal life were different than in the earlier books. We both had a lot of fun going along for the ride as Oberon worked to solve the mystery with a little help from Atticus.
I have enjoyed the books that I have read in the Iron Druid Chronicles so far. My favorite part of the series has been Oberon from the start. When I found out that there were stories from Oberon's point of view, I knew that I had to have them in my life. It turns out that this story was just as good as I had hoped it would be. I just love the Oberon looks at the world.
Oberon and Atticus learn that several champion dogs have gone missing and they decide it is time to help figure out what is going on. It was a fairly involved mystery that involved a lot of pretty awesome dogs and a lot of excitement. It was great meeting Starbuck and I thought he was the perfect addition to the cast. I loved the way that Oberon and Atticus worked together along with Starbuck to get to the bottom of the missing dogs.
Luke Daniels did an amazing job with this story. I think that he does a great job giving a dog the voice that is just perfect for his character. I could have easily listened to this book in its entirety if my life would have made it possible. I thought his delivery was very well done and I love the way he delivered the more comical parts of the story.
I would recommend this book to others. I think that readers of the series are not going to want to miss this one. Readers new to the series could start with this book but it is really best to read these books in order. I can't wait to read more of this exciting series.
The Iron Druid Chronicles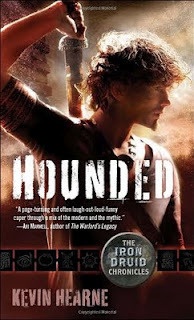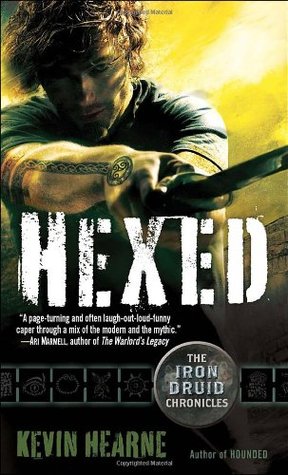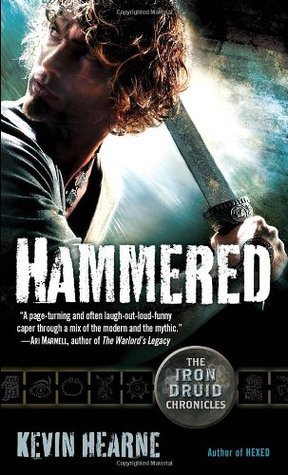 Book #1 -
Hounded
-
My Review
Book #2 -
Hexed
-
My Review
Book #3 -
Hammered
-
My Review
Book #4 -
Tricked
Book #5 -
Trapped
Book #6 -
Hunted
Book #7 -
Shattered
Book #8 -
Staked
Book #8.5
- The Purloined Poodle
Book #9 -
Scourged
About the Author