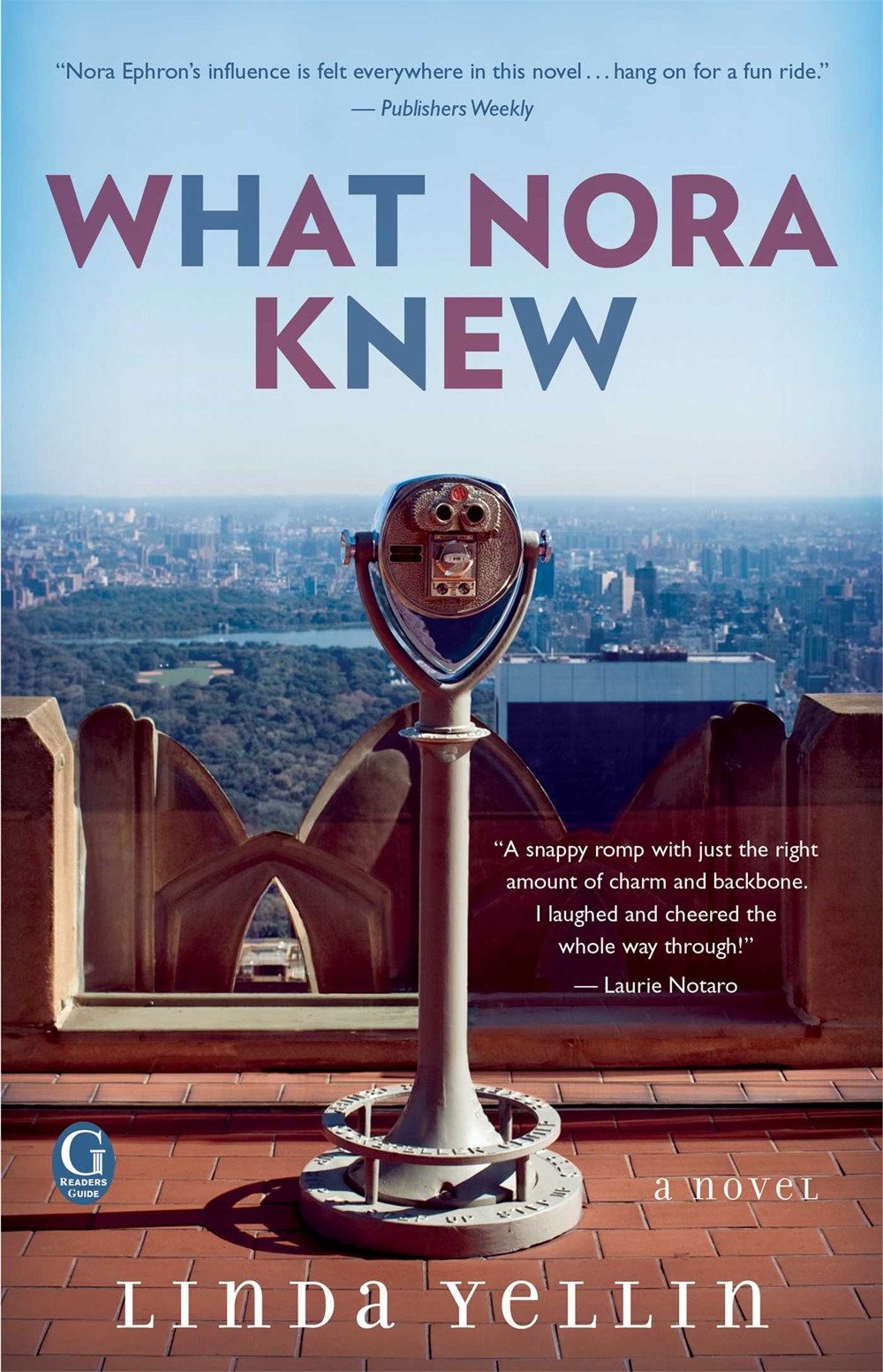 What Nora Knew by Linda Yellin
Publisher: Gallery, Threshold, Pocket Books
Publication Date: January 21, 2014
Date Read: December 31, 2018
Length: 320 pages
Source: NetGalley
★★★☆☆
Self-professed cynic Molly Hallberg navigates the tricky waters of New York romance with help from the advice found in Nora Ephron's romantic comedies.

Molly Hallberg is a thirty-nine-year-old divorced writer living in New York City who wants her own column, a Wikipedia entry, and to never end up in her family's Long Island upholstery business. For the past four years Molly's been on staff for an online magazine, covering all the wacky assignments. She's snuck vibrators through security scanners, speed-dated undercover, danced with the Rockettes, and posed nude for a Soho art studio.

Fearless in everything except love, Molly is now dating a forty-four-year old chiropractor. He's comfortable, but safe. When Molly is assigned to write a piece about New York City romance "in the style of Nora Ephron," she flunks out big-time. She can't recognize romance. And she can't recognize the one man who can go one-on-one with her, the one man who gets her. But with wit, charm, whip-smart humor, and Nora Ephron's romantic comedies, Molly learns to open her heart and suppress her cynicism in this bright, achingly funny novel.

I thought that this was a good read. I have had a copy of this book for years but for one reason or another just never got started with it. I decided that it was time to dust it off and give it a try and found it rather amusing. I do have to say that I am probably not the target audience for this book. I am the right age to have seen quite a few of Nora Ephron's movies, which I have, but with the exception of
When Harry Met Sally
I found them to be only mildly entertaining and not something I would feel the need to revisit. There are a lot of Nora Ephron references in this book which really didn't do anything for me. I still found this to be a very pleasant way to spend a few hours.
The book opens with Molly meeting her eventual ex-husband. After a quick introduction, the book picks up with divorced Molly working at an online magazine. Molly is in a relationship with Russell who might be slightly boring but they are comfortable with each other. Her friends really wish that Molly would give up on Russell and look for someone who will bring some passion to her life and really be the one. When Molly is given an assignment at work to write about love as Nora Ephron would, she has to examine her own life.
I liked Molly and found her to be funny at times. A lot of the book is spent in Molly's head as she thinks through her assignment and her life. It really made sense that she wasn't eager to take a big risk in regards to romance since her former husband really took advantage of her trust. Molly wanted to find a passionate relationship but she found herself making choices with lower risks instead.
Unfortunately, not a whole lot happens in this book. The romance in the story doesn't get going until the very end of the book. I understand that this was really more about Molly's journey but I would have loved to see just a bit more of her life as she takes some risks. I found this book to be only mildly funny. It was amusing but there was nothing that brought on actual laughter or stayed with me.
I found this to be a nice quick read that I am glad I finally decided to pick up. Fans of Nora Ephron's work will enjoy all of the references to her books and movies worked into the story. I would not hesitate to read more from Linda Yellin in the future.
I received a digital review copy of this book from Gallery, Threshold, Pocket Books via NetGalley.
About the Author

Linda Yellin writes humor pieces for

More

magazine. She wrote numerous short stories for

Redbook

magazine back when they still published short stories and was a regular guest on SiriusXM Radio's women's talk show, "Broadminded." Her writing career began in advertising where she wrote headlines for shampoos, hamburgers, and cheese.