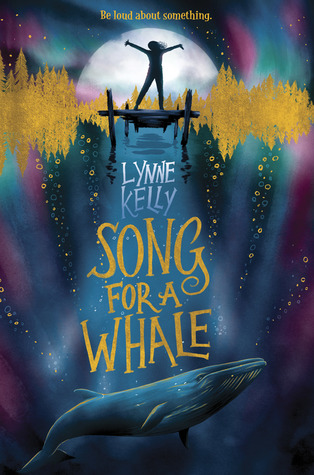 Song for a Whale by Lynne Kelly
Publisher: Delacorte Press
Publication Date: February 5, 2019
Date Read: January 11, 2019
Length: 320 pages
Source: Publisher
★★★★☆
In the spirit of modern-day classics like Fish in a Tree and Counting by 7s comes the story of a deaf girl's connection to a whale whose song can't be heard by his species, and the journey she takes to help him.

From fixing the class computer to repairing old radios, twelve-year-old Iris is a tech genius. But she's the only deaf person in her school, so people often treat her like she's not very smart. If you've ever felt like no one was listening to you, then you know how hard that can be.

When she learns about Blue 55, a real whale who is unable to speak to other whales, Iris understands how he must feel. Then she has an idea: she should invent a way to "sing" to him! But he's three thousand miles away. How will she play her song for him?

I liked this book quite a lot. I don't read middle-grade books very often but I think that may be something that I really need to change. I was drawn to this book as soon as I saw it and while that may due in part to the gorgeous cover, it was mostly the premise of the story that grabbed my attention. Every time I picked up this book, I quickly was lost in Iris's world. I really had a great time with this book.
Iris is a twelve-year-old girl who happens to be deaf. She goes to a regular school where she is the only deaf person with the assistance of her sign language interpreter. It took about all of five minutes for my heart to go out to Iris as she explained what it was like to live in a world where nobody understands you. She has no friends at school and keeps being paired up with a classmate who claims to know sign language but whose hand motions make no sense to Iris at all. She feels very alone.
Iris's attention is grabbed by a whale that she learns about in school that sings at a different frequency than the other whales and therefore can't communicate with them. Iris is a whiz at repairing old radios outside of school and she uses that knowledge to help find a way to communicate with that special whale named Blue 55. Blue 55 lives alone in the ocean with no one to talk to and Iris can relate much better than most people.
I fell in love with Iris almost immediately. I think that the author did a fabulous job of letting the reader really understand how isolated she felt. Iris is a very intelligent and determined girl and I liked the way she worked through the puzzle of helping the whale. I really enjoyed taking this journey with Iris and was pleased to see the progression of her relationships with her family in addition to her quest to save the whale.
I would recommend this book to others. I think that this was a wonderfully written story about a little girl and a giant whale that I won't forget anytime soon. I look forward to reading more of Lynne Kelly's work in the future.
I received a review copy of this book from Delacorte Press.
About the Author


Lynne Kelly has always loved reading, but while working as a special education teacher, she fell in love with children's literature all over again. She lives in Houston, Texas, and works as a sign language interpreter while writing books for kids. Her first book, Chained, was a South Asia Book Award Honor and Crystal Kite Award winner. Song for a Whale is her second novel.