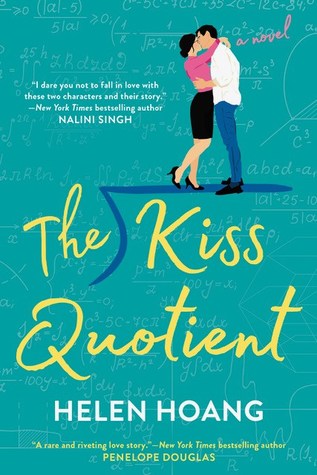 The Kiss Quotient by Helen Hoang
Narrated by Carly Robins
Publisher: Berkley Publishing Group / Dreamscape Media, LLC
Publication Date: June 5, 2018
Date Read: January 10, 2019
Length: 336 pages / 9 hours 36 minutes
Source: Bookish First / Purchased
★★★★☆
A heartwarming and refreshing debut novel that proves one thing: there's not enough data in the world to predict what will make your heart tick.

Stella Lane thinks math is the only thing that unites the universe. She comes up with algorithms to predict customer purchases — a job that has given her more money than she knows what to do with, and way less experience in the dating department than the average thirty-year-old.


It doesn't help that Stella has Asperger's and French kissing reminds her of a shark getting its teeth cleaned by pilot fish. Her conclusion: she needs lots of practice — with a professional. Which is why she hires escort Michael Phan. The Vietnamese and Swedish stunner can't afford to turn down Stella's offer, and agrees to help her check off all the boxes on her lesson plan — from foreplay to more-than-missionary position...

Before long, Stella not only learns to appreciate his kisses, but to crave all the other things he's making her feel. Soon, their no-nonsense partnership starts making a strange kind of sense. And the pattern that emerges will convince Stella that love is the best kind of logic...

I thought that this was really good. I have had a copy of this book for some time but never picked it up despite the fact that other readers have been raving about it. I wanted to read the book but I just couldn't seem to work it into my reading schedule so when the audiobook went on sale recently, I jumped on it. Sometimes, it is just easier to work an audiobook into my reading schedule and I have to say that the narration added to my enjoyment of this wonderful little story.
I wrongly assumed that this would be a sweet and rather tame romance largely because of the cover. Boy, was I ever wrong! The story may have had its sweet moments but this is not a tame romance. This was pretty steamy and there were a lot more sex scenes than I would have guessed. I don't mind romances with a lot of heat and rather enjoy them in most cases so the fact that my assumption was wrong didn't make a difference to me but I thought I would mention the fact to other readers.
Stella has Asperger's and sometimes looks at the world a little different than others. She excels at her profession as an econometrician but knows that she has a few things to learn when it comes to sex. She decides that the best course of action is to hire a professional to teach her what she needs to know which is where Michael enters the picture. Michael is not proud of his job as an escort but he is resigned to doing what his family needs him to do. He has a one date rule for his clients until he meets Stella and agrees to help her with her lessons.
I really liked getting the opportunity to be in Stella's head. I loved the way she described everything and her internal monologue provided a lot of insight to the reader. She tries to break everything down into logical steps but is really unsure about a lot of things. Michael's character was just as interesting. He is willing to sacrifice himself for the sake of his family. He really was a great guy and I loved how he was with Stella. He thought highly of her and thought others should as well. He seemed to know just what she needed.
I had a great time watching these two fall for each other. They had such great chemistry with each other but they also seemed to be able to see everything good about each other. They didn't hold anything against each other. Michael didn't care about Stella's labels and Stella didn't care about Michael's history. They instead saw what kind of person the other was.
Carly Robins did a fantastic job with the narration of this audiobook. I think that her performance really helped to bring the story to life for me. I think that she captured the personalities of both Stella and Michael and brought a lot of emotion into the reading. She had a very pleasant reading voice that was easy to listen to for hours at a time.
I would recommend this book to fans of contemporary romance. This was a great romance with wonderful characters that made me laugh and touched my heart. I look forward to reading whatever Helen Hoang comes up with next!
I received a review copy of this book from Berkley Publishing Group via Bookish First and purchased a copy of the audiobook.
About the Author


Helen Hoang is that shy person who never talks. Until she does. And the worst things fly out of her mouth. She read her first romance novel in eighth grade and has been addicted ever since. In 2016, she was diagnosed with Autism Spectrum Disorder in line with what was previously known as Asperger's Syndrome. Her journey inspired The Kiss Quotient. She currently lives in San Diego, California, with her husband, two kids, and pet fish.