Hammered by Kevin Hearne
Narrated by Luke Daniels
Series: The Iron Druid Chronicles #3
Publisher: Brilliance Audio
Publication Date: July 5, 2011
Date Read: October 29, 2018
Length: 9 hours 36 minutes
Source: Purchased - eStories
★★★★☆
Thor, the Norse god of thunder, is worse than a blowhard and a bully - he's ruined countless lives and killed scores of innocents. After centuries, Viking vampire Leif Helgarson is ready to get his vengeance, and he's asked his friend Atticus O'Sullivan, the last of the Druids, to help take down this Norse nightmare.

One survival strategy has worked for Atticus for more than two thousand years: stay away from the guy with the lightning bolts. But things are heating up in Atticus's home base of Tempe, Arizona. There's a vampire turf war brewing, and Russian demon hunters who call themselves the Hammers of God are running rampant. Despite multiple warnings and portents of dire consequences, Atticus and Leif journey to the Norse plane of Asgard, where they team up with a werewolf, a sorcerer, and an army of frost giants for an epic showdown against vicious Valkyries, angry gods, and the hammer-wielding Thunder Thug himself.

It really should be no surprise that I had a good time with this book. After reading and enjoying the first two books in this series, I was really excited to dive into this third installment. Just in case you are wondering, this is a series that should be read in order. The book started out with a lot of action and really kept the pace up until the very end. I thoroughly enjoyed going on this adventure with Atticus.
Atticus has a few debts to pay in this book. The first order of business is retrieving a golden apple for a local witch. Even though this sounds like a rather simple act, it proves to be anything but. He then is tasked with leading a group to kill Thor. I wondered why this group would be so determined to end the life of Thor but as each member shared their history with the god it became quite evident.
This was an action-packed tale that kept Atticus on the move for the bulk of the book. There was a whole lot of action worked into the story and I felt like Atticus was in a whole lot of danger during several scenes. My biggest complaint with this book was that I really would have liked to see more of Oberon but that is just because he is my favorite character in the series. I love the fact that there is a lot of humor worked into the story to balance everything out.
Luke Daniels does an amazing job with this book. I think that he really does take this story to the next level and I couldn't imagine experiencing this series in any other way. He is able to handle a very large cast of characters with ease and uses distinctive voices for all of the key players. He even narrates the voice of Oberon, a dog, convincingly. I think that he was able to add a lot of excitement to the story through his reading and I found myself wanting to listen to this book for hours at a time.
I would highly recommend this series to others. I think that this book is able to combine great characters, a lot of excitement, a few laughs, and some tension very well. I can't wait to continue reading this wonderful series.
The Iron Druid Chronicles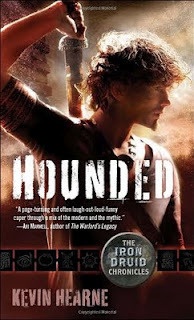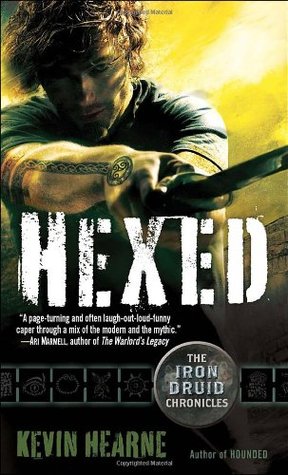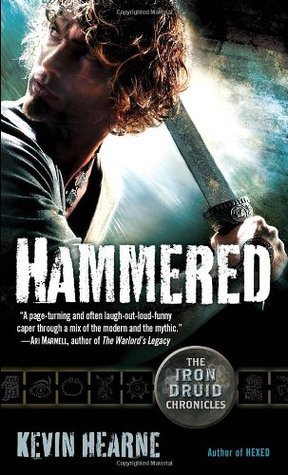 Book #1 -
Hounded
-
My Review
Book #2 -
Hexed
-
My Review
Book #3 -
Hammered
Book #4 -
Tricked
Book #5 -
Trapped
Book #6 -
Hunted
Book #7 -
Shattered
Book #8 -
Staked
Book #9 -
Scourged
About the Author