Diamond Fire by Ilona Andrews
Series: Hidden Legacy #3.5
Publisher: Avon Books
Publication Date: November 6, 2018
Date Read: August 18, 2018
Length: 160 pages
Source: Edelweiss
★★★★★
Nevada Frida Baylor and Connor Ander Rogan cordially invite you to join their wedding celebration. Summoning, weather manipulation, and other magical activities strictly forbidden.

Catalina Baylor is looking forward to wearing her maid of honor dress and watching her older sister walk down the aisle. Then the wedding planner gets escorted off the premises, the bride's priceless tiara disappears, and Rogan's extensive family overruns his mother's home. Someone is cheating, someone is lying, and someone is plotting murder.

To make this wedding happen, Catalina will have to do the thing she fears most: use her magic. But she's a Baylor and there's nothing she wouldn't do for her sister's happiness. Nevada will have her fairy tale wedding, even if Catalina has to tear the mansion apart brick by brick to get it done.

I loved this novella! Absolutely loved it! It is hard not to gush over how much I loved this book so I am just going to go with it. I adore the Hidden Legacy series and have read the original three books two or three times each already so I was really excited to learn that the series would be continuing. I was really excited to see this world through Catalina's eyes and I was not disappointed. I had so much fun with this story.
I love Nevada and Mad Rogan but I really like the rest of Nevada's family as well so I am more than okay with the torch being passed along to Catalina. I like Catalina even more after reading this story. I felt like I knew her before I got started with this novella but the amount of character development in this short piece was extraordinary. In this story, readers actually see more of Mad Rogan than Nevada which I think worked perfectly since it gave Catalina a chance to really stand on her own for the story. I also fell in love with Rogan's mom. She was amazing in this story and I hope we get to see a whole lot more of her in future books.
There is a mystery that needs to be solved on top the upcoming wedding. There is a big group of Rogan's extended family in town for the wedding and causing a whole lot of trouble at the same time. This is not a very likable group overall and it was hard to trust most of them. It was a lot of fun to watch Catalina navigate such a complicated group of individuals and get to the bottom of it all.
I would highly recommend this story to others. I think that it could work as a stand-alone but I think that it really works better when read in series order. This series is amazing and you don't want to miss any of the books anyway so I would suggest starting with
Burn for Me
. I can't wait to read more from this fantastic series!
I received a digital review copy of this book from Avon Books via Edelweiss.
Hidden Legacy Series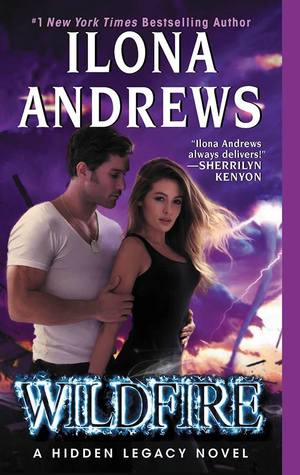 Book #1 -
Burn for Me
-
My Review
Book #2 -
White Hot
-
My Review
Book #3 -
Wildfire
-
My Review
Book #3.5 -
Diamond Fire
- Available November 6, 2018!
About the Author


"Ilona Andrews" is the pseudonym for a husband-and-wife writing team. Ilona is a native-born Russian and Gordon is a former communications sergeant in the U.S. Army. Contrary to popular belief, Gordon was never an intelligence officer with a license to kill, and Ilona was never the mysterious Russian spy who seduced him. They met in college, in English Composition 101, where Ilona got a better grade. (Gordon is still sore about that.) They have co-authored two New York Times and USA Today bestselling series—the urban fantasy of Kate Daniels and the romantic urban fantasy of The Edge—and are working on the next volumes for both. They live in Texas with their two children and many dogs and cats.