It's Tuesday! That means it is time to make a little bit of room on the bookshelves, load up your ereader, or make your way to your local library. In other words - It is time to get your hands on a new book!
Here are just a few books that have just been released that you may want to grab soon:
Fireworks by Sarina Bowen
Skye Copeland is on paid leave from her broadcasting job after accidentally drawing a pecker on the traffic map.

Let that sink in. Like it's her fault the traffic pattern created a perfect schlong?

Skye isn't laughing. She needs this job. And that's the only reason she's willing to chase down a story in her least favorite place—that hell on earth known as Vermont.

A quick trip. In and out. Much like - never mind. She can sneak into the town that once tried to break her, get the story and slide back into the good graces of her producer. Easy peasy.

But things go sideways the moment she steps over the county line. Her stepsister is running from a violent drug dealer. And the cop on the case is none other than Benito Rossi, the man who broke Skye's teenage heart.

His dark brown eyes still tear her apart. And even as she steels herself to finally tell him off after twelve years, the old fireworks are still there.

Things are about to go boom.
Introducing a remarkable new character from #1 New York Times bestselling writer David Baldacci: Atlee Pine, an FBI agent with special skills assigned to the remote wilds of the southwestern United States who must confront a new threat . . . and an old nightmare.

Eeny, meeny, miny, moe. Catch a tiger by its toe.

It's seared into Atlee Pine's memory: the kidnapper's chilling rhyme as he chose between six-year-old Atlee and her twin sister, Mercy. Mercy was taken. Atlee was spared.

She never saw Mercy again.

Three decades after that terrifying night, Atlee Pine works for the FBI. She's the lone agent assigned to the Shattered Rock, Arizona resident agency, which is responsible for protecting the Grand Canyon.

So when one of the Grand Canyon's mules is found stabbed to death at the bottom of the canyon-and its rider missing-Pine is called in to investigate. It soon seems clear the lost tourist had something more clandestine than sightseeing in mind. But just as Pine begins to put together clues pointing to a terrifying plot, she's abruptly called off the case.

If she disobeys direct orders by continuing to search for the missing man, it will mean the end of her career. But unless Pine keeps working the case and discovers the truth, it could spell the very end of democracy in America as we know it...
Seasons of Sorcery by Amanda Bouchet, Grace Draven, Jennifer Estep, and Jeffe Kennedy
Find it at:
Goodreads
|
LibraryThing
WINTER'S WEB BY JENNIFER ESTEP
An assassin at a renaissance faire. What could possibly go wrong? Everything, if you're Gin Blanco. This Spider is trapped in someone else's icy web—and it seems like they don't want her to leave the faire alive . . .

A CURSE FOR SPRING BY AMANDA BOUCHET

A malevolent spell strangles the kingdom of Leathen in catastrophic drought. Prince Daric must break the curse before his people starve. A once-mighty goddess trapped in a human body might be the key—but saving his kingdom could mean losing all that he loves.

THE DRAGONS OF SUMMER BY JEFFE KENNEDY

As unofficial consort to the High Queen, former mercenary Harlan Konyngrr faces a challenge worse than looming war and fearsome dragons. His long-held secrets threaten what he loves most—and he must make a choice between vows to two women.

A WILDERNESS OF GLASS BY GRACE DRAVEN

The stretch of sea known as The Gray rules the lives of those in the village of Ancilar, including widow Brida Gazi. In the aftermath of an autumn storm, Brida discovers one of the sea's secrets cast onto the shore—a discovery that will change her world, mend her soul, and put her in the greatest danger she's ever faced.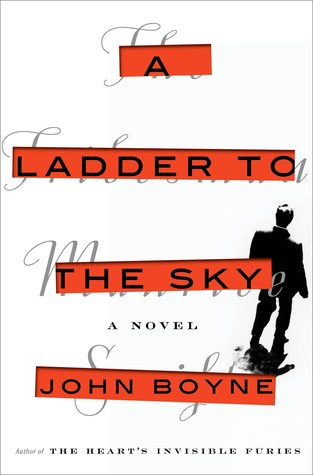 A Ladder to the Sky by John Boyne
Find it at:
Goodreads
|
LibraryThing
Amazon
|
BAM!
|
B&N
|
IndieBound
|
Kobo
The new novel from the beloved New York Times bestselling author of The Boy in the Striped Pajamas and The Heart's Invisible Furies , a seductive Highsmithian psychodrama following one brilliant, ruthless man who will stop at nothing in his pursuit of fame

Maurice Swift is handsome, charming, and hungry for success. The one thing he doesn't have is talent - but he's not about to let a detail like that stand in his way. After all, a would-be writer can find stories anywhere. They don't need to be his own.

Working as a waiter in a West Berlin hotel in 1988, Maurice engineers the perfect opportunity: a chance encounter with celebrated novelist Erich Ackermann. He quickly ingratiates himself with the powerful - but desperately lonely - older man, teasing out of Erich a terrible, long-held secret about his activities during the war. Perfect material for Maurice's first novel.

Once Maurice has had a taste of literary fame, he knows he can stop at nothing in pursuit of that high. Moving from the Amalfi Coast, where he matches wits with Gore Vidal, to Manhattan and London, Maurice hones his talent for deceit and manipulation, preying on the talented and vulnerable in his cold-blooded climb to the top. But the higher he climbs, the further he has to fall...
More Great Books Being Released This Week
(Covers link to Goodreads)
Which new releases are you excited about this week?