I had a great time participating in this year's HoHoHo Readathon hosted by the fabulous Kimberly at
Caffeinated Reviewer
. The readathon began on November 9 and ended on November 18. There were some fun events and a twitter party during the readathon but I wasn't able to participate in any of them. I hope to be able to do more of that next year. I really spent the week focusing on reading and am happy with what I was able to accomplish.
A big thank you to Kimberly and everyone else who helped make this readathon happen!
I finished 7 books during the event:
Short Reviews:
A Vampire's Christmas Carol by Cynthia Eden
Date Read: 11/10/18
Length: 84 pages
Book Source: Kindle Freebie
★★★★☆
I enjoyed this vampire twist on the well known Christmas story, A Christmas Carol. Ben gets the chance to relive his past, see his present a little more clearly, and even gets a peek at a possible future. I thought that the paranormal aspect of the story really changed things up and made the story fun. There are some unexpected twists along the way and I found myself crossing my fingers that Ben would make the right choices.
The Omen Days: A Christmas Ghost Story
by J.T. Ellison
Date Read: 11/11/18
Length: 89 pages
Book Source: Kindle Freebie
★★★★★
This was a really well done short story. I was completely drawn into the story from the start and I was captivated until the very end. I thought that the main character was very well developed, especially for such a short piece. I felt his heartbreak, his joy, and his determination. There was a pretty big twist, some action, and a rather compelling mystery. I was more than satisfied with how everything wrapped up.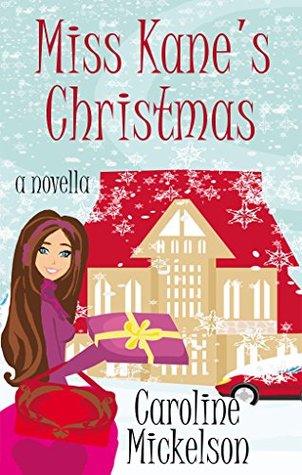 Miss Kane's Christmas by Caroline Mickelson
Date Read: 11/14/18
Length: 156 pages
Book Source: Kindle Freebie
★★★☆☆
This was cute. Pretty predictable but still cute. For some reason, I kept imagining this story as a made for TV movie the whole time I read it. It just had that kind of feel to it. The kids were cute. Carol was a little too much Christmas spirit but I guess that would run in her family. Ben went from Mr. Grump to Mr. I Love You in the blink of an eye. I thought it was okay in the end but rather forgettable.
A Kiss for Midwinter by Courtney Milan
Date Read: 11/15/18
Length: 121 pages
Book Source: Kindle Freebie
★★★★★
My rating is probably closer to 4.5 stars. I really liked this one and it left me with a big old happy grin in the end. At the start of the story, we see Lydia at her low point which Jonas witnessed. Jonas was socially inept which I think added to his charm. Lydia couldn't see past the things that he knew about her. They make a silly bet but Jonas really just wants to spend more time with Lydia to try to win her over. The first time they see each other after that bet was over really got to me. My heart melted into a big puddle over here and I couldn't wait to see this pair together. I am definitely going to have to read more from Courtney Milan.
Full reviews to be posted later:
Did you participate in this year's HoHoHo Readthon? Do you have any holiday reads planned in the next few weeks?