It's Tuesday! That means it is time to make a little bit of room on the bookshelves, load up your ereader, or make your way to your local library. In other words - It is time to get your hands on a new book!
Here are just a few books that have just been released that you may want to grab soon:
Fight or Flight by Samantha Young
A series of chance encounters leads to a sizzling new romance from the New York Times bestselling author of the On Dublin Street series.

The universe is conspiring against Ava Breevort. As if flying back to Phoenix to bury a childhood friend wasn't hell enough, a cloud of volcanic ash traveling from overseas delayed her flight back home to Boston. Her last ditch attempt to salvage the trip was thwarted by an arrogant Scotsman, Caleb Scott, who steals a first class seat out from under her. Then over the course of their journey home, their antagonism somehow lands them in bed for the steamiest layover Ava's ever had. And that's all it was--until Caleb shows up on her doorstep.

When pure chance pulls Ava back into Caleb's orbit, he proposes they enjoy their physical connection while he's stranded in Boston. Ava agrees, knowing her heart's in no danger since a) she barely likes Caleb and b) his existence in her life is temporary. Not long thereafter Ava realizes she's made a terrible error because as it turns out Caleb Scott isn't quite so unlikeable after all. When his stay in Boston becomes permanent, Ava must decide whether to fight her feelings for him or give into them. But even if she does decide to risk her heart on Caleb, there is no guarantee her stubborn Scot will want to risk his heart on her....
The highly acclaimed author of Watching Edie returns with a new novel of dark psychological suspense that explores how those closest to us have the most to hide...

When Clara's boyfriend, Luke, disappears, everyone believes that he's left her, but Clara thinks she knows the truth. Recent evidence suggests that Luke had a stalker, and Clara worries that he's been kidnapped. Then Luke's older sister, Emma, who vanished twenty years ago, suddenly reappears.

Emma wants to help Clara with her search for Luke, but she refuses to talk about what happened--even though it nearly destroyed her family when she vanished. And the deeper Clara digs into Luke's mysterious disappearance, the more convinced she is that the two incidents are connected.
Bridge of Clay by Markus Zusak
Find it at:
Goodreads
|
Booklikes
|
LibraryThing
The breathtaking story of five brothers who bring each other up in a world run by their own rules. As the Dunbar boys love and fight and learn to reckon with the adult world, they discover the moving secret behind their father's disappearance.

At the center of the Dunbar family is Clay, a boy who will build a bridge—for his family, for his past, for greatness, for his sins, for a miracle.

The question is, how far is Clay willing to go? And how much can he overcome?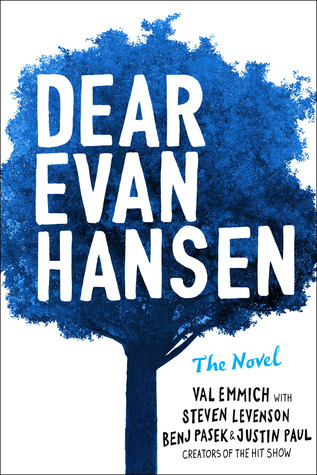 Dear Evan Hansen by Val Emmich, Steven Levenson, Benj Pasek, and Justin Paul
Find it at:
Goodreads
|
LibraryThing
From the show's creators comes the groundbreaking novel inspired by the Broadway smash hit Dear Evan Hansen.

Dear Evan Hansen,

Today's going to be an amazing day and here's why...

When a letter that was never meant to be seen by anyone draws high school senior Evan Hansen into a family's grief over the loss of their son, he is given the chance of a lifetime: to belong. He just has to stick to a lie he never meant to tell, that the notoriously troubled Connor Murphy was his secret best friend.

Suddenly, Evan isn't invisible anymore--even to the girl of his dreams. And Connor Murphy's parents, with their beautiful home on the other side of town, have taken him in like he was their own, desperate to know more about their enigmatic son from his closest friend. As Evan gets pulled deeper into their swirl of anger, regret, and confusion, he knows that what he's doing can't be right, but if he's helping people, how wrong can it be?

No longer tangled in his once-incapacitating anxiety, this new Evan has a purpose. And a website. He's confident. He's a viral phenomenon. Every day is amazing. Until everything is in danger of unraveling and he comes face to face with his greatest obstacle: himself.

A simple lie leads to complicated truths in this big-hearted coming-of-age story of grief, authenticity and the struggle to belong in an age of instant connectivity and profound isolation.
More Great Books Being Released This Week
(Covers link to Goodreads)
Which new releases are you excited about this week?