It's Tuesday! That means it is time to make a little bit of room on the bookshelves, load up your ereader, or make your way to your local library. In other words - It is time to get your hands on a new book!
Here are just a few books that have just been released that you may want to grab soon:
Phoenix Unbound by Grace Draven
Every year, each village is required to send a young woman to the Empire's capital--her fate to be burned alive for the entertainment of the masses. For the last five years, one small village's tithe has been the same woman. Gilene's sacrifice protects all the other young women of her village, and her secret to staying alive lies with the magic only she possesses.

But this year is different.

Azarion, the Empire's most famous gladiator, has somehow seen through her illusion--and is set on blackmailing Gilene into using her abilities to help him escape his life of slavery. And unknown to Gilene, he also wants to reclaim the birthright of his clan.

To protect her family and village, she will risk everything to return to the Empire--and burn once more.
Who needs mistletoe?

Most people wouldn't think of a bad Santa case as the perfect Christmas gift. Then again, Molly Malone, office manager at Hunt Investigations, isn't most people, and she could really use a distraction from the fantasies she's been having since spending the night with her very secret crush, Lucas Knight. Nothing happened, not that Lucas knows that—but Molly just wants to enjoy being a little naughty for once . . .

Whiskey and pain meds for almost-healed bullet wounds don't mix. Lucas needs to remember that next time he's shot on the job, which may be sooner rather than later if Molly's brother, Joe, finds out about them. Lucas can't believe he's drawing a blank on his (supposedly) passionate tryst with Molly, who's the hottest, smartest, strongest woman he's ever known. Strong enough to kick his butt if she discovers he's been assigned to babysit her on her first case. And hot enough to melt his cold heart this Christmas.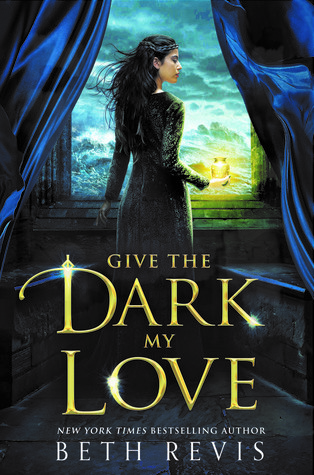 Give the Dark My Love by Beth Revis
Find it at:
Goodreads
|
Booklikes
|
LibraryThing
When seventeen-year-old Nedra Brysstain leaves her home in the rural, northern territories of Lunar Island to attend the prestigious Yugen Academy, she has only one goal in mind: learn the trade of medicinal alchemy. A scholarship student matriculating with the children of Lunar Island's wealthiest and most powerful families, Nedra doesn't quite fit in with the other kids at Yugen, who all look down on her.

All, except for Greggori "Grey" Astor. Grey is immediately taken by the brilliant and stubborn Nedra, who he notices is especially invested in her studies. And that's for a good reason: a deadly plague has been sweeping through the North, and it's making its way toward the cities. With her family's life--and the lives of all of Lunar Island's citizens--on the line, Nedra is determined to find a cure for the plague.

Grey and Nedra continue to grow closer, but as the sickness spreads and the body count rises, Nedra becomes desperate to find a cure. Soon, she finds herself diving into alchemy's most dangerous corners--and when she turns to the most forbidden practice of all, necromancy, even Grey might not be able to pull her from the darkness.
The Ancient Nine by Ian Smith
Find it at:
Goodreads
|
LibraryThing
"Pulls you into the depths of a secret world from the first page. Ian Smith's novel is unmissable." —Harlan Coben, author of Missing You

Cambridge, Massachusetts, Fall 1988

Spenser Collins
An unlikely Harvard prospect, smart and athletic, strapped for cash, determined to succeed. Calls his mother—who raised him on her own in Chicago—every week.

Dalton Winthrop
A white-shoe legacy at Harvard, he's just the most recent in a string of moneyed, privileged Winthrop men in Cambridge. He's got the ease—and the deep knowledge—that come from belonging.

These two find enough common ground to become friends, cementing their bond when Spenser is "punched" to join the Delphic Club, one of the most exclusive of Harvard's famous all-male final clubs. Founded in the nineteenth century, the Delphic has had titans of industry, Hollywood legends, heads of state, and power brokers among its members.

Dalton Winthrop knows firsthand that the Delphic doesn't offer memberships to just anyone. His great-uncle is one of their oldest living members, and Dalton grew up on stories of the club's rituals. But why is his uncle so cryptic about the Ancient Nine, a shadowy group of alums whose identities are unknown and whose power is absolute? They protect the Delphic's darkest and oldest secrets—including what happened to a student who sneaked into the club's stately brick mansion in 1927 and was never seen again.

Dalton steers Spenser into deeper and deeper recesses of the club, and beyond, to try to make sense of what they think they may be seeing. But with each scrap of information they get from an octogenarian Crimson graduate, a crumbling newspaper in the library's archives, or one of Harvard's most famous and heavily guarded historical books, a fresh complication trips them up. The more the friends investigate, the more questions they unearth, tangling the story of the club, the disappearance, and the Ancient Nine, until they realize their own lives are in danger.
More Great Books Being Released This Week
(Covers link to Goodreads)
Which new releases are you excited about this week?