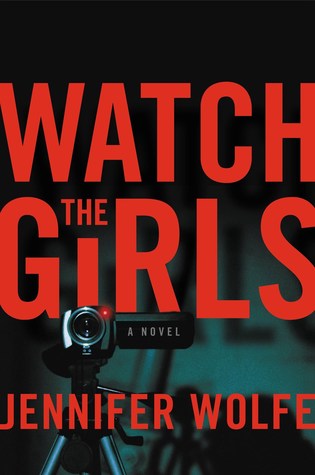 Watch the Girls by Jennifer Wolfe
Publisher: Grand Central Publishing
Publication Date: July 10, 2018
Date Read: July 23, 2018
Length: 320 pages
Source: Publisher
★★★★☆
Fame and obsession collide in this darkly twisted novel from an incredible new voice in suspense.

I've been watched all my life. I'm used to being stared at. Observed. Followed.

SOMEONE IS WATCHING
Washed up teen star Liv Hendricks quit acting after her beloved younger sister inexplicably disappeared following a Hollywood party gone wrong. Liv barely escaped with her life, and her sister was never heard from again. But all this time, someone's been waiting patiently to finish what was started...

FOUR MISSING GIRLS
Now fifteen years later, broke and desperate, Liv is forced to return to the spotlight. She crowdfunds a webseries in which she'll pose as a real-life private detective--a nod to the show she starred on as a teen. When a mysterious donor challenges her to investigate a series of disappearances outside a town made famous by the horror movies filmed there, Liv has no choice but to accept.

FOLLOW THE WHITE WOLF
Liv is given a cryptic first clue: Follow the white wolf. And now a darker game is about to begin. Through social media, someone is leaving breadcrumbs to follow. As Liv makes increasingly disturbing discoveries, her show explodes in popularity. A rapt internet audience is eager to watch it all--perhaps even at the cost of Liv's own life...

Filled with provocative twists and turns as the line between plot and reality blurs in this inventive tour-de-force from breakout writer Jennifer Wolfe.

This was a book that really kept me guessing. When I first read the description for this book, I knew that I had to give it a try. I love a good thriller and this one looked to have a whole lot of promise. Once I got started with this one, I had to know how things would work out. There were plenty of twists and turns that kept the pages turning. I am glad that I decided to take a chance on this one.
Liv ended her acting career as a teenager when her sister disappeared. She has been working on a reality television show reminiscent of Scooby Doo. Since she is out of work, she decides to create her own investigation show on the web through crowdfunding. She is soon contacted by a well known director of horror films who wants to know what happened to his niece and several other women from town. Liv takes the job and starts trying to figure out what happened to these women.
Liv/Olivia was a tough character to figure out which I think added to the mystery of the story. As a teenager, Olivia was traumatized by the disappearance of her younger sister. As an adult, Liv is not exactly well adjusted. She drinks too much and behaves in a rather reckless manner. I wouldn't say that I disliked or really liked her character but she did keep me guessing and I saw a lot of growth in her by the end of the book.
I thought that the mystery was very well done. There were several things going on that I needed to some answers to in this book. I loved the fact that this book was a bit darker and I thought that the town which is known for the horror movies that have been made there was the perfect setting. I was also quite curious what really happened to Olivia's sister all those years ago.
I would recommend this book to anyone that like a darker book filled with lots of twists and turns. This was a very well written book that kept me guessing until the very end. Just when I thought I had part of the story figured out I would find that I was wrong. Even the characters kept me guessing with surprises throughout the story. I would not hesitate to read more of Jennifer Wolfe's work in the future.
I received a review copy of this book from Grand Central Publishing.
About the Author


Jennifer Wolfe worked as a phlebotomist, a fiction writing teacher, a copywriter, and ran a concert venue before quitting to move to Los Angeles, where she performed odd jobs in the film industry for a decade. She now divides her time between Los Angeles and Portland, Oregon. WATCH THE GIRLS is Jennifer's debut thriller. She also publishes young adult fiction under the name Jennifer Bosworth.