Blood Match by K.A. Linde
Series: Blood Type #2
Publisher: Loveswept
Publication Date: June 26, 2018
Date Read: July 21, 2018
Source: Purchase
★★★★☆
As the provocative, sensual Blood Type series continues, the rare bond between Reyna and Beckham is threatened by betrayal, greed, and twisted secrets.

A desperate human. A powerful vampire. A world divided.

Reyna Carpenter was promised paradise. She was delivered into hell.

Giving up her body for money was supposed to be the hardest part of becoming a blood escort. She never expected to lose her heart to her dark, enigmatic boss, Beckham Anderson. After being taken by a depraved captor who plans to rule the world, Reyna will do anything to return to Beckham.

She just has to find the will to survive this game.

From the pawn, rises a queen.

Note: Reyna and Beckham's story begins in Blood Type and continues in Blood Cure.

This was good read. I didn't like this book quite as much as the first book but I still found it to be quite enjoyable. This is the second book in the Blood Type series which is a series that really needs to be read in order since the three books come together to tell a single story. This book does end in a cliffhanger like the first book from the series did. I don't usually care for cliffhangers but I knew going into this book that the story would be continued in the next book which would be coming out pretty quickly. I really did enjoy this second chapter in Reyna and Beckham's story.
There may be spoilers from the first book in this review.
The first book in the series,
Blood Type
, left Reyna in a pretty desperate situation. I have been eager to see what would happen next ever since finishing that story so I decided to jump into this book to see how things would work out. Life with Harrington is nothing like the life she had with Beckham. She spends her time giving blood and is fairly miserable.
There is quite a bit of action and excitement in the book with more than a few surprises worked into the story. The mysterious Elle organization plays a much larger role in this book with Reyna spending a lot of time with them. There is a pretty large cast of characters that all add to the story. Reyna and Beckham are still the stars of the book. I love how much both of their characters have developed since the start of the series and how well they fit with each other.
I would recommend this series to others. I think it is a very well done and original vampire romance with a nice dose of heat. I cannot wait to read more from K.A. Linde soon.
The Series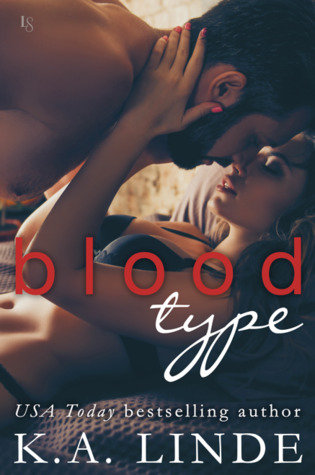 Book #1 -
Blood Type
-
My Review
Book #2 -
Blood Match
- Now Available
Book #3 -
Blood Cure
- Coming August 21, 2018
About the Author

K.A. Linde is the

USA Today

bestselling author of the Avoiding Series and more than twenty other novels. She grew up as a military brat and attended the University of Georgia where she obtained a Master's in political science. She works full-time as an author and loves Disney movies, binge-watching

Supernatural

, and

Star Wars

.

She currently lives in Lubbock, Texas, with her husband and two super-adorable puppies.