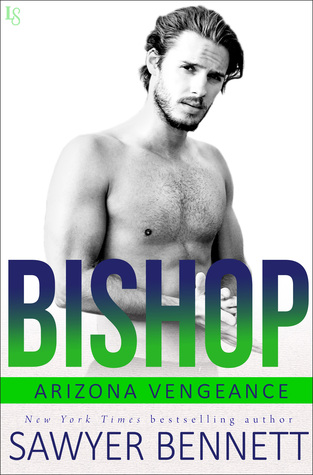 Bishop by Sawyer Bennett
Series: Arizona Vengeance #1
Publisher: Random House Publishing Group - Loveswept
Publication Date: August 14, 2018
Date Read: August 13, 2018
Length: 253 pages
Source: NetGalley
★★★★☆
Meet the Arizona Vengeance, hockey's hottest new team. They're burning up the ice—until a one-night-stand with the coach's daughter freezes one player in his skates.

Bishop Scott, co-captain. Not too shabby, huh? It's all part of my fresh start with the NHL's latest expansion team, and that means new teammates, a new coach, a new city, and a big new contract. Basically, I cannot f***ing wait to show my old squad what they're missing.

But first, I decide to check out the town before the grind begins. Turns out Arizona chicks are totally smokin', and I'm fortunate enough to meet one who's looking for the same thing I am: a night of anonymous, unforgettable, no-strings-attached sex.

Fast forward to the Vengeance arena. It's the last place I expect to see her again—let alone in her own office. Then bells go off and I finally realize who this girl is: Brooke Perron. My new coach's daughter. All of a sudden, we're picking up right where we left off, which means our hands are all over each other. That's when her dad—my boss—walks in. And before I can get a word out, Brooke's introducing me as her fiancé.

Sure, she just saved my ass. So why do I get the feeling Brooke's going to turn my world upside down? Maybe it's because this fake relationship feels way too real. . . .

This one was a winner! It didn't take much to get me excited about this book. Once I saw Sawyer Bennett's name on the cover and saw that it was about a hockey player, I knew that I had to read it. The fact that it is the first book in a new series is even better. I have really enjoyed the Cold Fury Hockey series but I was looking forward to meeting a new group of characters. I ended up having such a good time with Bishop!
Bishop has been added to the new expansion team, the Arizona Vengeance, and is new in town. The whole team has just been put together and he is excited to see how things will work out. He goes out to a local bar the night before his first team meeting and meets Brooke. The two end up spending one very steamy night together. Turns out Brooke is the coach's daughter and an employee of the team and things are not as simple as they thought it was going to be. When Brooke tells her father they are engaged, Bishop doesn't know what to think.
I don't always spend a lot of time reading book descriptions so I had no idea that this book was going to have a fake relationship. I love the fake relationship trope lately so I was really excited to see it play out in this book. These two had such great chemistry with each other so it was really no hardship for them to have to spend a little bit of extra time with each other. This fake relationship started looking pretty real to me rather quickly.
I really liked the characters. Bishop and Brooke were both new in town, having moved to Arizona to be a part of the new team. Brooke is dealing with a few more changes in her life since her new job isn't really what she wants to do long term but she feels like she needs to be there for her dad. Bishop wasn't really all that thrilled to have to move to the expansion team but he wants to make the most of it. There were a few of Bishop's teammates that played a pretty big role in the story and I really liked what they added as well. There was one character that was really hard to like in this book but it was kind of fun to see all the crazy things she was doing.
I would recommend this book to others. I had a great time with this romance and found it to be the perfect blend of great characters, steamy scenes, and heartfelt moments. I cannot wait to read more of this series by Sawyer Bennett!
I received a digital review copy of this book from Random House Publishing Group - Loveswept via NetGalley.
About the Author




Since the release of her debut contemporary romance novel, Off Sides, in January 2013, Sawyer Bennett has released more than 30 books and has been featured on both the USA Today and New York Times bestseller lists on multiple occasions.




A reformed trial lawyer from North Carolina, Sawyer uses real life experience to create relatable, sexy stories that appeal to a wide array of readers. From new adult to erotic contemporary romance, Sawyer writes something for just about everyone.




Sawyer likes her Bloody Mary's strong, her martinis dirty, and her heroes a combination of the two. When not bringing fictional romance to life, Sawyer is a chauffeur, stylist, chef, maid, and personal assistant to a very active toddler, as well as full-time servant to two adorably naughty dogs. She believes in the good of others, and that a bad day can be cured with a great work-out, cake, or a combination of the two.