It's Tuesday! That means it is time to make a little bit of room on the bookshelves, load up your ereader, or make your way to your local library. In other words - It is time to get your hands on a new book!
Here are just a few books that have just been released that you may want to grab soon:
Tailspin by Sandra Brown
Rye Mallett, a fearless "freight dog" pilot charged with flying cargo to far-flung locations, is often rough-spoken and all business, but soft on regulations when they get in the way of meeting a deadline. But he does have a rock-solid reputation: he will fly in the foulest weather, day or night, and deliver the goods safely to their destination. So, when Rye is asked to fly into a completely fogbound northern Georgia town and deliver a mysterious black box to a Dr. Lambert, he doesn't ask questions.

As Rye's plane nears the isolated landing strip, more trouble than inclement weather awaits him. He is greeted first by a sabotage attempt on his plane that causes him to crash land, and then by Dr. Brynn O'Neal, who claims she was sent for the box in Dr. Lambert's stead. Despite Rye's "no-involvement" policy when it comes to other people's problems, he finds himself irresistibly drawn to the intrigue surrounding his cargo . . . and to the mysterious and alluring Brynn.

Soon Rye and Brynn are in a treacherous forty-eight-hour race to deliver the box before time runs out. With everyone from law enforcement officials to hired thugs hot on their heels, they must learn to trust each other so they can protect their valuable cargo from those who would kill for it.
Find it at:
Vampire hunter Anita Blake has managed to overcome everything she faces. But this time there's a monster that even she doesn't know how to fight...

A remote Florida island is the perfect wedding destination for the upcoming nuptials of Anita's fellow U.S. Marshal and best friend Edward. For Anita, the vacation is a welcome break, as it's the first trip she gets to take with wereleopards Micah and Nathaniel. But it's not all fun and games and bachelor parties...

In this tropical paradise Micah discovers a horrific new form of lycanthropy, one that has afflicted a single family for generations. Believed to be the result of an ancient Greek curse, it turns human bodies into a mass of snakes.

When long-simmering resentment leads to a big blowout within the wedding party, the last thing Anita needs is more drama. But it finds her anyway when women start disappearing from the hotel, and worse--her own friends and lovers are considered the prime suspects. There's a strange power afoot that Anita has never confronted before, a force that's rendering those around her helpless in its thrall. Unable to face it on her own, Anita is willing to accept help from even the deadliest places. Help that she will most certainly regret--if she survives at all, that is...
Smothered by Autumn Chiklis
Find it at:
Goodreads
|
LibraryThing
A humorous debut crossover young adult novel about what happens when entering the "real world" means moving back in with your mother, inspired by actress and celebrity Autumn Chiklis' real life.

Eloise "Lou" Hansen is graduating from Columbia University summa cum laude, and she's ready to conquer the world. Just a few minor problems: she has no job, no prospects, and she's moving back into her childhood bedroom. Lou is grimly determined to stick to a rigorous schedule to get a job and get out of her parents' house. Shelly "Mama Shell" Hansen, on the other hand, is ecstatic, and just as determined to keep her at home. Who else will help her hide her latest binge-shopping purchases from her husband, go to SoulCycle with her, and hold her hand during Botox shots?

Smothered is a hilarious roman à clef told via journal entries, text messages, emails, bills, receipts, tweets, doctor's prescriptions, job applications and rejections, parking tickets, and pug pictures, chronicling the year that Lou moves back home after college. Told from Lou's point-of-view, Smothered tells the story of two young(ish) women, just trying to get it right, and learning that just because we all grow up doesn't mean we necessarily have to grow old. (After all, what is Juvaderm for?)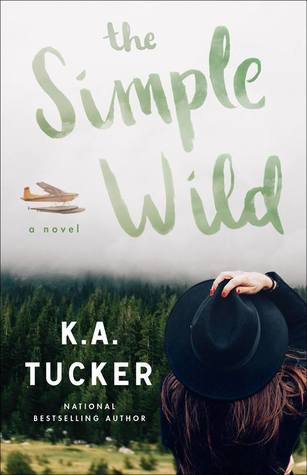 The Simple Wild by K.A. Tucker
Find it at:
Goodreads
|
Booklikes
|
LibraryThing
Calla Fletcher wasn't even two when her mother took her and fled the Alaskan wild, unable to handle the isolation of the extreme, rural lifestyle, leaving behind Calla's father, Wren Fletcher, in the process. Calla never looked back, and at twenty-six, a busy life in Toronto is all she knows. But when Calla learns that Wren's days may be numbered, she knows that it's time to make the long trip back to the remote frontier town where she was born.

She braves the roaming wildlife, the odd daylight hours, the exorbitant prices, and even the occasional—dear God—outhouse, all for the chance to connect with her father: a man who, despite his many faults, she can't help but care for. While she struggles to adjust to this rugged environment, Jonah—the unkempt, obnoxious, and proud Alaskan pilot who helps keep her father's charter plane company operational—can't imagine calling anywhere else home. And he's clearly waiting with one hand on the throttle to fly this city girl back to where she belongs, convinced that she's too pampered to handle the wild.

Jonah is probably right, but Calla is determined to prove him wrong. Soon, she finds herself forming an unexpected bond with the burly pilot. As his undercurrent of disapproval dwindles, it's replaced by friendship—or perhaps something deeper? But Calla is not in Alaska to stay and Jonah will never leave. It would be foolish of her to kindle a romance, to take the same path her parents tried—and failed at—years ago. It's a simple truth that turns out to be not so simple after all.
More Great Books Being Released Today
(Covers link to Goodreads)
Which new releases are you excited about this week?