It's Tuesday! That means it is time to make a little bit of room on the bookshelves, load up your ereader, or make your way to your local library. In other words - It is time to get your hands on a new book!
Here are just a few books that have just been released that you may want to grab soon:
Blood Cure by K.A. Linde
The stunning conclusion to the Blood Type series finds the world in chaos and turmoil with one final battle left to determine who will survive—humans or vampires.

She had the world on her shoulders. Now she has nothing.

Reyna Carpenter was twenty-one when she became a live-in blood escort for the ruthless and darkly handsome vampire Beckham Anderson. She thought this was just a small price to pay for feeding her brothers back home.

But nothing went as planned. Not even her tumultuous relationship with Beckham. And now she wonders if anything will ever be the same again.

As she finds herself in the midst of a losing rebellion, she and her trusted friends must flee from a city conquered by the vampire elite. With their plans blown to pieces and everything they knew and loved gone, their future hangs in the balance.

Despite all she has lost, Reyna must rise from the ashes, reclaim the life that was stolen—and complete her mission, once and for all.
Find it at:
In a city that runs on industrialized magic, a secret war will be fought to overwrite reality itself--the first in a dazzling new fantasy series from City of Stairs author Robert Jackson Bennett.

Sancia Grado is a thief, and a damn good one. And her latest target, a heavily guarded warehouse on Tevanne's docks, is nothing her unique abilities can't handle.

But unbeknownst to her, Sancia's been sent to steal an artifact of unimaginable power, an object that could revolutionize the magical technology known as scriving. The Merchant Houses who control this magic--the art of using coded commands to imbue everyday objects with sentience--have already used it to transform Tevanne into a vast, remorseless capitalist machine. But if they can unlock the artifact's secrets, they will rewrite the world itself to suit their aims.

Now someone in those Houses wants Sancia dead, and the artifact for themselves. And in the city of Tevanne, there's nobody with the power to stop them.

To have a chance at surviving—and at stopping the deadly transformation that's under way—Sancia will have to marshal unlikely allies, learn to harness the artifact's power for herself, and undergo her own transformation, one that will turn her into something she could never have imagined.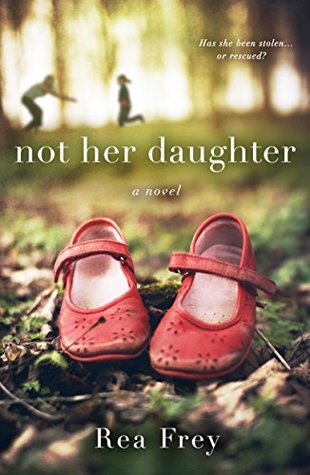 Not Her Daughter by Rea Frey
Find it at:
Goodreads
|
Booklikes
|
LibraryThing
Gripping, emotional, and wire-taut, Not Her Daughter raises the question of what it means to be a mother—and how far someone will go to keep a child safe.

Emma Townsend. Five years old. Gray eyes, brown hair. Missing since June.

Emma is lonely. Living with her cruel mother and clueless father, Emma retreats into her own world of quiet and solitude.

Sarah Walker. Successful entrepreneur. Broken-hearted. Kidnapper.

Sarah has never seen a girl so precious as the gray-eyed child in a crowded airport terminal. When a second-chance encounter with Emma presents itself, Sarah takes her—far away from home. But if it's to rescue a little girl from her damaging mother, is kidnapping wrong?

Amy Townsend. Unhappy wife. Unfit mother. Unsure whether she wants her daughter back.

Amy's life is a string of disappointments, but her biggest issue is her inability to connect with her daughter. And now Emma is gone without a trace.
As Sarah and Emma avoid the nationwide hunt, they form an unshakeable bond. But what about Emma's real mother, back at home?
Nightblood by Elly Blake
Find it at:
Goodreads
|
Booklikes
|
LibraryThing
Ruby's world has changed more than she ever could have imagined. She's in love with a powerful Frost King. She's the heir to the Fire Throne. And she may be a Nightblood--the spawn of a vengeful deity hellbent on releasing his wraithlike Minax from their prison. Once freed, these beasts will roam the earth, devouring every last person until he or she is nothing but an empty husk. But Ruby is able to control the Minax to a degree, and now she, her beloved Arcus, and her friend Kai must find a way to bring Frostbloods and Firebloods--sworn enemies--together to make a stand against a foe more deadly than any they've faced.

In this heart-pounding finale of Elly Blake's gorgeously written and action-packed Frostblood Saga, the fate of Frostbloods, Firebloods, and all of humanity is at stake.
More Great Books Being Released This Week
(Covers link to Goodreads)
Which new releases are you excited about this week?