It's Tuesday! That means it is time to make a little bit of room on the bookshelves, load up your ereader, or make your way to your local library. In other words - It is time to get your hands on a new book!
Here are just a few books that have just been released that you may want to grab soon: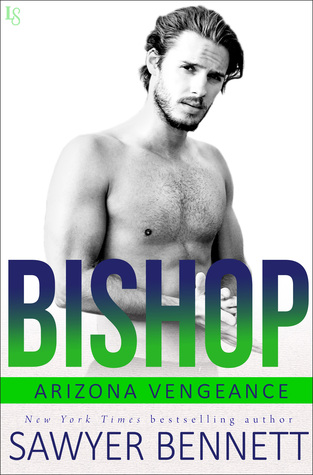 Bishop by Sawyer Bennett
Meet the Arizona Vengeance, hockey's hottest new team. They're burning up the ice—until a one-night-stand with the coach's daughter freezes one player in his skates.

Bishop Scott, co-captain. Not too shabby, huh? It's all part of my fresh start with the NHL's latest expansion team, and that means new teammates, a new coach, a new city, and a big new contract. Basically, I cannot f***ing wait to show my old squad what they're missing.

But first, I decide to check out the town before the grind begins. Turns out Arizona chicks are totally smokin', and I'm fortunate enough to meet one who's looking for the same thing I am: a night of anonymous, unforgettable, no-strings-attached sex.

Fast forward to the Vengeance arena. It's the last place I expect to see her again—let alone in her own office. Then bells go off and I finally realize who this girl is: Brooke Perron. My new coach's daughter. All of a sudden, we're picking up right where we left off, which means our hands are all over each other. That's when her dad—my boss—walks in. And before I can get a word out, Brooke's introducing me as her fiancé.

Sure, she just saved my ass. So why do I get the feeling Brooke's going to turn my world upside down? Maybe it's because this fake relationship feels way too real. . . .
Find it at:
In the first thrilling installment of Chloe Neill's spinoff to the New York Times bestselling Chicagoland Vampires series, a new vampire will find out just how deep blood ties run.

As the only vampire child ever born, some believed Elisa Sullivan had all the luck. But the magic that helped bring her into the world left her with a dark secret. Shifter Connor Keene, the only son of North American Central Pack Apex Gabriel Keene, is the only one she trusts with it. But she's a vampire and the daughter of a Master and a Sentinel, and he's prince of the Pack and its future king.

When the assassination of an ambassador brings old feuds to the fore again, Elisa and Connor must choose between love and family, between honor and obligation, before Chicago disappears forever.
When It's Right by Victoria Denault
Find it at:
Goodreads
|
LibraryThing
IT'S ALL A MATTER OF TIMING
Griffin Sullivan is handling the ultimate balancing act. Between being a single dad to an active six-year-old and the crazy demands of his job as a hockey coach, finding love is not in the cards. But when the team's goalie is rushed to the ER, he's immediately captivated by the gorgeous, sassy nurse on duty... who just happens to be the sister of one his players.

Sadie Braddock has always had a big, open heart and a bit of a wild side. But since her dad got sick, she's closed herself off to life and love. Relationships are way too complicated - and so is Griffin. He's also funny and tender and sexy as hell. How can something that feels so right come at the worst time ever? Then again, someone to lean on may be exactly what they each need - if they're only brave enough to take the risk.
The Line That Held Us by David Joy
Find it at:
Goodreads
|
LibraryThing
From critically acclaimed author David Joy comes a remarkable novel about the cover-up of an accidental death, and the dark consequences that reverberate through the lives of four people who will never be the same again.

When Darl Moody went hunting after a monster buck he's chased for years, he never expected he'd accidentally shoot a man digging ginseng. Worse yet, he's killed a Brewer, a family notorious for vengeance and violence. With nowhere to turn, Darl calls on the help of the only man he knows will answer, his best friend, Calvin Hooper. But when Dwayne Brewer comes looking for his missing brother and stumbles onto a blood trail leading straight back to Darl and Calvin, a nightmare of revenge rips apart their world. The Line That Held Us is a story of friendship and family, a tale balanced between destruction and redemption where the only hope is to hold on tight, clenching to those you love. What will you do for the people who mean the most, and what will you grasp to when all that you have is gone? The only certainty in a place so shredded is that no one will get away unscathed.
More Great Books Being Released Today
(Covers link to Goodreads)
Which new releases are you excited about this week?