Blood Cure by K.A. Linde
Series: Blood Type #3
Publisher: Loveswept
Publication Date: August 21, 2018
Date Read: August 2, 2018
Source: NetGalley
★★★★☆
The stunning conclusion to the Blood Type series finds the world in chaos and turmoil with one final battle left to determine who will survive—humans or vampires.

She had the world on her shoulders. Now she has nothing.

Reyna Carpenter was twenty-one when she became a live-in blood escort for the ruthless and darkly handsome vampire Beckham Anderson. She thought this was just a small price to pay for feeding her brothers back home.
But nothing went as planned. Not even her tumultuous relationship with Beckham. And now she wonders if anything will ever be the same again.

As she finds herself in the midst of a losing rebellion, she and her trusted friends must flee from a city conquered by the vampire elite. With their plans blown to pieces and everything they knew and loved gone, their future hangs in the balance.

Despite all she has lost, Reyna must rise from the ashes, reclaim the life that was stolen—and complete her mission, once and for all.

I enjoyed this book and am very happy about how the series wrapped up. This is the third book in the Blood Type series which really does need to be read in order. All three books in the series come together to tell a single story with cliffhangers at the end of the first and second books. Since all three books are currently available, I would say that this would be the perfect trilogy to read back to back. I know that once I had my hands on a copy of this book, I couldn't wait to get started with it.
This is the kind of book that is really best approached as blindly as possible. It is also a very difficult book to review because almost anything that I say about the actual story would be a spoiler. I am going to do my best to be as spoiler free as possible in this review.
The second book ends with a huge cliffhanger and things are not looking so good for Reyna. She has so much to overcome in this installment and the way she dealt with everything shows a lot of character growth since the start of the series. This book had a whole lot of ups and downs and I spent a whole lot of time worried about how things would work out for Reyna and everyone else. The characters in this book go through a wide range of emotions that really pulled me into the story. There was plenty of action and a whole lot of excitement that really kept me turning the pages as quickly as I could.
I would recommend this series to others. I thought that this was a really well done trilogy with a very satisfying ending. I am really quite amazed by how pleased I am about how everything came together at the end of this book. I cannot wait to read more from K.A. Linde in the future.
I received a digital review copy of this book from Random House Publishing Group - Loveswept via NetGalley.
The Series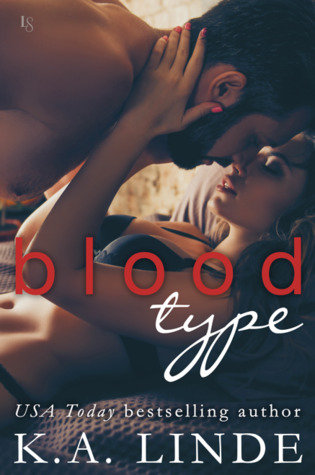 Book #1 -
Blood Type
-
My Review
Book #2 -
Blood Match
-
My Review
Book #3 -
Blood Cure
- Now Available
About the Author

K.A. Linde is the

USA Today

bestselling author of the Avoiding Series and more than twenty other novels. She grew up as a military brat and attended the University of Georgia where she obtained a Master's in political science. She works full-time as an author and loves Disney movies, binge-watching

Supernatural

, and

Star Wars

.

She currently lives in Lubbock, Texas, with her husband and two super-adorable puppies.