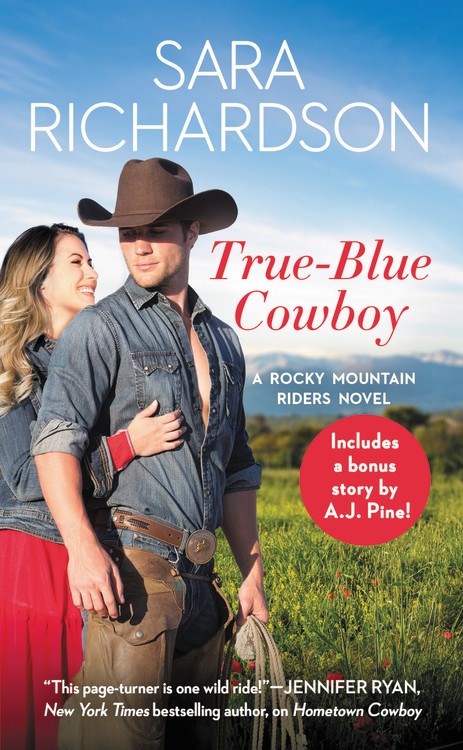 True-Blue Cowboy by Sara Richardson
Series: Rockey Mountain Riders #4
Publisher: Forever (Grand Central Publishing)
Publication Date: July 31, 2018
Date Read: July 8, 2018
Source: Publisher
★★★★☆
TWO STORIES IN ONE: AN ALL-NEW SARA RICHARDSON NOVEL PLUS SAVED BY THE COWBOY BY A.J. PINE

"Filled with humor, heart, and love, this page-turner is one wild ride."
--- Jennifer Ryan, New York Times bestselling author on Hometown Cowboy

Can this cowboy be tamed?

Everly Brooks is finally living her dream. Renting a farm in Topaz Falls, Colorado, is the perfect antidote to her high-stress life back in San Francisco. It's the ideal place to raise chickens, grow veggies, and run her farm-to-table restaurant. There's just one problem: her new landlord. Mateo Torres is a handsome-as-hell bronc rider who oozes charm, melts hearts-and plans to kick Everly off the farm . . .

Mateo has dreams, too. He'd bought that land as an investment, so he could take care of his mom and sisters, which means Everly has to go. Unfortunately for him, this former big-city girl is just as stubborn as the broncs he rides. When his trailer floods and forces him to move into Everly's farmhouse, things between them really start to heat up. Sure, living under the same roof might not be the best way to settle their dispute over the land. But when two rivals share everything-from heated words to scorching kisses-it's definitely the hottest.

I liked this story quite a bit. I was really excited to give this book a try after reading a novella written by Sara Richardson recently and enjoying it. I was not disappointed. This book is listed as the fourth book in the Rocky Mountain Riders series but works perfectly fine as a stand alone novel. Once I started reading this story I didn't want to stop and ended up finishing it in a single day. I am so glad that I decided to pick up this book.
Everly lives on a farm and runs a farm to table restaurant. She is finally living the life that she wants and is very happy even when her livestock gives her a rough time. Mateo is a bronc rider who decides to buy some land as an investment. He feels a lot of responsibility for his family and worries about what will happen when he can no longer compete. The land that Mateo buys is the same land that Everly rents and had hoped to buy herself someday. An entertaining series of events leaves them sharing a home on the land and getting to know each other a lot better.
I loved Everly from the start. She isn't afraid of hard work and is a very patient person. She had been living a completely different life but realized that it wasn't really what she wanted so she made some changes and really is doing what makes her happy. Even when things don't go the way she hoped they would, she is able to stay positive and try to look for new solutions. Mateo really was a good guy as well. He bought the land in order to provide security for himself and his family. He really found himself in a difficult situation and didn't want to cause any trouble for Everly.
I loved these two together. They had a whole lot of chemistry from the very beginning and I think that it grew as they got to know each other better. Even when they seemed to be the opposite side of things the pull between them never stopped. I liked that they were honest with each other and seemed to want to open up to each other. It was just a whole lot of fun watching these two come together.
I would recommend this book to others. I had a great time with this pair and couldn't help but want to seem them make it work. I think that this book was a really nice blend of great characters, a believable romance, some humor, and a few intense moments. I would not hesitate to read more from Sara Richardson in the future.
I received a review copy of this book from Forever (Grand Central Publishing).
Also included in the special 2-in-1 edition: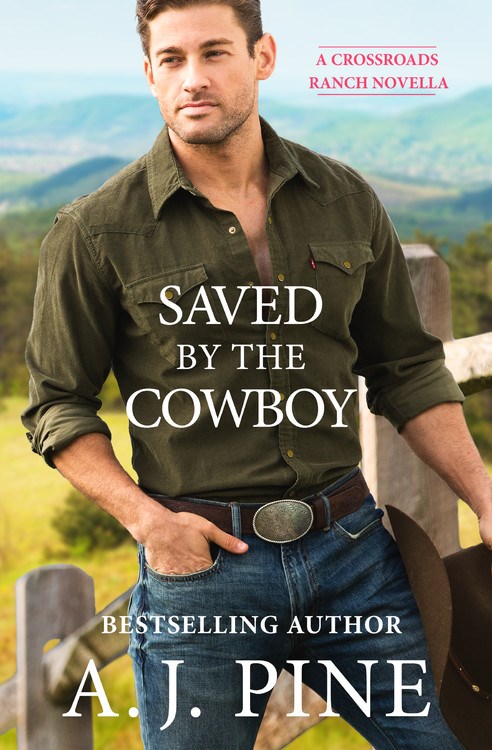 Saved by the Cowboy by A.J. Pine
Series: Crossroads Ranch #1.5
Publisher: Forever Yours (Grand Central Publishing)
Publication Date: August 7, 2018
Date Read: July 9, 2018
Source: Publisher
★★★★☆
Cowboy to the rescue
Once upon a time, Sheriff Cash Hawkins left his simple life for something bigger---and came home with a broken heart. Now he has everything he needs right here in Oak Bluff, California---his job, his dog, and a quiet ranching town best explored on the back of a horse.

Olivia Belle believes in fairy tales---just not for herself. So when her boyfriend drops to one knee at his sister's wedding with a proposal that is more business than romance, she hightails it out of San Francisco in search of the only evidence she knows that true love exists---her grandparents' lost love letters from fifty years ago.

When Olivia speeds into his town like a modern-day Cinderella in her ball gown and glass slippers, Cash's careful existence is finally thrown for a loop. Maybe the answer Olivia's looking for is in Oak Bluff, but the life she ran from is more than 200 miles away. As for Cash . . . he knows a thing or two about being left on bended knee. Olivia Belle could be his happily ever after . . . if this runaway bridesmaid doesn't run off with his heart.

This was just a whole lot of fun. I really went into this story with no expectations since I have never read any of A.J. Pine's work but I ended up really enjoying myself. This was a novella so it can easily be read in a single sitting and works really well as stand alone. This is one of those stories that just left me with a big old grin on my face because it was just such a feel good romance.
Cash is the sheriff in the small town of Oak Bluff. It is a quiet town without a whole lot of excitement. It is just him and his dog and he is looking forward to quiet night on the job. He didn't count on Olivia. Olivia is caught racing through town in a bridesmaid's dress after fleeing a proposal. One thing leads to another and Cash ends up taking Olivia to the station.
This story started out on a pretty comical note but it was obvious early on that these two were great together. Cash was such a nice guy and wanted to spend as much time with Olivia as he could. They have both been burned by previous relationships but they just seemed to fit very well with each other and seemed to be ready for more in their lives. I thought that they had great chemistry with each other and that their emotions felt really authentic.
I would recommend this story to others. It was a really playful story and a romance that you couldn't help but want to see work out. I loved the humor worked into the story and the characters were easy to fall for. I wouldn't hesitate to read more from A.J. Pine in the future.
I received a review copy of this book from Forever Yours (Grand Central Publishing).
About the Authors




Sara Richardson - Author of True-Blue Cowboy

Sara Richardson grew up chasing adventure in Colorado's rugged mountains. She's climbed to the top of a 14,000 foot peak at midnight, swum through Class IV rapids, completed her wilderness first-aid certification, and spent seven days at a time tromping through the wilderness with a thirty-pound backpack strapped to her shoulders.




Eventually Sara did the responsible thing and got an education in writing and journalism. After a brief stint in the corporate writing world, she stopped ignoring the voices in her head and started writing fiction. Now she uses her experience as a mountain adventure guide to write stories that incorporate adventure with romance. Still indulging her adventurous spirit, Sara lives and plays in Colorado with her saint of a husband and two young sons.


Sara Richardson's Links: Website | Goodreads | Facebook | Twitter

**************

A.J. Pine - Author of Saved by the Cowboy


A.J. Pine writes stories to break readers' hearts, but don't worry-she'll mend them with a happily ever after. As an English teacher and a librarian, A.J. has always surrounded herself with books. All her favorites have one big commonality-romance. Naturally, her own books have the same. When she's not writing, she's of course reading. Then there's online shopping (everything from groceries to shoes) and a tiny bit of TV where she nourishes her undying love of vampires and superheroes. You'll also find her hanging with her family in the Chicago 'burbs.