It's Tuesday! That means it is time to make a little bit of room on the bookshelves, load up your ereader, or make your way to your local library. In other words - It is time to get your hands on a new book!
Here are just a few books that have just been released that you may want to grab soon: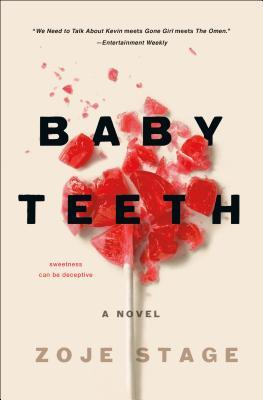 Baby Teeth by Zoje Stage
Sweetness can be deceptive.

Meet Hanna.

She's the sweet-but-silent angel in the adoring eyes of her Daddy. He's the only person who understands her, and all Hanna wants is to live happily ever after with him. But Mommy stands in her way, and she'll try any trick she can think of to get rid of her. Ideally for good.

Meet Suzette.

She loves her daughter, really, but after years of expulsions and strained home schooling, her precarious health and sanity are weakening day by day. As Hanna's tricks become increasingly sophisticated, and Suzette's husband remains blind to the failing family dynamics, Suzette starts to fear that there's something seriously wrong, and that maybe home isn't the best place for their baby girl after all.
Find it at:
FALLING FAST, FALLING HARD
Everyone wants a piece of Jaden Alexander. Ever since the famous "Snowboarding Cowboy" took a near-fatal spill on live television, he's been hounded by the media. Every reporter in the country wants an exclusive interview with the chiseled Olympic heartthrob. But only one of them has the easygoing charm-and breathtaking beauty-to knock Jaden off balance . . .

Kate Livingston isn't looking for a scoop. As senior editor for Adrenaline Junkie magazine, she's testing out camping gear on the Colorado Trail when Jaden's rescue dog Bella seeks refuge in her tent. Before she knows it, Kate is face to face with the world's sexiest snow-riding cowboy-and the biggest opportunity of her career. But getting close to Jaden isn't just about her job, and for the first time ever Kate has no idea how this story will end.
The Girl in the Green Silk Gown by Seanan McGuire
Find it at:
Goodreads
|
Booklikes
|
LibraryThing
The second book in the Ghost Roads series returns to the highways of America, where hitchhiking ghost Rose Marshall continues her battle with her killer—the immortal Bobby Cross.

For Rose Marshall, life began when it ended. She has friends, a home, and a purpose in the strange twilight where she spends her afterlife. Sure, she's an urban legend who didn't live to see her eighteenth birthday, but she's had time to adapt, and while things could be better, she's pretty happy with her lot in death.

At least until Bobby Cross—the man who killed her in the first place—plays his ultimate card in the hole, resulting in her untimely, unwanted resurrection. Suddenly breathing and worse, suddenly mortal, Rose must find a way to solve the riddle she never wanted to contend with: how does a living dead girl make it back to the ghostroads without actually dying?

Her quest will make allies out of enemies and enemies out of allies as she runs from the lands of the living to the lands of the dead, trying to find a way safely home…and safely back to her grave.
Kill the Farm Boy by Delilah S. Dawson and Kevin Hearne
Find it at:
Goodreads
|
Booklikes
|
LibraryThing
Once upon a time, in a faraway kingdom, a hero, the Chosen One, was born . . . and so begins every fairy tale ever told.

This is not that fairy tale.

There is a Chosen One, but he is unlike any One who has ever been Chosened.

And there is a faraway kingdom, but you have never been to a magical world quite like the land of Pell.

There, a plucky farm boy will find more than he's bargained for on his quest to awaken the sleeping princess in her cursed tower. First there's the Dark Lord who wishes for the boy's untimely death . . . and also very fine cheese. Then there's a bard without a song in her heart but with a very adorable and fuzzy tail, an assassin who fears not the night but is terrified of chickens, and a mighty fighter more frightened of her sword than of her chain-mail bikini. This journey will lead to sinister umlauts, a trash-talking goat, the Dread Necromancer Steve, and a strange and wondrous journey to the most peculiar "happily ever after" that ever once-upon-a-timed.
More Great Books Being Released Today
(Covers link to Goodreads)
Which new releases are you excited about this week?