It's Tuesday! That means it is time to make a little bit of room on the bookshelves, load up your ereader, or make your way to your local library. In other words - It is time to get your hands on a new book!
Here are just a few books that have just been released that you may want to grab soon: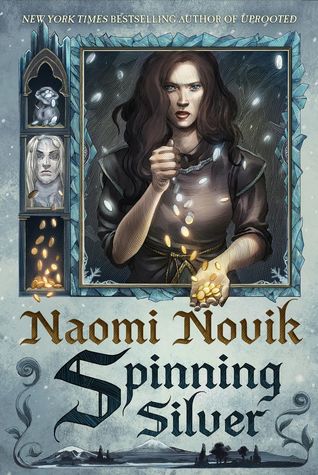 Spinning Silver by Naomi Novik
Miryem is the daughter and granddaughter of moneylenders... but her father isn't a very good one. Free to lend and reluctant to collect, he has loaned out most of his wife's dowry and left the family on the edge of poverty--until Miryem steps in. Hardening her heart against her fellow villagers' pleas, she sets out to collect what is owed--and finds herself more than up to the task. When her grandfather loans her a pouch of silver pennies, she brings it back full of gold.

But having the reputation of being able to change silver to gold can be more trouble than it's worth--especially when her fate becomes tangled with the cold creatures that haunt the wood, and whose king has learned of her reputation and wants to exploit it for reasons Miryem cannot understand.
Find it at:
A YA novel from USA Today bestselling author Sarina Bowen.

Never ask a question unless you're sure you want the truth.

I've been listening to my father sing for my whole life. I carry him in my pocket on my mp3 player. It's just that we've never met face to face.

My mother would never tell me how I came to be, or why my rock star father and I have never met. I thought it was her only secret. I was wrong.

When she dies, he finally appears. Suddenly I have a first class ticket into my father's exclusive world. A world I don't want any part of – not at this cost.

Only three things keep me going: my a cappella singing group, a swoony blue-eyed boy named Jake, and the burning questions in my soul.


There's a secret shame that comes from being an unwanted child. It drags me down, and puts distance between me and the boy I love.

My father is the only one alive who knows my history. I need the truth, even if it scares me.
I Think I Love You by Lauren Layne
Find it at:
Goodreads
|
Booklikes
|
LibraryThing
A game of seduction between two best friends goes deliciously wrong in an irresistible Oxford Novel that brims with wit and sexual tension. Library Journal hails Layne's work as "exemplary contemporary romance."

Brit Robbins knows that dating in New York City is hard—she just hoped to have it mastered by age thirty. But after yet another promising suitor says they have no sparks, Brit decides it's time to torch her dating game and try a new plan. And who better to coach Brit through the art of seduction than the guy who first gave her the "let's be friends" card?

Hunter Cross has always figured there's nothing his best friend Brit can do to surprise him. But Brit's request is a surprise he doesn't see coming—and one he's definitely not prepared for. Hunter and Brit have always been careful to keep things perfectly platonic, but the fake dates and faux flirting are starting to feel like the real deal. And soon Hunter realizes he has taught Brit too well. Not only has she become an expert at seduction, the man becoming thoroughly seduced is him.
Bright We Burn by Kiersten White
Find it at:
Goodreads
|
Booklikes
|
LibraryThing
Haunted by the sacrifices he made in Constantinople, Radu is called back to the new capital. Mehmed is building an empire, becoming the sultan his people need. But Mehmed has a secret: as emperor, he is more powerful than ever . . . and desperately lonely. Does this mean Radu can finally have more with Mehmed . . . and would he even want it?

Lada's rule of absolute justice has created a Wallachia free of crime. But Lada won't rest until everyone knows that her country's borders are inviolable. Determined to send a message of defiance, she has the bodies of Mehmed's peace envoy delivered to him, leaving Radu and Mehmed with no choice. If Lada is allowed to continue, only death will prosper. They must go to war against the girl prince.

But Mehmed knows that he loves her. He understands her. She must lose to him so he can keep her safe. Radu alone fears that they are underestimating his sister's indomitable will. Only by destroying everything that came before--including her relationships--can Lada truly build the country she wants.

Claim the throne. Demand the crown. Rule the world.
More Great Books Being Released Today
(Covers link to Goodreads)
Which new releases are you excited about this week?