It's Tuesday! That means it is time to make a little bit of room on the bookshelves, load up your ereader, or make your way to your local library. In other words - It is time to get your hands on a new book!
Here are just a few books that have just been released that you may want to grab soon:
Brief Cases by Jim Butcher
An all-new Dresden Files story headlines this urban fantasy short story collection starring the Windy City's favorite wizard.

The world of Harry Dresden, Chicago's only professional wizard, is rife with intrigue--and creatures of all supernatural stripes. And you'll make their intimate acquaintance as Harry delves into the dark side of truth, justice, and the American way in this must-have short story collection.

From the Wild West to the bleachers at Wrigley Field, humans, zombies, incubi, and even fey royalty appear, ready to blur the line between friend and foe. In the never-before-published "Zoo Day," Harry treads new ground as a dad, while fan-favorite characters Molly Carpenter, his onetime apprentice, White Council Warden Anastasia Luccio, and even Bigfoot stalk through the pages of more classic tales.

With twelve stories in all, Brief Cases offers both longtime fans and first-time readers tantalizing glimpses into Harry's funny, gritty, and unforgettable realm, whetting their appetites for more to come from the wizard with a heart of gold.
Find it at:
A heartwarming and refreshing debut novel that proves one thing: there's not enough data in the world to predict what will make your heart tick.

Stella Lane thinks math is the only thing that unites the universe. She comes up with algorithms to predict customer purchases--a job that has given her more money than she knows what to do with, and way less experience in the dating department than the average thirty-year-old.

It doesn't help that Stella has Asperger's and French kissing reminds her of a shark getting its teeth cleaned by pilot fish. Her conclusion: she needs lots of practice--with a professional. Which is why she hires escort Michael Phan. The Vietnamese and Swedish stunner can't afford to turn down Stella's offer, and agrees to help her check off all the boxes on her lesson plan--from foreplay to more-than-missionary position...

Before long, Stella not only learns to appreciate his kisses, but to crave all the other things he's making her feel. Soon, their no-nonsense partnership starts making a strange kind of sense. And the pattern that emerges will convince Stella that love is the best kind of logic...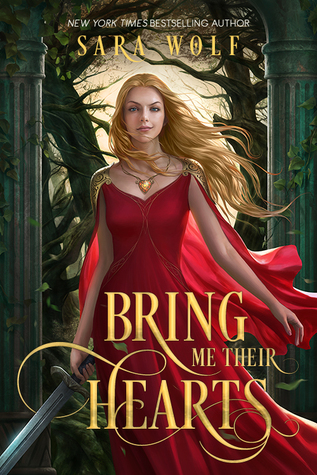 Bring Me Their Hearts by Sara Wolf
Find it at:
Goodreads
|
LibraryThing
Zera is a Heartless – the immortal, unageing soldier of a witch. Bound to the witch Nightsinger ever since she saved her from the bandits who murdered her family, Zera longs for freedom from the woods they hide in. With her heart in a jar under Nightsinger's control, she serves the witch unquestioningly.

Until Nightsinger asks Zera for a Prince's heart in exchange for her own, with one addendum; if she's discovered infiltrating the court, Nightsinger will destroy her heart rather than see her tortured by the witch-hating nobles.

Crown Prince Lucien d'Malvane hates the royal court as much as it loves him – every tutor too afraid to correct him and every girl jockeying for a place at his darkly handsome side. No one can challenge him – until the arrival of Lady Zera. She's inelegant, smart-mouthed, carefree, and out for his blood. The Prince's honor has him quickly aiming for her throat.

So begins a game of cat and mouse between a girl with nothing to lose and a boy who has it all.

Winner takes the loser's heart.

Literally.
Social Creature by Tara Isabella Burton
Find it at:
Goodreads
|
Booklikes
|
LibraryThing
For readers of Gillian Flynn and Donna Tartt, a dark, propulsive and addictive debut thriller, splashed with all the glitz and glitter of New York City.

They go through both bottles of champagne right there on the High Line, with nothing but the stars over them... They drink and Lavinia tells Louise about all the places they will go together, when they finish their stories, when they are both great writers-to Paris and to Rome and to Trieste...

Lavinia will never go. She is going to die soon.

Louise has nothing. Lavinia has everything. After a chance encounter, the two spiral into an intimate, intense, and possibly toxic friendship. A Talented Mr. Ripley for the digital age, this seductive story takes a classic tale of obsession and makes it irresistibly new.
More Great Books Being Released Today
(Covers link to Goodreads)