It's Tuesday! That means it is time to make a little bit of room on the bookshelves, load up your ereader, or make your way to your local library. In other words - It is time to get your hands on a new book!
Here are just a few books that have just been released that you may want to grab soon:
Stray Magic by Kelly Meding
Shiloh Harrison was hoping for a few days off to recover from a particularly nasty assignment, preferably with the help of the talented hands (and, well, the rest of his body too) of her sexy boyfriend, Vincent. But when a group of vampires takes an entire trailer park hostage, there's nothing to do but make her apologies and get to the scene.

Such is the life of a Federal Marshal in the Paranormal Investigators Unit.

Yet this isn't like her typical track-and-nab case: something is going on that has vampires scared, and it takes all her strength not to imagine what could frighten such powerful creatures. Unfortunately, she doesn't have that option. Her boss is MIA, someone is snatching vampires, and there's a ticking clock that can only end one way: a bloodbath.

Unless she can stop it.
Find it at:
From the author of Lost Boy comes a historical fairy tale about a mermaid who leaves the sea for love and later finds herself in P.T. Barnum's American Museum as the real Fiji mermaid. However, leaving the museum may be harder than leaving the sea ever was.

Once there was a mermaid who longed to know of more than her ocean home and her people. One day a fisherman trapped her in his net but couldn't bear to keep her. But his eyes were lonely and caught her more surely than the net, and so she evoked a magic that allowed her to walk upon the shore. The mermaid, Amelia, became his wife, and they lived on a cliff above the ocean for ever so many years, until one day the fisherman rowed out to sea and did not return.

P. T. Barnum was looking for marvelous attractions for his American Museum, and he'd heard a rumor of a mermaid who lived on a cliff by the sea. He wanted to make his fortune, and an attraction like Amelia was just the ticket.

Amelia agreed to play the mermaid for Barnum, and she believes she can leave any time she likes. But Barnum has never given up a money-making scheme in his life, and he's determined to hold on to his mermaid.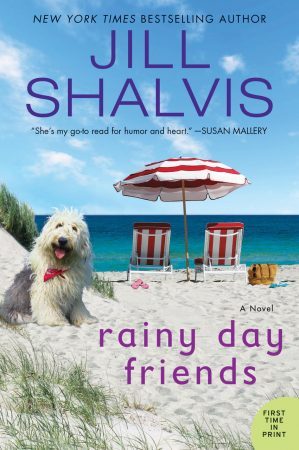 Rainy Day Friends by Jill Shalvis
Find it at:
Goodreads
|
Booklikes
|
LibraryThing
Following the USA Today bestselling author of Lost and Found Sisters comes Jill Shalvis' moving story of heart, loss, betrayal, and friendship

Six months after Lanie Jacobs' husband's death, it's hard to imagine anything could deepen her sense of pain and loss. But then Lanie discovers she isn't the only one grieving his sudden passing. A serial adulterer, he left behind several other women who, like Lanie, each believe she was his legally wedded wife.

Rocked by the infidelity, Lanie is left to grapple with searing questions. How could she be so wrong about a man she thought she knew better than anyone? Will she ever be able to trust another person? Can she even trust herself?

Desperate to make a fresh start, Lanie impulsively takes a job at the family-run Capriotti Winery. At first, she feels like an outsider among the boisterous Capriottis. With no real family of her own, she's bewildered by how quickly they all take her under their wing and make her feel like she belongs. Especially Mark Capriotti, a gruffly handsome Air Force veteran turned deputy sheriff who manages to wind his way into Lanie's cold, broken heart—along with the rest of the clan.

Everything is finally going well for her, but the arrival of River Brown changes all that. The fresh-faced twenty-one-year old seems as sweet as they come…until her dark secrets come to light—secrets that could destroy the new life Lanie's only just begun to build.
Bring Me Back by B.A. Paris
Find it at:
Goodreads
|
Booklikes
|
LibraryThing
Finn and Layla are young, in love, and on vacation. They're driving along the highway when Finn decides to stop at a service station to use the restroom. He hops out of the car, locks the doors behind him, and goes inside. When he returns Layla is gone—never to be seen again. That is the story Finn told to the police. But it is not the whole story.

Ten years later Finn is engaged to Layla's sister, Ellen. Their shared grief over what happened to Layla drew them close and now they intend to remain together. Still, there's something about Ellen that Finn has never fully understood. His heart wants to believe that she is the one for him...even though a sixth sense tells him not to trust her.

Then, not long before he and Ellen are to be married, Finn gets a phone call. Someone from his past has seen Layla—hiding in plain sight. There are other odd occurrences: Long-lost items from Layla's past that keep turning up around Finn and Ellen's house. Emails from strangers who seem to know too much. Secret messages, clues, warnings. If Layla is alive—and on Finn's trail—what does she want? And how much does she know?

A tour de force of psychological suspense, Bring Me Back will have you questioning everything and everyone until its stunning climax.
More Great Books Being Released Today
(Covers link to Goodreads)
Which new releases are you excited about this week?