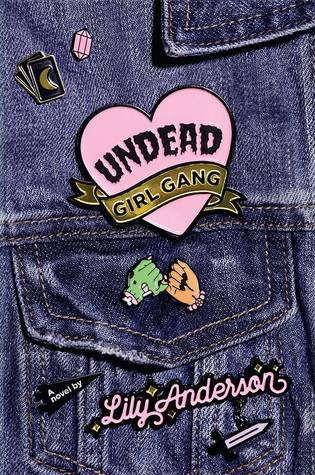 Undead Girl Gang by Lily Anderson
Publisher: Razorbill
Publication Date: May 8, 2018
Date Read: May 18, 2018
Length: 320 pages
Source: First to Read
★
★
★
★
☆
Mila Flores and her best friend Riley have always been inseparable. There's not much excitement in their small town of Cross Creek, so Mila and Riley make their own fun, devoting most of their time to Riley's favorite activity: amateur witchcraft.

So when Riley and two Fairmont Academy mean girls die under suspicious circumstances, Mila refuses to believe everyone's explanation that her BFF was involved in a suicide pact. Instead, armed with a tube of lip gloss and an ancient grimoire, Mila does the unthinkable to uncover the truth: she brings the girls back to life.

Unfortunately, Riley, June, and Dayton have no recollection of their murders, but they do have unfinished business to attend to. Now, with only seven days until the spell wears off and the girls return to their graves, Mila must wrangle the distracted group of undead teens and work fast to discover their murderer...before the killer strikes again.

This was fun! I was initially drawn to this book by its awesome cover and when I read the book's summary, I knew that I needed to have this book in my life. This book had so many elements that I love including witchcraft and undead characters. This ended up being a really quick read for me and I found myself liking the book more and more as I worked my way through the story. I found this to be a really entertaining and original novel.
This book hooked me from the very start as it opens with Mila attending her best friend's funeral. The story is told from Mila's point of view and her internal dialogue really made it easy to like her character right away. Mila believes that her best friend, Riley, was murdered but everyone else is calling it a suicide. Mila is a really low point as you would expect. She misses her friend and is angry that nobody seems to think her death is a result of murder. When a book shows up with a perfect spell, Mila decides to take action.
Mila and Riley practiced witchcraft together. Mila decides to cast a spell that will bring her friend and two other girls back for a short window of time so that they can solve their deaths. It was so much fun to watch this group of four girls try to figure out what to do with their time. I thought that all four of them showed a lot of growth during the story. The mystery at the core of the story had a few surprises and kept me guessing until the end.
I would recommend this book to others. I found this book to an entertaining look at friendships, zombie, and learning to move on. This was the first book by Lily Anderson that I have read but I will definitely be reading more of her work in the future.
I received a digital review copy of this book from Penguin Publishing Group - Razorbill via First to Read.
About the Author


Lily Anderson is a school librarian and Melvil Dewey fangirl with an ever-growing collection of musical theater tattoos and Harry Potter ephemera. She lives in Northern California. She is also the author of The Only Thing Worse Than Me Is You and Not Now, Not Ever.