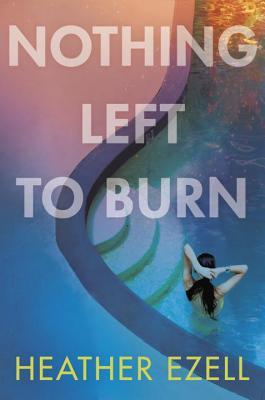 Nothing Left to Burn by Heather Ezell
Publisher: Razorbill
Publication Date: March 13, 2018
Date Read: April 28, 2018
Length: 320 pages
Source: First to Read
★★★☆☆
The autumn morning after sixteen-year-old Audrey Harper loses her virginity, she wakes to a loud, persistent knocking at her front door. Waiting for her are two firemen, there to let her know that the moment she's been dreading has arrived: the enormous wildfire sweeping through Orange County, California, is now dangerously close to her idyllic gated community of Coto de Caza, and it's time to evacuate.

Over the course of the next twenty-four hours, as Audrey wrestles with the possibility of losing her family home, she also recalls her early, easy summer days with Brooks, the charming, passionate, but troubled volunteer firefighter who enchants Audrey--and who is just as enthralled by her. But as secrets from Brooks's dark past come to light, Audrey can't help but wonder if there's danger in the pull she feels--both toward this boy, and toward the fire burning in the distance.

I thought that this book was okay. It was one of those stories that I liked but didn't love and will ultimately find rather forgettable. I am really not sure what caused me to add this one to my reading list since the cover does nothing for me and the synopsis is only mildly appealing. I did find this book to be a fairly quick read and I was entertained but it was never a book that was hard to set aside.
This book jumped around in time quite a bit. About half of the book occurs on the day the fire comes so close to Audrey's home that she is evacuated. The rest of the book is set prior to that day. The present day events are told in a chronological manner but the flashes to the past do jump around just a bit with some happening closer to the fire and others at different times in Audrey's relationship with Brooks.
I never really connected with any of the characters. Audrey often did things that didn't make sense to me. I kind of wanted to sit her down and give her a good mom talk since she seemed to be on a rather destructive path. Brooks was a character that I never trusted and his relationship with Audrey was rather unhealthy.
I did like the fact that the story was centered around a fire. I thought that it was a really original setting and some of the descriptions of the fire were truly frightening. I did find some parts of the story to be rather predictable but I wanted to keep reading to see if things would actually work out the way I thought they would. I do have to say that I was really disappointed by the way the book ended. I really felt like the book just kind of stopped instead offering some kind of resolution.
I do think that a lot of readers will like this one a lot more than I did. This was as story that kept me turning pages. I would not hesitate to read future books by this debut author.
I received a digital review copy of this book from Penguin Publishing Group - Razorbill via First to Read.
About the Author

A Southern California native, Heather Ezell was evacuated for a fire at the age of three and subsequently grew up with an obsessive fear of wildfires. She has been chasing reprieve from California's heat ever since—from the Rocky Mountains to Interior Alaska. Heather graduated from Colorado College with a degree in English literature and creative writing, and she currently lives in the Pacific Northwest where she writes, practices amateur ballet in the forest, and obsesses over the weather.