It's Tuesday! That means it is time to make a little bit of room on the bookshelves, load up your ereader, or make your way to your local library. In other words - It is time to get your hands on a new book!
Here are just a few books that have just been released that you may want to grab soon: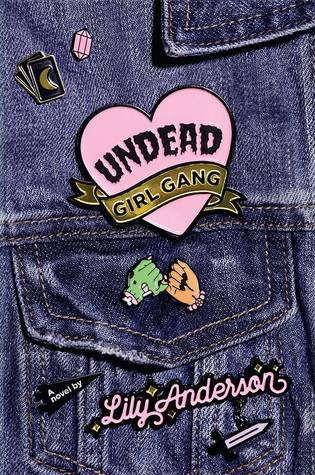 Undead Girl Gang by Lily Anderson
Mila Flores and her best friend Riley have always been inseparable. There's not much excitement in their small town of Cross Creek, so Mila and Riley make their own fun, devoting most of their time to Riley's favorite activity: amateur witchcraft.

So when Riley and two Fairmont Academy mean girls die under suspicious circumstances, Mila refuses to believe everyone's explanation that her BFF was involved in a suicide pact. Instead, armed with a tube of lip gloss and an ancient grimoire, Mila does the unthinkable to uncover the truth: she brings the girls back to life.

Unfortunately, Riley, June, and Dayton have no recollection of their murders, but they do have unfinished business to attend to. Now, with only seven days until the spell wears off and the girls return to their graves, Mila must wrangle the distracted group of undead teens and work fast to discover their murderer...before the killer strikes again.
Find it at:
Dahlia 16's life is a lie. The city of Lakeview isn't a utopia that raises individuals for the greater good; it is a clone farm that mass-produces servants for the elite. And because Dahlia breaks the rules, her sisters--the 4,999 girls who share her face--are destroyed. She and Trigger 17, the soldier who risked his life for hers, go on the run, escaping into the wild outside the city walls. But it turns out Dahlia has one remaining identical, one who shouldn't even exist.

Waverly Whitmore is teenage royalty, a media sensation with millions of fans who broadcasts her every move--including every detail of her wedding planning, leading up to the day she marries Hennessy Chapman. Waverly lives a perfect life built on the labors of clones like Dahlia. She has no idea that she too is a clone . . . until she comes face to face with Dahlia.

One deadly secret. Two genetic sisters. And a world that isn't big enough for both of them.
Gale Force by Owen Laukkanen
Find it at:
Goodreads
|
LibraryThing
For all lovers of maritime adventure comes an electrifying thriller of treachery and peril on the high seas featuring a dynamic new heroine, from multi-award-nominated suspense star Owen Laukkanen.

In the high-stakes world of deep-sea salvage, an ocean disaster can mean a huge payoff--if you can survive the chase.

McKenna Rhodes has never been able to get the sight of her father's death out of her mind. A freak maritime accident has made her the captain of the salvage boat Gale Force, but it's also made her cautious, sticking closer to the Alaska coastline. She and her crew are just scraping by, when the freighter Pacific Lion, out of Yokohama, founders two hundred miles out in a storm.

This job is their last chance--but there is even more at stake than they know. Unlisted on any manifest, the Lion's crew includes a man on the run carrying fifty million dollars in stolen Yakuza bearer bonds. The Japanese gangsters want the money. The thief's associates want the money. Another salvage ship, far bigger and more powerful than Gale Force, is racing to the rendezvous as well. And the storm rages on. If McKenna can't find a way to prevail, everything she loves--the ship, her way of life, maybe even her life itself--will be lost.

Filled with bravery, betrayal, sudden twists, and pure excitement, Gale Force is a spectacular new adventure from the fast-rising suspense star.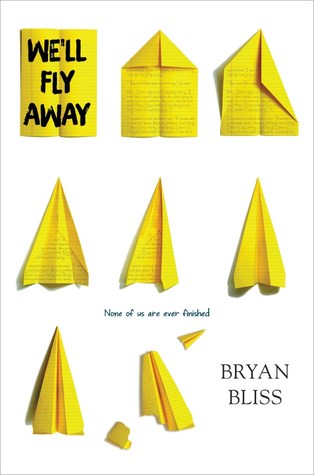 We'll Fly Away by Bryan Bliss
Find it at:
Goodreads
|
Booklikes
|
LibraryThing
Uniquely told through letters from death row and third-person narrative, Bryan Bliss's hard-hitting third novel expertly unravels the string of events that landed a teenager in jail. Luke feels like he's been looking after Toby his entire life. He patches Toby up when Toby's father, a drunk and a petty criminal, beats on him, he gives him a place to stay, and he diffuses the situation at school when wise-cracking Toby inevitably gets into fights. Someday, Luke and Toby will leave this small town, riding the tails of Luke's wrestling scholarship, and never look back.

But during their senior year, they begin to drift apart. Luke is dealing with his unreliable mother and her new boyfriend. And Toby unwittingly begins to get drawn into his father's world, and falls for an older woman. All their long-held dreams seem to be unraveling. Tense and emotional, this heartbreaking novel explores family, abuse, sex, love, friendship, and the lengths a person will go to protect the people they love. For fans of NPR's Serial podcast, Jason Reynolds, and Matt de la Peña.
More Great Books Being Released Today
(Covers link to Goodreads)