It's Tuesday! That means it is time to make a little bit of room on the bookshelves, load up your ereader, or make your way to your local library. In other words - It is time to get your hands on a new book!
Here are just a few books that have just been released that you may want to grab soon:
Too Wilde to Wed by Eloisa James
The handsome, rakish heir to a dukedom, Lord Roland Northbridge Wilde—known to his friends as North—left England two years ago, after being jilted by Miss Diana Belgrave. He returns from war to find that he's notorious: polite society has ruled him "too wild to wed."

Diana never meant to tarnish North's reputation, or his heart, but in her rush to save a helpless child, there was no time to consider the consequences of working as a governess in Lindow Castle. Now everyone has drawn the worst conclusions about the child's father, and Diana is left with bittersweet regret.

When North makes it clear that he still wants her for his own, scandal or no, Diana has to fight to keep from losing her heart to the man whom she still has no intention of marrying.

Yet North is returning a hardened warrior—and this is one battle he's determined to win.

He wants Diana, and he'll risk everything to call her his own.
Find it at:
With her sassy humor and sexy cowboys, USA Today bestseller Carolyn Brown launches her new Longhorn Canyon series.

One city girl, one die-hard rancher, and eight mischievous kids. What could go wrong?

Every summer Cade Maguire looks forward to opening his Longhorn Canyon Ranch to underprivileged city kids. But this year, he's having no luck finding a counselor for the children--until Retta Palmer walks through his door.

Flat broke after selling everything she owns to pay for her father's medical bills, Retta is thrilled to hear of an opening for a counselor position. She's not as thrilled about the ranching part, or the sexy cowboy with beautiful blue eyes who's her new boss.

After being left at the altar two years before by his fiancée, Cade isn't sure he can take another heartbreak. And Retta isn't even sure she wants to stay. But the sparks between them are absolutely undeniable. And with a couple of lovable kids and two elderly folks playing matchmaker, Cade and Retta may find that the best way to heal is with each other.
Speakeasy by Sarina Bowen
Find it at:
Goodreads
|
Booklikes
|
LibraryThing
Sometimes you fall for Mr. Right. And sometimes for Mr. Right Now…

May
Did you hear the one about the girl who walks into a bar and catches her live-in lover kissing someone else? No? You're the only one in town who missed it.

Luckily Alec is there to wrap me up in strong arms and carry me out the door before things get too ugly. And that's not all Alec is good at. Our unexpected chemistry makes him the perfect rebound guy.

Alec
I should know better than to hook up with my rival's little sister, but the fiery look in May's eyes really turns my crank. She needs cheering up, and I'm just the guy for the job.

It's not like I'll fall in love. Not even after a string of scorching hot trysts, and the realization that we're good at the same things: wild nights and familial disappointment. I don't do love, never have, never will. So this is the perfect arrangement, for both of us.

Nobody would approve, but nobody has to know…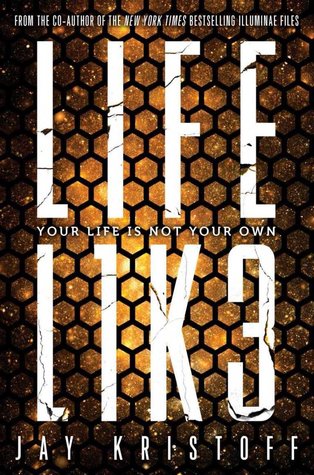 LIFEL1K3 by Jay Kristoff
Find it at:
Goodreads
|
Booklikes
|
LibraryThing
In the vein of Wicked, The Woodcutter, and Boy, Snow, Bird, a luminous reimagining of a classic tale, told from the perspective of Agnes, Cinderella's "evil" stepmother.

We all know the story of Cinderella. Or do we?

As rumors about the cruel upbringing of beautiful newlywed Princess Cinderella roil the kingdom, her stepmother, Agnes, who knows all too well about hardship, privately records the true story. . . .

A peasant born into serfdom, Agnes is separated from her family and forced into servitude as a laundress's apprentice when she is only ten years old. Using her wits and ingenuity, she escapes her tyrannical matron and makes her way toward a hopeful future. When teenaged Agnes is seduced by an older man and becomes pregnant, she is transformed by love for her child. Once again left penniless, Agnes has no choice but to return to servitude at the manor she thought she had left behind. Her new position is nursemaid to Ella, an otherworldly infant. She struggles to love the child who in time becomes her stepdaughter and, eventually, the celebrated princess who embodies everyone's unattainable fantasies. The story of their relationship reveals that nothing is what it seems, that beauty is not always desirable, and that love can take on many guises.

Lyrically told, emotionally evocative, and brilliantly perceptive, All the Ever Afters explores the hidden complexities that lie beneath classic tales of good and evil, all the while showing us that how we confront adversity reveals a more profound, and ultimately more important, truth than the ideal of "happily ever after."
More Great Books Being Released Today
(Covers link to Goodreads)