It's Tuesday! That means it is time to make a little bit of room on the bookshelves, load up your ereader, or make your way to your local library. In other words - It is time to get your hands on a new book!
Here are just a few books that have just been released that you may want to grab soon:
The Secret Ingredient for a Happy Marriage by Shirley Jump
Nora has always been the sister who binds the O'Bannons together. No matter what crisis hits, smart, dependable Nora knows how to fix it. But for Nora, the pressure of perfection is taking its toll.

Nora's marriage is in trouble, and she has been reluctant to worry her sisters with just how dire her situation is. Now though, faced with losing her husband, her home, and the life she's worked so hard to build, Nora can no longer pretend.

As the O'Bannon women rally around her, Nora begins to see that failure is nothing to fear. It's like they say in the bakery: if you want to make something good, you can't be afraid to get messy. When her husband returns, asking Nora to give their family a second chance, Nora must decide if their relationship can be saved-or if it's time to throw out the old recipe and start from scratch.
Find it at:
Detective Sawyer Matthews isn't just having a bad day—he's having the worst day. His hunt for the criminal who killed his team member has stalled and now… he's got to play nice with his new, totally unwanted partner. It's not that she isn't qualified, or that he doesn't like her—it's because he knows what she looks like naked. So very, very naked.

Brooke Simmons finally landed her dream job working for H.E.A.T, an elite undercover detective squad, and she's not giving up simply because she had a one-night-stand with her sullen—but undeniably sexy—new partner. They'll just have to keep it professional. Easier said than done, considering their first case requires Sawyer to infiltrate a drug cartel operating out of a male strip show. Watching him do his best Magic Mike impression every night isn't just hot—it's torture.

Sawyer doesn't need any distractions, yet his attraction to Brooke is explosive and he can't resist going for round two. Or three. Or four. But as their investigation progresses and danger mounts, they'll have to put their jobs, hearts, and lives on the line to fight… for each other, for survival, and for justice.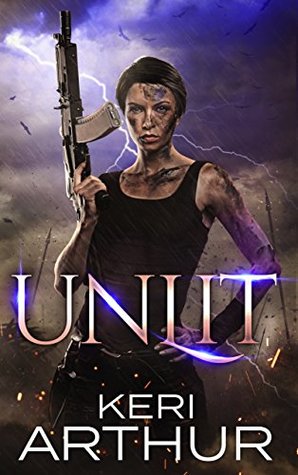 Unlit by Keri Arthur
Find it at:
Goodreads
|
Booklikes
|
LibraryThing
Winterborne has long been a city divided between those who have magic, and those who do not. Between those who are free, and those who are not…

Though classified as having no magic, Neve March can hear the whispers of the wind and sometimes even control her. But it's a secret she must hold close if she wishes to continue as Nightwatch—the soldiers who guard Winterborne against those who roam the wastelands and feast on human flesh.

But when Neve investigates a faint SOS signal, she not only unearths a woman close to death, but a plot involving an ancient enemy long thought dead.

In an effort to expose those behind the plot, Neve goes undercover amongst Winterborne's elite—a dangerous step that could expose her secret and rip away all that she holds dear.

But the trail of treachery leads her from Winterborne's golden halls to the heart of the enemy's hive, and it will shake her belief of not only who she is, but what she is.
Tin Man by Sarah Winman
Find it at:
Goodreads
|
Booklikes
|
LibraryThing
From the internationally bestselling author Sarah Winman comes an unforgettable and heartbreaking novel celebrating love in all of its forms and the little moments that make up the life of an autoworker in a small working-class town.

This is almost a love story. But it's not as simple as that.

Ellis and Michael are twelve-year-old boys when they first become friends, and for a long time it is just the two of them, cycling the streets of Oxford, teaching themselves how to swim, discovering poetry, and dodging the fists of overbearing fathers. And then one day this closest of friendships grows into something more.

But then we fast forward a decade or so, to find that Ellis is married to Annie, and Michael is nowhere in sight. Which leads to the question, what happened in the years between?

With beautiful prose and characters that are so real that they jump off the page, Tin Man is a love letter to human kindness and friendship, and to loss and living.
More Great Books Being Released Today
(Covers link to Goodreads)