It's Tuesday! That means it is time to make a little bit of room on the bookshelves, load up your ereader, or make your way to your local library. In other words - It is time to get your hands on a new book!
Here are just a few books that have just been released that you may want to grab soon:
Only Human by Sylvain Neuvel
Pacific Rim meets The Martian in the explosive follow-up to Sleeping Giants ("One of the most promising series kickoffs in recent memory."—NPR) and Waking Gods ("Pure, unadulterated literary escapism."—Kirkus Reviews).

Brilliant scientist Rose Franklin has devoted her adult life to solving the mystery she accidentally stumbled upon as a child: a huge metal hand buried beneath the ground outside Deadwood, South Dakota. The discovery set in motion a cataclysmic chain of events with geopolitical ramifications. Rose and the Earth Defense Corps raced to master the enigmatic technology, as giant robots suddenly descended on Earth's most populous cities, killing one hundred million people in the process. Though Rose and her team were able to fend off the attack, their victory was short-lived. The mysterious invaders retreated, disappearing from the shattered planet . . . but they took the scientist and her crew with them.

Now, after nearly ten years on another world, Rose returns to find a devastating new war—this time between humans. America and Russia are locked in combat, fighting to fill the power vacuum left behind after the invasion. Families are torn apart, friends become bitter enemies, and countries collapse in the wake of the battling superpowers. It appears the aliens left behind their titanic death machines so humankind will obliterate itself. Rose is determined to find a solution, whatever it takes. But will she become a pawn in a doomsday game no one can win?
Find it at:
This summer, romance blooms again in Wildstone!

After a difficult few years, Tilly Adams is ready for life to start going right. Though she has a case of first day nerves teaching art at the local community college, she knows it isn't anything a few snuggles from her rescue puppy won't cure. Until she sees Dylan Scott again, her one time bff and first love sitting in the front row.

Dylan knows he should've left well enough alone, but when he sees Tilly living her dream, he can't help but make contact. Ten years ago, he left Wildstone and everything in it behind, including Tilly. He had his reasons, but now he wants her back in his life, anyway he can get her.

When Tilly agrees to design the logo for Dylan's new helicopter touring company, it's business only…until she finds herself falling into his arms once again. Can she possibly open her heart back up to the only man who's ever broken it? But soon they're both realizing the truth -- love always deserves a second chance.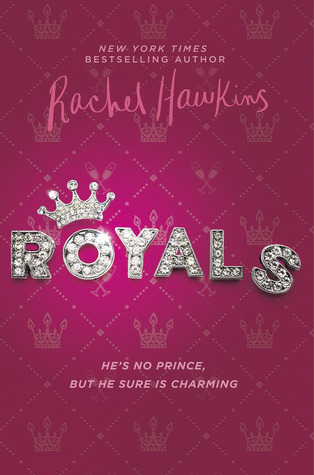 Royals by Rachel Hawkins
Find it at:
Goodreads
|
Booklikes
|
LibraryThing
Meet Daisy Winters. She's an offbeat sixteen-year-old Floridian with mermaid-red hair; a part time job at a bootleg Walmart, and a perfect older sister who's nearly engaged to the Crown Prince of Scotland. Daisy has no desire to live in the spotlight, but relentless tabloid attention forces her to join Ellie at the relative seclusion of the castle across the pond.

While the dashing young Miles has been appointed to teach Daisy the ropes of being regal, the prince's roguish younger brother kicks up scandal wherever he goes, and tries his best to take Daisy along for the ride. The crown–and the intriguing Miles–might be trying to make Daisy into a lady . . . but Daisy may just rewrite the royal rulebook to suit herself.
The Pisces by Melissa Broder
Find it at:
Goodreads
|
LibraryThing
An original, imaginative, and hilarious debut novel about love, anxiety, and sea creatures, from the author of So Sad Today

Lucy has been writing her dissertation about Sappho for thirteen years when she and Jamie break up. After she hits rock bottom in Phoenix, her Los Angeles-based sister insists Lucy housesit for the summer—her only tasks caring for a beloved diabetic dog and trying to learn to care for herself. Annika's home is a gorgeous glass cube atop Venice Beach, but Lucy can find no peace from her misery and anxiety—not in her love addiction group therapy meetings, not in frequent Tinder meetups, not in Dominic the foxhound's easy affection, not in ruminating on the ancient Greeks. Yet everything changes when Lucy becomes entranced by an eerily attractive swimmer one night while sitting alone on the beach rocks.

Whip-smart, neurotically funny, sexy, and above all, fearless, The Pisces is built on a premise both sirenic and incredibly real—what happens when you think love will save you but are afraid it might also kill you.
More Great Books Being Released Today
(Covers link to Goodreads)