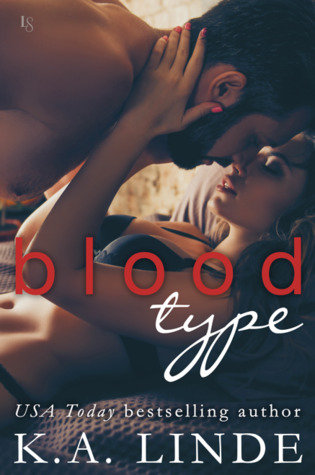 Blood Type by K.A. Linde
Series: Blood Type #1
Publisher: Loveswept
Publication Date: April 24, 2018
Date Read: April 25, 2018
Length: 290 pages
Source: NetGalley
★★★★☆
A startling new vision of paranormal romance: When a human ventures into the world of vampires—a decadent milieu of blood-bonds and betrayal—she discovers that not all is what it seems.

For Reyna Carpenter, giving up her body isn't a choice. It's survival.

In a civilization laid waste by poverty and desperation, Reyna accepts a high-paying position with the wealthy and hungry vampire elite. Her new job is as the live-in blood escort for the intimidating, demanding, and devilishly handsome Beckham Anderson. He's everything she expected from a vampire, except for one thing—he won't feed off her.

Reyna soon discovers that behind Beckham's brooding, wicked façade lies a unique and complex man. And that, in a dark and divided world, she is more valuable than she ever would have believed.

For with each passing night, Reyna can't shake the sensation that it's Beckham who's afraid of her.

I really had a good time with this book. It is no secret that I love a good vampire story so this book got my attention right away. I thought that this vampire world sounded just different enough to be really interesting and I knew that I would have to make reading it a priority. I was pulled into the story right away and found myself trying to read every moment that I could. I found this book to be an incredibly entertaining romance.
Reyna feels like she has no other option left so she signs up to work for Visage, a company that pairs vampires with humans willing to be fed upon. Usually these positions are temporary with blood donors cycling to a different vampire after a number of weeks but Reyna is selected for a new program where she will be assigned to a single vampire on a permanent basis. This is how she finds herself moving into Beckham Anderson's penthouse.
This story is told from Reyna's point of view and I liked her right away. I felt her desperation and her fear. I also understood why she felt the need to question everything she didn't understand although there were more than a few times that I wanted to warn her that speaking up may not be the wisest choice. Reyna was confused by Beckham, or Becks, at times and he was very hard to read during parts of the book especially at the start of the story.
This book had enough excitement to keep things very interesting. The world that the book is set in is a little different than I have read before so I really enjoyed just getting to experience the world along with Reyna. The book did take a few rather exciting turns. I was able to guess a few of the twists but others came as a total surprise. I really liked Becks and Reyna together and thought that they had fantastic chemistry but this was definitely a romance that was very slow to start.
I would recommend this book to fans of paranormal romance. This book does end with a lot of unresolved issues that will most likely be dealt with in the next book in the series. I am very excited that we will get the chance to watch the relationship between Reyna and Becks develop over the course of the series. I can't wait to read more of this amazing series!
I received a digital review copy of this book from Random House Publishing Group - Loveswept via NetGalley.
The Series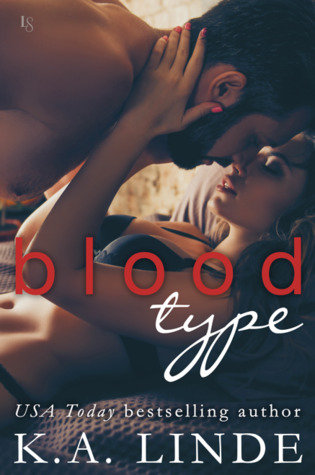 Book #1 -
Blood Type
- Now Available!
Book #2 -
Blood Match -
Coming June 26, 2018
Book #3 -
Blood Cure
- Coming August 21, 2018
About the Author


K.A. Linde is the USA Today bestselling author of the Avoiding Series and more than twenty other novels. She grew up as a military brat and attended the University of Georgia where she obtained a Master's in political science. She works full-time as an author and loves Disney movies, binge-watching Supernatural, and Star Wars.

She currently lives in Lubbock, Texas, with her husband and two super-adorable puppies.