It's Tuesday! That means it is time to make a little bit of room on the bookshelves, load up your ereader, or make your way to your local library. In other words - It is time to get your hands on a new book!
Here are just a few books that have just been released that you may want to grab soon:
Blood Veil by Megan Erickson
In the midst of supernatural chaos, worlds and hearts collide.

Celia: Having never known my parents, I've always felt like an orphan. All I want is a normal life. But after I'm attacked in my bedroom by one vampire—and rescued by another—it's about time to give up on "normal" once and for all. Idris, the second in command of the Gregorie vampire clan, has come to my aid, but his motives for saving me are unclear. And what surprises me most is my attraction to his heated gaze. . . .
Idris: Terror. Curiosity. Arousal. These are the natural impulses of a human female, not the spawn of the ruthless Valarian king. Is it possible that Celia is unaware of her bloodline—and the power coursing through her veins? As the daughter of my archenemy, she was supposed to be my ransom. But how quickly the heat of desire changes everything. Now the family Celia has always craved is trying to kill her, and it's up to me to save her again—when all I really want to do is make her mine.
Find it at:
Jane McKeene was born two days before the dead began to walk the battlefields of Gettysburg and Chancellorsville—derailing the War Between the States and changing America forever. In this new nation, safety for all depends on the work of a few, and laws like the Native and Negro Reeducation Act require certain children attend combat schools to learn to put down the dead. But there are also opportunities—and Jane is studying to become an Attendant, trained in both weaponry and etiquette to protect the well-to-do. It's a chance for a better life for Negro girls like Jane. After all, not even being the daughter of a wealthy white Southern woman could save her from society's expectations.

But that's not a life Jane wants. Almost finished with her education at Miss Preston's School of Combat in Baltimore, Jane is set on returning to her Kentucky home and doesn't pay much mind to the politics of the eastern cities, with their talk of returning America to the glory of its days before the dead rose. But when families around Baltimore County begin to go missing, Jane is caught in the middle of a conspiracy, one that finds her in a desperate fight for her life against some powerful enemies. And the restless dead, it would seem, are the least of her problems.
Mind of a Killer by Simon Beaufort
Find it at:
Goodreads
|
Booklikes
|
LibraryThing
Newspaper reporter Alec Londale discovers that a series of seemingly random murders may be connected in this absorbing historical mystery.

London, 1882. Alec Londale, a young reporter on the Pall Mall Gazette, is working on a story about a fatal house fire. But the post-mortem on the victim produces shocking results: Patrick Donovan's death was no accident. But why would someone murder a humble shop assistant and steal part of his brain?

When a second body is discovered, its throat cut, and then a third, Lonsdale and his spirited female colleague, Hulda Friederichs, begin to uncover evidence of a conspiracy that reaches to the highest echelons of Victorian society.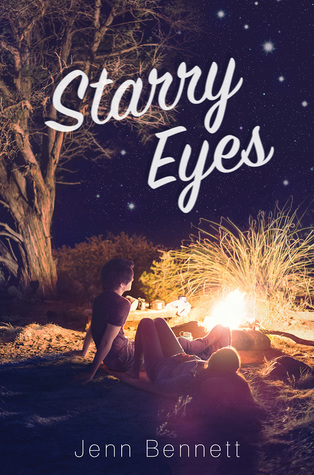 Starry Eyes by Jenn Bennett
Find it at:
Goodreads
|
Booklikes
|
LibraryThing
Ever since last year's homecoming dance, best friends-turned-best enemies Zorie and Lennon have made an art of avoiding each other. It doesn't hurt that their families are the modern day, Californian version of the Montagues and Capulets.

But when a group camping trip goes south, Zorie and Lennon find themselves stranded in the wilderness. Alone. Together.

What could go wrong?

With no one but each other for company, Zorie and Lennon have no choice but to hash out their issues via witty jabs and insults as they try to make their way to safety. But fighting each other while also fighting off the forces of nature makes getting out of the woods in one piece less and less likely.

And as the two travel deeper into Northern California's rugged backcountry, secrets and hidden feelings surface. But can Zorie and Lennon's rekindled connection survive out in the real world? Or was it just a result of the fresh forest air and the magic of the twinkling stars?
More Great Books Being Released Today
(Covers link to Goodreads)