It's Tuesday! That means it is time to make a little bit of room on the bookshelves, load up your ereader, or make your way to your local library. In other words - It is time to get your hands on a new book!
Here are just a few books that have just been released that you may want to grab soon:
My Oxford Year by Julia Whelan
American Ella Durran has had the same plan for her life since she was thirteen: Study at Oxford. At 24, she's finally made it to England on a Rhodes Scholarship when she's offered an unbelievable position in a rising political star's presidential campaign. With the promise that she'll work remotely and return to DC at the end of her Oxford year, she's free to enjoy her Once in a Lifetime Experience. That is, until a smart-mouthed local who is too quick with his tongue and his car ruins her shirt and her first day.

When Ella discovers that her English literature course will be taught by none other than that same local, Jamie Davenport, she thinks for the first time that Oxford might not be all she's envisioned. But a late-night drink reveals a connection she wasn't anticipating finding and what begins as a casual fling soon develops into something much more when Ella learns Jamie has a life-changing secret.

Immediately, Ella is faced with a seemingly impossible decision: turn her back on the man she's falling in love with to follow her political dreams or be there for him during a trial neither are truly prepared for. As the end of her year in Oxford rapidly approaches, Ella must decide if the dreams she's always wanted are the same ones she's now yearning for.
Find it at:
A startling new vision of paranormal romance: When a human ventures into the world of vampires—a decadent milieu of blood-bonds and betrayal—she discovers that not all is what it seems.

For Reyna Carpenter, giving up her body isn't a choice. It's survival.

In a civilization laid waste by poverty and desperation, Reyna accepts a high-paying position with the wealthy and hungry vampire elite. Her new job is as the live-in blood escort for the intimidating, demanding, and devilishly handsome Beckham Anderson. He's everything she expected from a vampire, except for one thing—he won't feed off her.

Reyna soon discovers that behind Beckham's brooding, wicked façade lies a unique and complex man. And that, in a dark and divided world, she is more valuable than she ever would have believed.

For with each passing night, Reyna can't shake the sensation that it's Beckham who's afraid of her.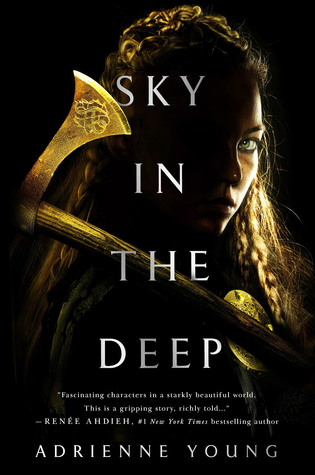 Sky in the Deep by Adrienne Young
Find it at:
Goodreads
|
Booklikes
|
LibraryThing
OND ELDR. BREATHE FIRE.

Raised to be a warrior, seventeen-year-old Eelyn fights alongside her Aska clansmen in an ancient rivalry against the Riki clan. Her life is brutal but simple: fight and survive. Until the day she sees the impossible on the battlefield—her brother, fighting with the enemy—the brother she watched die five years ago.

Faced with her brother's betrayal, she must survive the winter in the mountains with the Riki, in a village where every neighbor is an enemy, every battle scar possibly one she delivered. But when the Riki village is raided by a ruthless clan thought to be a legend, Eelyn is even more desperate to get back to her beloved family.

She is given no choice but to trust Fiske, her brother's friend, who sees her as a threat. They must do the impossible: unite the clans to fight together, or risk being slaughtered one by one. Driven by a love for her clan and her growing love for Fiske, Eelyn must confront her own definition of loyalty and family while daring to put her faith in the people she's spent her life hating.
Bleeding Tarts by Kirsten Weiss
Find it at:
Goodreads
|
LibraryThing
Val's new pies are foolproof—but not bulletproof.

Old West ghost towns are as American as apple pie. So what better place to sponsor a pie-eating contest than the Bar X, a fake ghost town available for exclusive private events on the edge of Silicon Valley. Valentine Harris is providing the pies, hoping to boost business for her struggling Pie Town shop and become a regular supplier for the Bar X.

But no sooner does she arrive in town than a stray bullet explodes the cherry pie in her hands. And the delicious dessert is not the only victim. Val finds the Bar X bartender shot dead in an alley. Egged on by her flaky friend and pie crust specialist, Charlene, Val aims to draw out the shooter. But solving a real murder in a fake ghost town won't be easy as pie. And if Val doesn't watch her back, her pies won't be the only thing filled full of lead . . .
More Great Books Being Released Today
(Covers link to Goodreads)