It's Tuesday! That means it is time to make a little bit of room on the bookshelves, load up your ereader, or make your way to your local library. In other words - It is time to get your hands on a new book!
Here are just a few books that have just been released that you may want to grab soon:
After Anna by Lisa Scottoline
Nobody cuts deeper than family...

Noah Alderman, a doctor and a widower, has remarried a wonderful woman, Maggie, and for the first time in a long time he and his son are happy. But their lives are turned upside down when Maggie's daughter Anna moves in with them. Anna is a gorgeous seventeen-year-old who balks at living under their rules though Maggie, ecstatic to have her daughter back, ignores the red flags that hint at the trouble that is brewing. Events take a deadly turn when Anna is murdered and Noah is accused of the crime. Maggie must face not only the devastation of losing her only daughter, but the realization that her daughter's murder was at the hands of a husband she loves. New information sends Maggie searching for the truth, leading her to discover something darker than she could have ever imagined.
Find it at:
Carol Evers is a woman with a dark secret. She has died many times . . . but her many deaths are not final: They are comas, a waking slumber indistinguishable from death, each lasting days.

Only two people know of Carol's eerie condition. One is her husband, Dwight, who married Carol for her fortune, and—when she lapses into another coma—plots to seize it by proclaiming her dead and quickly burying her . . . alive. The other is her lost love, the infamous outlaw James Moxie. When word of Carol's dreadful fate reaches him, Moxie rides the Trail again to save his beloved from an early, unnatural grave.

And all the while, awake and aware, Carol fights to free herself from the crippling darkness that binds her—summoning her own fierce will to survive. As the players in this drama of life and death fight to decide her fate, Carol must in the end battle to save herself.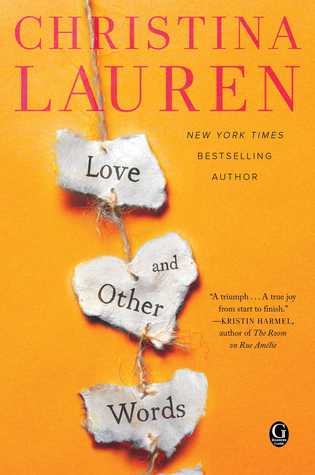 Love and Other Words by Christina Lauren
Find it at:
Goodreads
|
Booklikes
|
LibraryThing
The story of the heart can never be unwritten.

Macy Sorensen is settling into an ambitious if emotionally tepid routine: work hard as a new pediatrics resident, plan her wedding to an older, financially secure man, keep her head down and heart tucked away.

But when she runs into Elliot Petropoulos—the first and only love of her life—the careful bubble she's constructed begins to dissolve. Once upon a time, Elliot was Macy's entire world—growing from her gangly bookish friend into the man who coaxed her heart open again after the loss of her mother...only to break it on the very night he declared his love for her.

Told in alternating timelines between Then and Now, teenage Elliot and Macy grow from friends to much more—spending weekends and lazy summers together in a house outside of San Francisco devouring books, sharing favorite words, and talking through their growing pains and triumphs. As adults, they have become strangers to one another until their chance reunion. Although their memories are obscured by the agony of what happened that night so many years ago, Elliot will come to understand the truth behind Macy's decade-long silence, and will have to overcome the past and himself to revive her faith in the possibility of an all-consuming love.
Lizzie by Dawn Ius
Find it at:
Goodreads
|
Booklikes
|
LibraryThing
Seventeen-year-old Lizzie Borden has never been kissed. Polite but painfully shy, Lizzie prefers to stay in the kitchen, where she can dream of becoming a chef and escape her reality. With tyrannical parents who force her to work at the family's B&B and her blackout episodes—a medical condition that has plagued her since her first menstrual cycle—Lizzie longs for a life of freedom, the time and space to just figure out who she is and what she wants.

Enter the effervescent, unpredictable Bridget Sullivan. Bridget has joined the B&B's staff as the new maid, and Lizzie is instantly drawn to her artistic style and free spirit—even her Star Wars obsession is kind of cute. The two of them forge bonds that quickly turn into something that's maybe more than friendship.

But when her parents try to restrain Lizzie from living the life she wants, it sparks something in her that she can't quite figure out. Her blackout episodes start getting worse, her instincts less and less reliable. Lizzie is angry, certainly, but she also feels like she's going mad…
More Great Books Being Released Today
(Covers link to Goodreads)