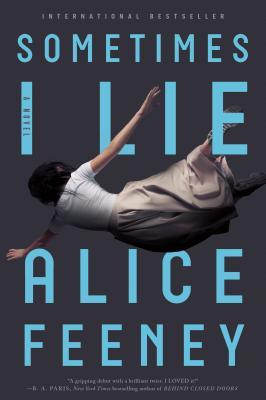 Sometimes I Lie by Alice Feeney
Publisher: Flatiron Books
Publication Date: March 13, 2018
Date Read: March 10, 2018
Length: 272 pages
Source: NetGalley
★★★★☆
My name is Amber Reynolds. There are three things you should know about me:
1. I'm in a coma.
2. My husband doesn't love me anymore.
3. Sometimes I lie.

Amber wakes up in a hospital. She can't move. She can't speak. She can't open her eyes. She can hear everyone around her, but they have no idea. Amber doesn't remember what happened, but she has a suspicion her husband had something to do with it. Alternating between her paralyzed present, the week before her accident, and a series of childhood diaries from twenty years ago, this brilliant psychological thriller asks: Is something really a lie if you believe it's the truth?

I really enjoyed this book. I am actually a little surprised by how much I ended up liking it. I decided to read this book because I was intrigued by the description. It was that same description that had me worried that this book may not work for me. I love the idea of unreliable narrators but I have had mixed luck with them. Let me just say that this book worked very well for me on all levels. I read almost the whole book in a single day and could seem to stop turning pages. I am so glad that I decided to give this book a try.
This is Amber's story. Amber is in a coma and can hear what is going on around her but can't respond. I was immediately drawn into the story because I felt like I needed to know how Amber ended up in that coma. I wouldn't really say that I liked Amber or any of the other characters in the story but I didn't dislike them either. I had no idea who to trust at any point in the story.
The dual timelines in this book worked well. Piece by piece, we learn the details of what events led up to her hospitalization as well as everything happening around her while she is in the coma. I was really equally interesting in both timelines and thought that the story switched from then to now at just the right moments to keep the story moving forward.
This book was full of twists and turns. It is really best to go into this book as blindly as possible which I was thankfully able to do. As I read the book I quickly discovered that everything that I thought I knew about the story was completely wrong. I was taken by surprise many times over the course of the story and sometimes had to take a short break just to process what I had just learned. I quickly began to expect the unexpected and I still found that I was shocked by some of the twists along the way.
I would recommend this book to others. I loved how this book kept me guessing until the very end. I am really impressed with Alice Feeney's style of writing and hope to read more of her work in the future.
I received an advance reader edition of this book from Flatiron Press via NetGalley.
About the Author




ALICE FEENEY is a writer and journalist. She has spent 15 years with BBC News where she worked as a Reporter, News Editor, Arts and Entertainment Producer and One O'Clock News Producer. Alice is a recent graduate of the Faber Academy Writing a Novel course. Alice has lived in London and Sydney and has now settled in the Surrey countryside, where she lives with her husband and dog.