It's Tuesday! That means it is time to make a little bit of room on the bookshelves, load up your ereader, or make your way to your local library. In other words - It is time to get your hands on a new book!
Here are just a few books that have just been released that you may want to grab soon:
Tomorrow by Damian Dibben
A wise, old dog travels through the courts and battlefields of Europe and through the centuries in search of the master who granted him immortality.

Tomorrow tells the story of a 217 year-old "give or take a year or so" dog traveling in search of his lost master.

His adventures take him through the London Frost Fair, the strange court of King Charles I, the wars of the Spanish succession, Versailles and the world of the Sun-King and to nineteenth century Venice. As he travels through Europe he befriends both animals and humans, falls in love (only once) marvels at the human ability to make music, despairs at their capacity for war and gains insight into both the strength and frailties of the human spirit.

With the rich historical vision of Jonathan Strange & Mr. Norrell and the captivating canine perspective of A Dog's Purpose, Tomorrow draws us into a unique, century-spanning tale of the unbreakable connection between dog and human.
Find it at:
For the woman who's his perfect match, he's willing to break the rules…

The moment Brand Berry meets beautiful, driven Sahara Silver, the connection between them is electric. It's also something he can't pursue. Sahara wants him, sure—to join Body Armor, where his MMA skills, size and cocky attitude make him perfect for her elite crew of bodyguards. For Sahara, the agency always comes first, and Brand needs more. Yet when she's kidnapped by men searching for her missing brother, he doesn't hesitate.

Somewhere along the way, flirting with Brand for the sake of business turned very personal. Despite his refusal to join Body Armor, it's Brand who steps up when Sahara needs him most. Now there's no more time for games, and no point denying the hunger they both feel. They'll escape together or not at all. But if they survive, can Sahara finally surrender control to claim this blazing passion?
Such Dark Things by Courtney Evan Tate
Find it at:
Goodreads
A modern day Fatal Attraction meets The Girl on the Train, by New York Times and USA Today bestselling new adult author Courtney Cole, now writing dark psychological suspense under the name Courtney Tate Evans.

From the outside, Dr. Corinne Cabot is living the American dream: a successful ER physician, she is married to a hardworking and handsome psychologist. Together they own a charming house in the Chicago suburbs. But Cabot has a dark personal past and her memory has holes she tries to fill in. Her sleep is ravaged by recurring nightmares of that night when, as a teenager, she found her father standing next to the bodies of two people he had shot dead. It is what she can't remember about that night that utterly haunts her. Her father is still alive in jail for that terrible crime. At times now, despite her success, she fears she is truly unable to determine what is real and what is not. Then she starts to suspect that something is amiss with her husband and realizes that nothing--and no one--in her life is as it appears.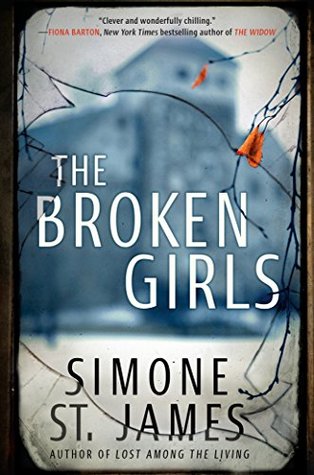 The Broken Girls by Simone St. James
Find it at:
Goodreads
|
Booklikes
|
LibraryThing
A suspense novel from the award-winning author of The Haunting of Maddy Clare...

Vermont, 1950. There's a place for the girls whom no one wants--the troublemakers, the illegitimate, the too smart for their own good. It's called Idlewild Hall. And in the small town where it's located, there are rumors that the boarding school is haunted. Four roommates bond over their whispered fears, their budding friendship blossoming--until one of them mysteriously disappears. . . .

Vermont, 2014. As much as she's tried, journalist Fiona Sheridan cannot stop revisiting the events surrounding her older sister's death. Twenty years ago, her body was found lying in the overgrown fields near the ruins of Idlewild Hall. And though her sister's boyfriend was tried and convicted of murder, Fiona can't shake the suspicion that something was never right about the case.

When Fiona discovers that Idlewild Hall is being restored by an anonymous benefactor, she decides to write a story about it. But a shocking discovery during the renovations will link the loss of her sister to secrets that were meant to stay hidden in the past--and a voice that won't be silenced. . . .
More Great Books Being Released Today
(Covers link to Goodreads)