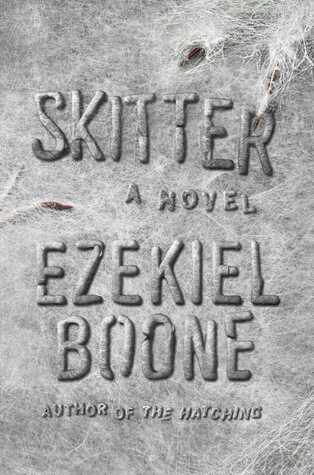 Skitter by Ezekiel Boone
Series: The Hatching #2
Publisher: Atria/Emily Bestler Books
Publication Date: May 2, 2017
Date Read: February 23, 2018
Length: 368 pages
Source: NetGalley
★
★
★
★
☆
First, there was the black swarm that swallowed a man whole, the suspicious seismic irregularities in India that confounded scientists, the nuclear bomb China dropped on its own territory without any explanation. Then, scientist Melanie Guyer's lab received a package containing a mysterious egg sac; little did Dr. Guyer know that, almost overnight, Earth would be consumed by previously dormant spiders that suddenly wanted out.

Now, tens of millions of people around the world are dead. Half of China is a nuclear wasteland. Mysterious flesh-eating spiders are marching through Los Angeles, Oslo, Delhi, Rio de Janeiro, and countless other cities. According to Dr. Guyer, the crisis may soon be over.

But in Japan, a giant, glowing egg sac gives a shocking preview of what is to come, even as survivors in Los Angeles panic and break the quarantine zone. Out in the desert, survivalists Gordo and Shotgun are trying to invent a weapon to fight back, but it may be too late, because President Stephanie Pilgrim has been forced to enact the plan of last resort.

America, you are on your own.

I am really enjoying this series. I have had a copy of this book for a long time. I had planned to read it around the publication date but for some reason it didn't happen. I am glad that I was able to get to it now because it really is a great story. This is the second book in the Hatching series which is a series that really does need to be read in order since this is a continuation of the story from the first book. I ended up enjoying this book just as much as the first book.
I really like the way that this story is told. I don't think it would work for every book but it does work well with this story. We get to see the outbreak from a lot of different points of view instead of following only a handful of characters. Sometimes we get a point of view and never encounter that character again. Other times, we get to see a point of view at various points in the story. All of these points of view helps to really paint a picture of the outbreak across the globe.
The spider outbreak in the first book was bad and many had hoped that would get better. It looks like it might be getting better. The spiders seem to have died off a bit and the pods are being taken care of. Unfortunately, things can get worse. Much worse. The spider outbreak takes a turn that is truly frightening and it was really interesting to see how things were developing and how the key characters would deal with it.
This was a really exciting story. I couldn't wait to see what would happen next with the spider outbreak and was also eager to find out what the authorities would decide to do to handle things. I couldn't imagine being responsible or having people look to you for answers during a time like this. Whenever I had a guess about how things would go, I would quickly find out that I was wrong so I just kept turning pages to enjoy the story.
I would recommend this series to others. This creepy crawly story was very original and entertaining. I ended up most of the book in a single evening because I had to see how things would work out. I am really excited to start the next book,
Zero Day
, very soon.
I received an advance reader edition of this book from Atria/Emily Bestler Books via NetGalley.
Book #2 - Skitter
Book #3 - Zero Day
About the Author


Ezekiel Boone lives in upstate New York with his wife and children. He is the author of The Hatching, Skitter, and Zero Day.