Stillhouse Lake by Rachel Caine
Narrated by Emily Sutton-Smith
Series: Stillhouse Lake #1
Publisher: Brillance Audio
Publication Date: July 1, 2017
Date Read: January 25, 2018
Length: 10 hours 4 minutes
Source: Purchased - Audible
★★★★★
Gina Royal is the definition of average—a shy Midwestern housewife with a happy marriage and two adorable children. But when a car accident reveals her husband's secret life as a serial killer, she must remake herself as Gwen Proctor—the ultimate warrior mom.

With her ex now in prison, Gwen has finally found refuge in a new home on remote Stillhouse Lake. Though still the target of stalkers and Internet trolls who think she had something to do with her husband's crimes, Gwen dares to think her kids can finally grow up in peace.

But just when she's starting to feel at ease in her new identity, a body turns up in the lake—and threatening letters start arriving from an all-too-familiar address. Gwen Proctor must keep friends close and enemies at bay to avoid being exposed—or watch her kids fall victim to a killer who takes pleasure in tormenting her. One thing is certain: she's learned how to fight evil. And she'll never stop.

This was so good! This is only the second book by Rachel Caine that I have read so while I had heard it was good, I didn't really know what to expect. This book ended up being fantastic listen. I was hooked by the story from the very beginning. When I wasn't listening to this book, I was thinking about it. Could this really happen? How well do we really know those people around us? My husband and I had a couple of conversations about it. In other words, this book really stayed with me throughout my day. I listened to it pretty quickly and really enjoyed the story it told.
At the beginning of the book, we meet Gina. Gina is just a mom picking up her kids on a completely normal day. The day doesn't stay normal. When she returns home with her kids, she finds that a driver has crashed into her garage and police are all over the place. Gina doesn't understand why she is being treated like a criminal since she is obviously the victim in this situation. Gina had no idea what kind of secrets her husband was keeping inside of that garage.
Fast forward a few years, Gina is now Gwen and her ex-husband is in jail. She is no longer the same person. She is a fighter and has learned to take care of herself and her kids. Gwen and her kids have had to move around a lot in order to stay safe and avoid being recognized. They have a little house at Stillhouse Lake and hope to stay put for at least a little while. They start making connections and things seem different here until a body is discovered in the lake.
I liked Gwen a lot. She has had to overcome a whole lot to get to the point she is at. She is smart, tough, and willing to do whatever needs to be done to keep her kids safe. She is no longer the clueless woman that was married to Melvin Royal. She no longer trusts easily and has had to learn the hard way that innocent people sometimes are blamed for things they didn't do. I liked both of her kids as well. They have been through so much and really do seem to be good kids despite a few more normal acts of teenage rebellion.
This was quite the page turner. I was hooked by the story as soon as that car hit the Royal family's garage. I wasn't sure what was going to happen at Stillhouse Lake but I quickly became invested in the characters and couldn't wait to find out. I had a hard time trusting some of the characters Gwen and her kids came in contact with even when I wanted to trust them. As the book progressed, I found that the story became even more intense.
This was my first experience with Emily Sutton-Smith as a narrator. When I first started the book, I honestly wasn't sure what I thought of her narration but she quickly won me over. I think she did a great job of bringing this story to life. I think she did a great job of bringing Gwen to life with a wide range of emotions. She had a very nice reading voice that was easy to listen to for hours at a time.
I would highly recommend this book to thriller fans. I liked that this was a different kind of serial killer story with the focus on the murderer's family. I plan to listen to the next book in this series very soon.
The Series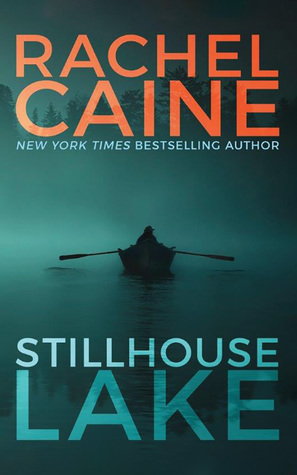 Book #1
- Stillhouse Lake
Book #2
- Killman Creek
About the Author


Rachel Caine is the New York Times, USA Today, and international bestselling author of more than forty novels, including Prince of Shadows, the Weather Warden series, the Outcast Season series, the Revivalist series, and the Morganville Vampires series.