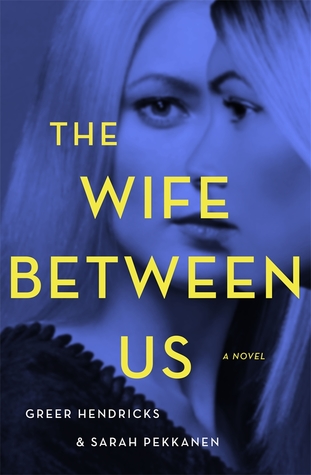 The Wife Between Us by Greer Hendricks & Sarah Pekkanen
Publisher: St. Martin's Press
Publication Date: January 9, 2018
Date Read: December 9, 2017
Length: 352 pages
Source: NetGalley
★★★☆☆
"A jaw-dropping psychological thriller." —Publishers Weekly, starred review

"Fiendishly clever...in the vein of Gone Girl and The Girl on the Train. This one will keep you guessing." –Anita Shreve, New York Times bestselling author of The Stars are Fire

When you read this book, you will make many assumptions.
You will assume you are reading about a jealous ex-wife.
You will assume she is obsessed with her replacement – a beautiful, younger woman who is about to marry the man they both love.
You will assume you know the anatomy of this tangled love triangle.
Assume nothing.

Twisted and deliciously chilling, Greer Hendricks and Sarah Pekkanen's The Wife Between Us exposes the secret complexities of an enviable marriage - and the dangerous truths we ignore in the name of love.

Read between the lies.

I was completely underwhelmed by this book. I saw some really positive reviews for this book so I decided to read it myself because I love good books. I wanted to love this book as much as other readers but it just wasn't meant to be. I honestly don't see what all of the fuss is about. There were a few twists but nothing that really blew me away or anything. I am being really generous with my three star rating with this one.
This is one of those books that is going to be best to go in as blindly as possible. The less you know about the book the better your chances of enjoying it. As you can probably guess from the title, this book is about marriage. We meet an ex-wife and a soon to be wife and get to know them a bit.
Nothing about this book ever grabbed me. I didn't feel much for any of the characters and I never felt that compulsion to keep turning pages so that I could find out what would happen next. It was a book that I could set aside if I had something else to do but it wasn't painful to read either. It was just kind of average. There are some big twists in the book but I honestly didn't find them all that shocking. By the time the first big twist is revealed, I just didn't really care all that much.
I feel like this is a book that received more hype than it deserves. Then again, there are some readers that absolutely love this book. I won't be actively recommending this book to others but wouldn't discourage anyone from reading it either.
I received an advanced reader edition of this book from St. Martin's Press via NetGalley.
About the Author


GREER HENDRICKS spent over two decades as an editor. Her writing has been published in The New York Times and Publishers Weekly. The Wife Between Us is her first novel.

SARAH PEKKANEN is the internationally and USA Today bestselling author of seven previous novels. A former investigative journalist and feature writer, her work has been published in The Washington Post, USA Today, and many others.