It's Tuesday! That means it is time to make a little bit of room on the bookshelves, load up your ereader, or make your way to your local library. In other words - It is time to get your hands on a new book!
Here are just a few books that have just been released that you may want to grab soon:
The Chalk Man by C.J. Tudor
Find it at:
Goodreads
|
Booklikes
|
LibraryThing
The must-read thriller of 2018, this riveting and relentlessly compelling psychological suspense debut weaves a mystery about a childhood game gone dangerously awry that will keep readers guessing right up to the shocking ending.

In 1986, Eddie and his friends are just kids on the verge of adolescence. They spend their days biking around their sleepy little English village and looking for any taste of excitement they can get. The chalk men are their secret code; little chalk stick figures they leave for one another as messages only they can understand. But then a mysterious chalk man leads them right to a dismembered body, and nothing is ever the same.

In 2016, Eddie is fully grown, and thinks he's put his past behind him. But then he gets a letter in the mail, containing a single chalk stick figure. When it turns out that his friends got the same message, they think it could be a prank…until one of them turns up dead.

That's when Eddie realizes that saving himself means finally figuring out what really happened all those years ago.

Expertly alternating between flashbacks and the present day, The Chalk Man is the very best kind of suspense novel, one where every character is wonderfully fleshed out and compelling, where every mystery has a satisfying payoff, and where the twists will shock even the savviest reader.
Find it at:
When two young sisters disappear from a strip mall parking lot in a small Pennsylvania town, their devastated mother hires an enigmatic bounty hunter, Alice Vega, to help find the girls. Immediately shut out by a local police department already stretched thin by budget cuts and the growing OxyContin and meth epidemic, Vega enlists the help of a disgraced former cop, Max Caplan. Cap is a man trying to put the scandal of his past behind him and move on, but Vega needs his help to find the girls, and she will not be denied.

With little to go on, Vega and Cap will go to extraordinary lengths to untangle a dangerous web of lies, false leads, and complex relationships to find the girls before time runs out, and they are gone forever.
The Lost Plot by Genevieve Cogman
Find it at:
Goodreads
|
Booklikes
|
LibraryThing
After being commissioned to find a rare book, Librarian Irene and her assistant, Kai, head to Prohibition-era New York and are thrust into the middle of a political fight with dragons, mobsters, and Fae.

In a 1920s-esque New York, Prohibition is in force; fedoras, flapper dresses, and tommy guns are in fashion: and intrigue is afoot. Intrepid Librarians Irene and Kai find themselves caught in the middle of a dragon political contest. It seems a young Librarian has become tangled in this conflict, and if they can't extricate him, there could be serious repercussions for the mysterious Library. And, as the balance of power across mighty factions hangs in the balance, this could even trigger war.

Irene and Kai are locked in a race against time (and dragons) to procure a rare book. They'll face gangsters, blackmail, and the Library's own Internal Affairs department. And if it doesn't end well, it could have dire consequences on Irene's job. And, incidentally, on her life...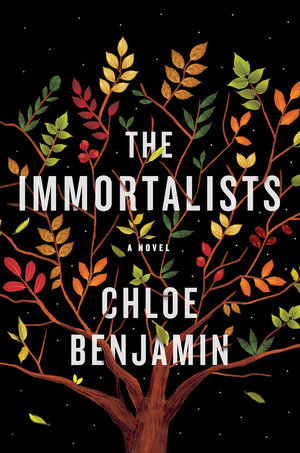 The Immortalists by Chloe Benjamin
Find it at:
Goodreads
|
Booklikes
|
LibraryThing
If you were told the date of your death, how would it shape your present?

It's 1969 in New York City's Lower East Side, and word has spread of the arrival of a mystical woman, a traveling psychic who claims to be able to tell anyone the day they will die. The Gold children—four adolescents on the cusp of self-awareness—sneak out to hear their fortunes.

Their prophecies inform their next five decades. Golden-boy Simon escapes to the West Coast, searching for love in '80s San Francisco; dreamy Klara becomes a Las Vegas magician, obsessed with blurring reality and fantasy; eldest son Daniel seeks security as an army doctor post-9/11, hoping to control fate; and bookish Varya throws herself into longevity research, where she tests the boundary between science and immortality.
More Great Books Being Released Today
(Covers link to Goodreads)