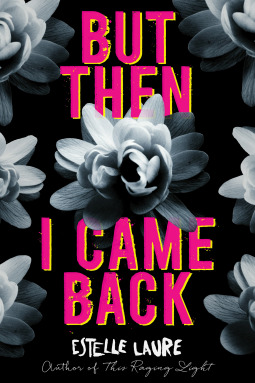 But Then I Came Back by Estelle Laure
Series: This Raging Light #2
Publisher: HMH Books for Young Readers
Publication Date: April 4, 2017
Date Read: November 21, 2017
Length: 320 pages
Source: NetGalley
★★☆☆☆
Gayle Forman meets Francesca Lia Block in this dazzling story about two coma girls and the boy who connects their lives. From the author of This Raging Light, a debut that New York Times bestselling author Morgan Matson calls "remarkable."

"Something does exist. I saw. It's a place. Like this but different."
"Okay, so let's say we do reach her, that something like that is even possible. Then what?"
"Then we ask her to come back."

Eden: As far as coma patients go, Eden's lucky. She woke up. But still, she can't shake the feeling that she might have dragged something back from the near-afterlife.

Joe: Joe visits the hospital every day, hoping that Jaz, his lifelong friend, will wake up. More than anything, he wants to hear her voice again. But he's not sure anyone can reach her.

Eden & Joe: Even though she knows it sounds crazy, Eden tells Joe that they might be able to talk to Jaz. Opening themselves up to the great unknown—and each other—Eden and Joe experience life: mysterious and scary, beautiful and bright.

Well, this was disappointing. I had a moment at around 50 pages in where I considered giving up on this book and I probably should have followed that instinct because I really didn't enjoy reading this book. I did think that some sections of the book were better than others but I spent most of my reading time wanting to reach the end just so I could move on to something else.
This book opens with Eden having an accident that leaves her in a coma. As she comes out of the coma, she has to slowly get back to her life which turns out to be a lot harder than you would imagine. She feels a strong connection to another coma patient on her floor Jaz and eventually forms a bound with Jaz's frequent visitor, Joe.
One of the key parts of the book revolved around what Eden experiences while in the coma. I really found that entire section of the book to be more confusing than interesting. I had to go back and read parts of that section several times and was still quite confused. It made sense by the end of the book but I had lost interest by that point.
I thought that the parts of the book involving Joe were much better. Joe was my favorite character in the book by a large margin. He was really a good guy. Eden and Joe's relationship was interesting and a bit unusual. Unfortunately, it seemed to take a really long time for the relationship between these two to even get started.
I will not be recommending this book to others. I am sure that some people will enjoy it a lot more than I did. I was able to get through the book and would be open to trying other works by Estelle Laure.
I received an advance reader copy of this book from HMH Books for Young Readers via NetGalley.
About the Author

Estelle Laure

believes in love, magic, and the power of facing hard truths. She has a BA in Theatre Arts and an MFA from Vermont College of Fine Arts in Writing for Children and Young Adults, and she lives in Taos, New Mexico, with her family. Her work is translated widely around the world. Visit her at

estellelaure.com

and on Twitter at @starlaure.