It's Tuesday! That means it is time to make a little bit of room on the bookshelves, load up your ereader, or make your way to your local library. In other words - It is time to get your hands on a new book!
Here are just a few books that have just been released that you may want to grab soon:
My Brother's Keeper by Donna Malane
Find it at:
Goodreads
|
LibraryThing
Ex-con Karen needs Diane's help to track down her fourteen-year-old daughter, Sunny, who she's lost contact with while she's been in prison. To Diane, this appears at first glance to be a simple case of a mother wanting to reunite with a beloved daughter. But she soon learns that while Sunny miraculously survived her mother's attempt to kill her, little brother Oliver was not so lucky. Tracking the girl down is easy. However, convincing her to meet the woman who tried to kill her is no easy task. And at the back of Diane's mind is a nagging thought - that guilt and innocence aren't straightforward and nothing is quite what it seems. Does Karen really want to fix the wrongs of the past or is there something darker at play here that will take all of Diane's skills to uncover?
Find it at:
It was supposed to be epic.

During a late-night poker game, tennis teammates Colin, Ceo, Grahame, and Rhody make a pact to go on a camping trip in Yosemite National Park. And poker vows can't be broken.

So the first sign that they should ditch the plan is when Rhody backs out. The next is when Ceo replaces him with Ellie, a girl Grahame and Colin have never even heard of. And then there's the forest fire at their intended campsite.
But instead of bailing, they decide to take the treacherous Snow Creek Falls Trail to the top of Yosemite Valley. From there, the bad decisions really pile up.

A freak storm is threatening snow, their Craigslist tent is a piece of junk, and Grahame is pretty sure there's a bear on the prowl. On top of that, the guys have some serious baggage (and that's not including the ridiculously heavy ax that Grahame insisted on packing) and Ellie can't figure out what their deal is.

And then one of them doesn't make it back to the tent.
Desperate to survive while piecing together what happened, the remaining hikers must decide who to trust in this riveting, witty, and truly unforgettable psychological thriller that reveals how one small mistake can have chilling consequences.
Three Sides of a Heart edited by Natalie C. Parker
Find it at:
Goodreads
|
Booklikes
|
LibraryThing
You may think you know the love triangle, but you've never seen love triangles like these.

These top YA authors tackle the much-debated trope of the love triangle, and the result is sixteen fresh, diverse, and romantic stories you don't want to miss.

This collection, edited by Natalie C. Parker, contains stories written by Renee Ahdieh, Rae Carson, Brandy Colbert, Katie Cotugno, Lamar Giles, Tessa Gratton, Bethany Hagan, Justina Ireland, Alaya Dawn Johnson, EK Johnston, Julie Murphy, Garth Nix, Natalie C. Parker, Veronica Roth, Sabaa Tahir, and Brenna Yovanoff.

A teen girl who offers kissing lessons. Zombies in the Civil War South. The girl next door, the boy who loves her, and the girl who loves them both. Vampires at a boarding school. Three teens fighting monsters in an abandoned video rental store. Literally the last three people on the planet.

What do all these stories have in common?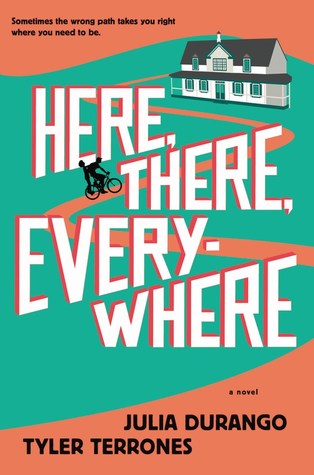 Here, There, Everywhere by Julia Durango and Tyler Terrones
Find it at:
Goodreads
|
Booklikes
|
LibraryThing
Zeus would rather be anywhere than here—Buffalo Falls—the tiny town his family moved to at the end of the school year. Having left all his friends back in Chicago and with nothing to look forward to except helping out at his mother's café and biking around town with his weird little brother, Zeus is pretty sure this is destined to be the worst summer of his life.

But then he meets Rose—funny, beautiful, smart, and an incredible musician.

Zeus can hardly believe that someone like her exists, let alone seems interested in being with him. However, while Zeus is counting down the minutes until he can see her next, Rose is counting down the days until she finds out whether she will be able to leave their small town to pursue her dreams. As the afternoons spent going on local adventures pass into nights discussing their deepest hopes, Zeus knows that he doesn't have long to convince Rose that what they have is more than a summer fling…if only he's brave enough to seize the chance.
More Great Books Being Released Today
(Covers link to Goodreads)