I am thrilled to be a part of the Spotlight Tour for Third Son's a Charm by Shana Galen. I really enjoyed this romance filled with wonderful characters. Be sure to read the excerpt and enter the giveaway at the end of the post for a chance to win a Shana Galen prize pack!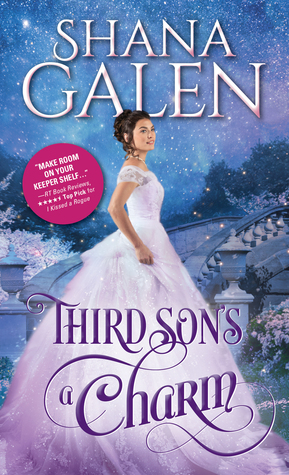 Third Son's a Charm by Shana Galen
Series: The Survivors #1
Publisher: Sourcebooks Casablanca
Publication Date: November 7, 2017
Date Read: November 23, 2017
Length: 416 pages
Source: NetGalley
★★★★☆
Ewan Mostyn thinks a job as a duke's daughter's bodyguard will be easy―but Lady Lorraine has a few tricks up her sleeve that spark an undeniable passion...

Fiercely loyal to his friends and comrades, Ewan Mostyn is the toughest in a group of younger sons of nobility who met as soldiers and are now trying desperately to settle back into peaceful Society. Ewan trusts his brawn more than his brains, but when he's offered a job watching the Duke of Ridlington's stubbornly independent daughter, he finds both are challenged.

Lady Lorraine wants none of her father's high-handed ways, and she'll do everything in her power to avoid her distressingly attractive bodyguard―until she lands herself in real trouble. Lorraine begins to see Ewan's protectiveness in a new light, and she can only hope that her stoic guardian will do for her what he's always done―fight for what he wants.

I had so much fun reading this historical romance! I have to admit that the cover of this book is what first grabbed my attention. I am always a sucker for pretty covers and the cover of this book is simply gorgeous. I have enjoyed Shana Galen's work in the past and this sounded like a good story so I knew that I would have to read it. It turned out to be a very enjoyable read that was really hard to put down.
Ewan knows his place in life. He is the third son of an Earl and is therefore rather useless to his family. He has been a solider and is known for some of his brave acts but that hasn't changed his father's opinion of him. Many see Ewan as a dimwit because he has been unable to learn to read. When he is offered a position to guard a Duke's daughter, he decides to take the job.
Lorrie really wants to marry. So much so that she has recently tried to elope with her love, Francis. Lorrie is determined to make the marriage happen and believes that she and Francis are in love. The Duke opposes the match and tasks Ewan with making sure it does not happen. Ewan becomes a permanent fixture at all of the society events attended by Lorrie and her family.
I loved these two together! Ewan tends to doubt himself since he has been told he is dumb his whole life. Lorrie sees him for the intelligent man that he truly is. Lorrie believes that she is in love with Francis but she soon learns that love is something very different. This pair had a lot of wonderful chemistry with each other and complimented each other quite nicely.
I would recommend this book to fans of historical romance. The book is filled with wonderful characters and a few exciting moments. I can't wait to read the next book in this delightful series!
I received an advance reader edition of this book from Sourcebooks Casablanca via NetGalley.
About the Author