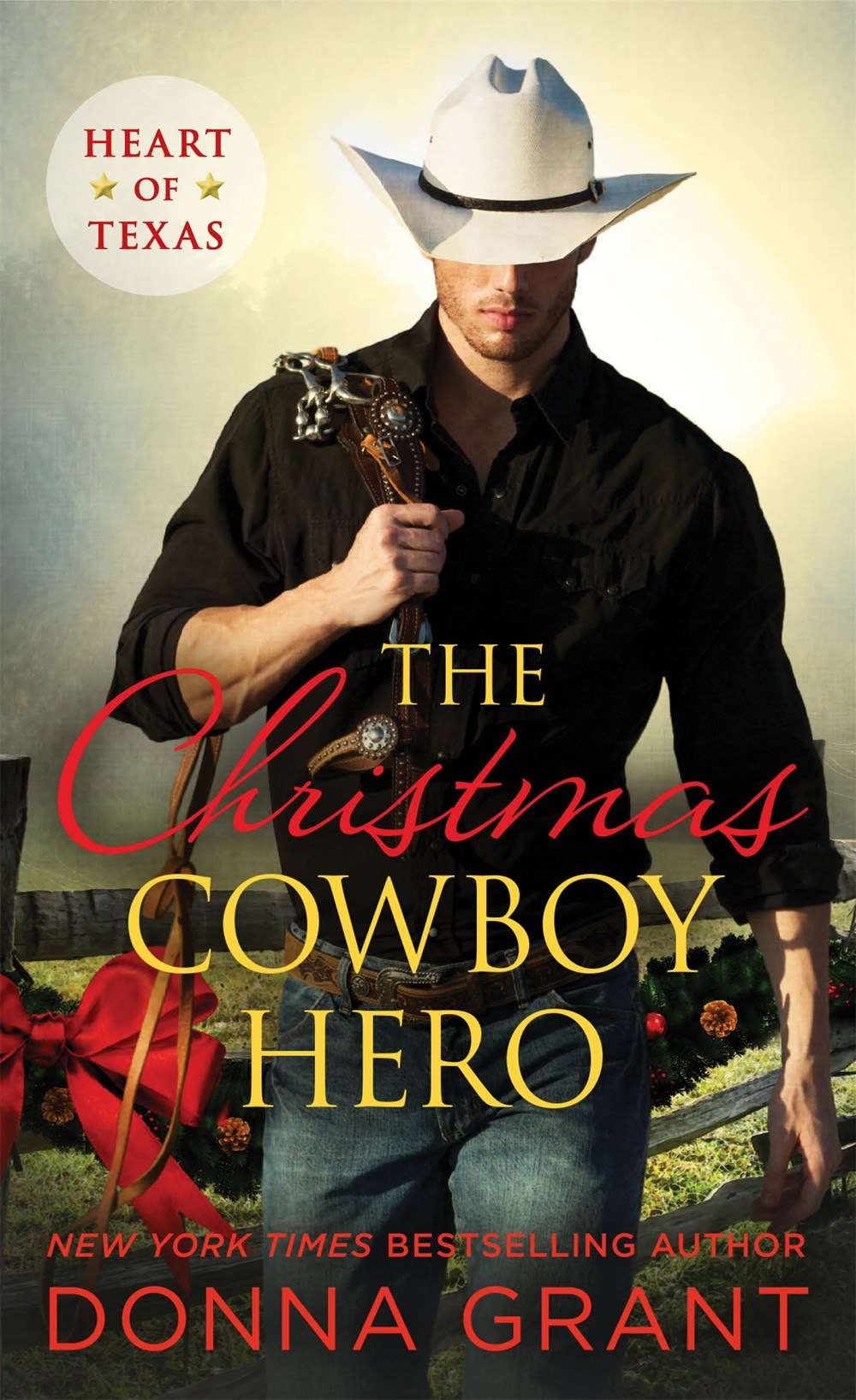 The Christmas Cowboy Hero by Donna Grant
Series: Heart of Texas #1
Publisher: St. Martin's Press
Publication Date: October 31, 2017
Date Read: November 18, 2017
Length: 320 pages
Source: Direct from Publisher
★★★★★
Hot Cowboy SEAL heroes in the heart of Texas abound in the Heart of Texas series by New York Times bestselling author Donna Grant.

New York Times bestselling author Donna Grant returns to Texas, where a small-town legend just might find the greatest gift of all. . .

'Tis the season for ex-Navy SEAL Clayton East to come home for the holidays—even if the mood at home is anything but festive. His father is ill. The East Ranch is in financial trouble. And now it's on Clayton, the prodigal son, to make sure his family doesn't lose everything.

Headstrong Abby Harper is like a mother to her younger brothers, who she's helped raise since she was a teenager. Keeping them in line is no small task while she's also working toward her college degree. And now that one of her brothers has been arrested for stealing cattle at the East Ranch, Abby is at her wit's end. But there is a silver lining: Clayton East. He believes in second chances, and is willing to give one to her brother this Christmas. Letting beautiful Abby—and the inescapable longing in his heart—off the hook, however, is a whole 'nother story. Could it be that the woman of this local hero's dreams has been back at home all along?

I loved this book! I am not usually someone who reads a lot of Christmas stories. I will read them but I don't really look for them. This book made its way into my hands and something about that cover drew me right in and I wanted to start reading it right away. Once I started, I didn't want to stop and I ended up reading the whole thing from cover to cover in a single day. I really enjoyed every moment I spent reading this wonderful little story.
Clayton is ex-military and has been working overseas until he is called home to the family ranch. The ranch is in trouble and his dad is sick so Clayton must come home to run things and try to save the ranch. Abby has not had it easy. She has been raising her two younger brothers and doing her best to get ahead in life.
Abby and Clayton meet when Abby's brother is caught stealing cattle from the ranch Clayton's family owns. Not the best way to start things. Clayton turns out to be a really nice guy and instead of sending Abby's brother, Brice, to jail he lets him come and work his debt off at the ranch. Clayton also enlists Abby's help with the ranch's books hoping that she can sort out exactly what is going on.
I loved the characters in this book. Abby and Clayton were both amazing. Abby was strong and cared deeply for her two brothers. She was smart and willing to sacrifice her wants for the sake of other people. Clayton was such a good guy. He has had some things to deal with in his personal and military life. I loved this pair together. They had great chemistry from the very beginning and it was really wonderful to watch them fall in love.
The secondary characters were also really well done. Abby's two brothers, Brice and Caleb, played a large role in the story and were really great. Their relationship with their sister really helped illustrate how much she cared for them. Clayton's parents were also key players in the story. I liked how they welcomed Abby and her brothers as if they were family right from the start.
The mystery in the book kept things interesting. I really wanted to see Clayton save the ranch with Abby's help. There were a few scenes where we got to see Clayton, a former SEAL, in action which was pretty exciting. This was really a book more focused on romance than anything else and it did a wonderful job with it. I don't know that there was really anything too surprising in the book but everything was executed perfectly. I couldn't help but get swept away by this romantic tale.
I would highly recommend to fans of contemporary romance. This book had just the right combination of romance, action, and great characters. The story had just the right amount of Christmas adding just a bit to the story. This is the first book by Donna Grant that I have read and I am really looking forward to reading more of her work soon.
I received a review copy of this book from St. Martin's Press.
About the Author

New York Times

and

USA Today

bestselling author

Donna Grant

has been praised for her "totally addictive" and "unique and sensual" stories. She's the author of more than thirty novels spanning multiple genres of romance including the bestselling Dark King stories. The acclaimed series features a thrilling combination of dragons, the Fae, and Highlanders who are dark, dangerous, and irresistible. She lives with her two children, a dog, and four cats in Texas.