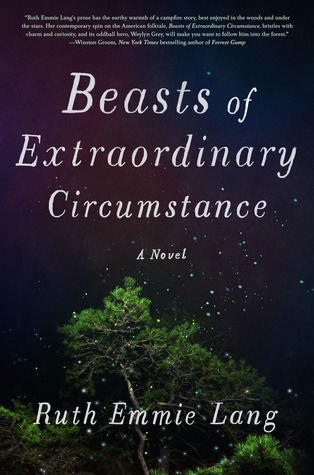 Beasts of Extraordinary Circumstance by Ruth Emmie Lang
Publisher: St. Martin's Press
Publication Date: November 14, 2017
Date Read: November 11, 2017
Length: 352 pages
Source: NetGalley
★★★★☆
Through the story of Weylyn Grey, Lang weaves a mystical tale about life, love, and the ability each of us has to change our own story.

Finding magic in the ordinary.

Orphaned, raised by wolves, and the proud owner of a horned pig named Merlin, Weylyn Grey knew he wasn't like other people. But when he single-handedly stopped that tornado on a stormy Christmas day in Oklahoma, he realized just how different he actually was.

That tornado was the first of many strange events that seem to follow Weylyn from town to town. As amazing as these powers may appear, they tend to manifest themselves at inopportune times and places. Weylyn's unique abilities are a curiosity at best and at worst, a danger to himself and the woman he loves. But Mary doesn't care. Since Weylyn saved her from an angry wolf, she's known that a relationship with him isn't without its risks, but as anyone who's met Weylyn will tell you, once he wanders into your life, you'll wish he'd never leave.

Beasts of Extraordinary Circumstance tells the story of Weylyn Grey's life from the perspectives of the people who knew him, loved him, and even a few who thought he was just plain weird.

There is one story, however, that Weylyn wishes he could change: his own. But first he has to muster enough courage to knock on Mary's front door.

In this warm debut novel, Ruth Emmie Lang teaches us about adventure and love in a beautifully written story full of nature and wonder.

This was such a magical story. I don't read a whole lot of magical realism but it seems that I love them when I do read them. I am not sure that this book would work for every reader since there are a whole lot of strange occurrences but it worked well for me and I am so happy that I decided to pick it up.
This book tells the story of Weylyn Grey. We don't learn his story from Weylyn. Instead, we learn about him in different points in time from others that are close to him. We see Weylyn as others see him and learn all of the incredible things that play a part in his life. Each section of the book shares a very vivid snapshot of this wonderful character.
Weylyn lives a life unlike anyone else. He is different in a lot of ways. He has a certain innocence throughout the book and it is hard not to fall in love with him. I also really liked the characters in the story that shared Weylyn's story. These characters grew and changed over the course of the book and seemed to be positively changed through their association with Weylyn.
There is a bit of magic on nearly every page of this charming story. This was a strange book in a lot of ways but it was strange in the best way possible. There are so many strange things associated with Weylyn and his life that I never knew what to expect. I quickly learned not to even try to guess what Weylyn would do next and just sat back and enjoyed the journey.
I would highly recommend this book to fans of magical realism. I found this book to be a wonderful story filled with magic. I am very impressed by Ruth Emmie Lang's debut novel and can't wait to read more of her work in the future.
I received an advance reader copy of this book from St. Martin's Press via NetGalley.
About the Author

Ruth Emmie Lang was born in Glasgow, Scotland and has the red hair to prove it. When she was four years old, she immigrated to Ohio where she has lived for the last 27 years. She has since lost her Scottish accent, but still has the hair. Ruth currently lives in Columbus, Ohio with her husband and dreams of someday owning a little house in the woods where she can write more books. Beasts of Extraordinary Circumstance is her first novel.